City officials' fear that Rolls-Royce Corp. might pull thousands of jobs out of Indianapolis drove the negotiations that culminated this month with the company's committing to move 2,500 of its local office employees to the south side of downtown.

Relocating the workers will free up space in two Rolls-Royce plants on the west side, paving the way for the aircraft-engine maker to move forward with $190 million in critical manufacturing upgrades there.

Rolls-Royce's contracts with its customers mandated that it make improvements at the World War II-era plants, which are on Tibbs Avenue near Sam Jones Expressway, according to city economic development officials.

Without the investment—and the move needed to make it happen—city officials say Indianapolis could have lost some or all of the company's local employees.
Kintner
"Without Rolls-Royce being able to make the improvements necessary at Tibbs [sites] so they could remain competitive, their long-term viability at that location would be in question, and those jobs would be at risk," said Deron Kintner, executive director of the Indianapolis Bond Bank, the city's debt-financing arm.

"If the site wasn't viable long term, logic would seem to dictate that those jobs would not have remained in Indianapolis."

Rolls-Royce, a London-based company with more than 4,000 employees spread across about a dozen locations in the Indianapolis area, announced March 15 that it plans to shift 2,500 workers to the downtown Faris campus formerly used by Eli Lilly and Co.

Rolls-Royce has said little publicly about its decision. In response to a list of questions from IBJ, a spokeswoman said the company "continues to look for avenues to upgrade and modernize its facilities to provide good working environments for employees."

Local employees told IBJ that Rolls-Royce informed them about a month ago that the company would continue to invest in current facilities.

The city plans to provide tax breaks in both deals. Rolls-Royce will get a 10-year, $1.2 million abatement to occupy the Faris Campus on South Meridian Street. The company also plans to spend $20 million to retrofit the space.

The $190 million investment in the Tibbs facilities will come with a 10-year, $21 million tax abatement. The company produces its mainline engines and tests new products at those facilities.

Neither the downtown move nor the west-side investment comes with new job commitments, and some city-county councilors already have begun raising questions about both abatements.

Plans for sites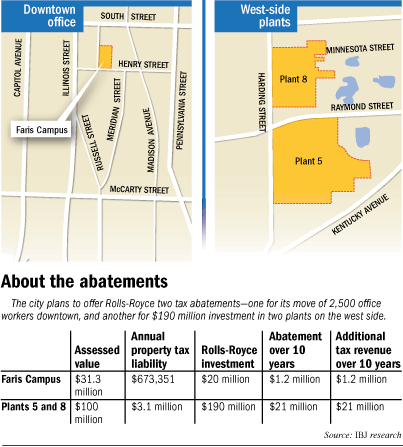 Rolls-Royce plans to move the 2,500 workers downtown this year. It's unclear when the company will begin upgrading the Tibbs Avenue plants, but the company expects to complete the work by 2021.

City officials would not discuss specifics of the upgrades, beyond saying the exodus of office workers frees up space to accommodate the improvements.

Defense-industry analysts say these kinds of contractually mandated renovations are common when a company has government defense contracts. The U.S. military is among the biggest customers for Rolls-Royce's Indianapolis operations.

"The Pentagon is a very demanding customer, and it imposes all sorts of regulatory and performance requirements," said Loren Thompson, a military analyst at the Lexington Institute, a Virginia-based think tank.

"If the company is under pressure to make major improvements to its industrial processes, it normally would be a consequence of government regulations or contract requirements."

Typical upgrades include installing modern ventilation and plumbing, replacing electrical wiring, and purchasing digitally controlled production equipment, Thompson said.

Given the amount of money involved, the improvements likely would include expanding the manufacturing space.

The upgrades will put Rolls-Royce in a better position to land additional work in Indianapolis from other parts of Rolls-Royce globally or by winning new outside contracts, Kintner said. And more work could translate to more jobs in Indianapolis.

"That's a pretty strong capital investment number," Kintner said, "which is why we're comfortable with [the abatement]."

It also signals the company's long-term commitment to the city, said Pat Andrews, a neighborhood advocate and longtime observer of economic development issues who is vying to run for the City-County Council as a Democrat this fall.

"The size of the investment suggests that Rolls-Royce would be around for a while after the investment was completed," said Andrews, who lives on the west side.

No job guarantees

Still, there's no guarantee the upgrades will help Rolls-Royce secure new contracts, and the abatement the city is providing in return for the work isn't tied to job commitments.

That's unusual in Marion County.

Of 80 companies offered abatements over the last three years, 69 had new job commitments attached, according to city records.

City officials acknowledge this deal isn't typical. But they say the benefits to the city merit the investment. They're preparing an economic impact study to highlight those for councilors, who must approve the abatement for the Faris campus because it lies in a tax-increment-financing district.

"There's a multiplier effect when you get more high-wage employees in the downtown area," said Michael Huber, the city's deputy mayor for economic development. "They're spending money [and] going out to eat downtown. We believe it also will increase the demand for housing downtown."

So far, that argument hasn't convinced some council members.
Mahern
"Our standard practice has been to require a commitment of jobs," said Brian Mahern, a council Democrat who has scrutinized the city's economic development policies. "If they're unprepared to make a commitment, then we're giving them a blank check to spend how they would see fit."

"One wonders, what is the benefit of the abatement?"

The Faris campus abatement would reduce the amount of tax dollars generated by new investment in the property earmarked for paying down debt on downtown-improvement projects. The west-side abatement would affect the general tax base.

As part of city policy, Rolls-Royce will receive the tax abatements only if it makes the pledged capital investments at the sites.

Angela Mansfield, another council Democrat, said she doubted Rolls-Royce would move its Indianapolis jobs elsewhere because doing so would be so expensive.

But industry experts say Rolls-Royce is such a desirable employer that other cities would dangle rich incentive packages to land those jobs.

Thompson said Rolls-Royce's mix of private-sector and government customers enhances its stability—and makes it an attractive employer for other cities.

"Countries like Singapore or China would love to have a Rolls-Royce facility," Thompson said. "And places like Amarillo, Texas, would be more than happy to enter a bidding war."•