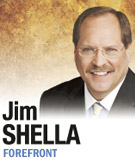 "You get what you pay for!"
That was my favorite line when I worked in the hardware department at a J.C. Penney store in college. You see, the customers with probing questions usually had just come from the Sears store on the other end of the mall and they had just looked at a comparable item (drill, compressor, paint gun, whatever) that was different from the one they were looking at and usually more expensive.
They wanted to know if they could get a tool that would do the same job for less. I was unwilling to convince them that an inferior product would meet their expectations for a lower price (I think I'm backed up by the fact that Sears still sells hardware and J.C. Penney gave up on it years ago.)
Consider that Indiana's part-time Legislature just might resemble J.C. Penney in my story and a full-time legislature the likes of those in Illinois, Michigan and Ohio just might resemble Sears. (Well, maybe not Illinois. All those tax increases earlier this year would drive any Sears customer to the closest Penney's looking for the long-gone hardware department.)
The comparison occurs to me, not just because the Democratic walkout in the Indiana House of Representatives was made advantageous to Democrats because of the compressed schedule, but for a number of reasons. Indiana voters have long held onto the notion that a part-time legislature is more efficient and therefore more effective. But it may be time to reconsider.
The Indiana Legislature is fast becoming a collection of people who fit three categories: young activists looking for a launching pad into a life in politics, retired workers from a variety of professions looking to serve the public on a limited basis, and public employees (teachers, principals) and former public employees (ex-sheriffs, ex-city and county officeholders) who are both free to leave home for four months at a time and have the motivation to serve as a way to build their public retirement plan.
I have no desire to demean the service of anyone in the General Assembly. I believe they more than earn their salary and retirement. But I wonder if it's not time to consider what you would get if your legislative candidates were running for a full-time position that paid a career wage.
It's also worth considering the talent that has left the General Assembly recently for professional advancement—people like Matt Bell, Randy Borror, Luke Messer and Matt Whetstone.
It wouldn't be easy. A full-time legislature would require an increase in staff and likely higher staff salaries. It might also require more office space, but let's consider some positives:
• Lawmakers would rely less on lobbyists to write legislation and to supply the arguments for and against it.
• We could have annual budgets instead of a two-year budget that requires lawmakers to rely on a revenue forecast made 27 months before the end of the budget cycle.
• There would be no special sessions with costs outside the budget.
• There would be time to give thoughtful consideration to difficult issues and, conversely, there would not be the avalanche of issues that forced this year's walkout.
Indiana's newspapers (and I have no desire to pick a fight with them) have long advocated for a continuation of the part-time Legislature. Lawmakers are sensitive to the editorials they publish.
But the acumen of Mitch Daniels in the Governor's Office has also made those lawmakers aware of what little power they have when they are not present at 200 W. Washington St. Daniels has reduced appropriations below budgeted amounts and executed executive orders that would never be attempted if lawmakers were in the building. That might give those lawmakers impetus to restore the balance of power.
No change is likely when the budget is tight. Yet this may be the best time to plant some seeds, spread the word, and seek support.
You get what you pay for.•
__________
Shella is WISH-TV Channel 8's political reporter as well as host and producer of the Emmy-nominated "Indiana Week in Review." Send comments on this column to ibjedit@ibj.com.
Please enable JavaScript to view this content.