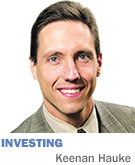 I read an article last week about a company I haven't heard from in a long time.
It was a story about eBay Inc.'s making a big acquisition to expand some line of its business. This got me thinking about the ever-changing fads and fashions of Wall Street and how fickle the crowd can truly be.
Looking at this from a longer-term historical picture brings nothing but awe and respect for a company like eBay, a firm that in less than 15 years has become a dominant force in both consumer and commercial commerce. It does business in most major countries around the world and, heck, you can even buy a car on eBay.
Despite this tremendous growth and the incredible business eBay has become, there is one group of people that just doesn't care about the operation anymore. And these are the people who ultimately decide the fate of this and any public company.
Investors lost interest in eBay a long time ago. Yes, there has been a rebound from the company's 2009 lows, but nothing compared to the interest in Apple Inc. or Netflix Inc. I'm not smart enough to know why investors have given up on this stock, but I do know eBay is going to have some real problems in a few years if it doesn't get this situation fixed.
Another company that's been ignored for a while is Yahoo Inc. This stock has really been left behind during this bull market over the last two years.
Last year, there was some talk about Microsoft Corp.'s taking over Yahoo, as if two "has-beens" would mean a return to glory. Rather, it would have meant a bigger, uglier has-been. Yahoo is still a huge player in the Internet space. It has millions and millions of people who use its services every day. Like with eBay, though, for whatever reason, investors have left the Yahoo party and it doesn't look like they are coming back anytime soon.
In the technology space, your stock stays hot as long as the company is rolling out hot new products. Today, it's all about Apple, Google and Facebook. Facebook is not a publicly traded company, but there is some private trading of its stock, and there is a hot market for it.
These companies are front and center in the media almost every day, and investors have flocked to that attention. I wouldn't buy any of these stocks now, but if Apple dropped to near $300, I would give it serious consideration.
I wouldn't give serious consideration to eBay or Yahoo at all today. At some point, those stocks could fall low enough and drift far enough away from public attention that they could become value-category stocks.
It is interesting that the sectors in the stock market that are doing the best today—and I expect them to do the best until this bull market ends sometime next year—are fairly boring industries like basic materials and industrial stocks.
These are not companies that draw the media attention, but basic-material stocks are really outperforming companies like Apple and Google. This has to do with the inflationary environment we are living in. Investing in basic-material and energy stocks has a benefit beyond potential gains. As you pay more to feed your family and gas up your vehicle, you are at least making some money from the companies you are paying in the stock market.•
__________
Hauke is the CEO of Samex Capital Advisors, a locally based money manager. His column appears every other week. Views expressed here are the writer's. Hauke can be reached at 203-3365 or at keenan@samexcapital.com.
Please enable JavaScript to view this content.