It's catch-up week, with thoughts on a range of recent Indiana-area stage offerings.
Let's start at the Palladium, where Savion Glover—widely acknowledged to be, if not the best, then at least among the top tappers in the world—performed his "Solo in Time" show April 1.
The program often felt as much like a musical performance as a dance show, with Glover confined to a small, microphoned dance floor where he expertly "played" his feet. The limitations of the stage clearly indicated this wasn't going to be a bouncing-off-the-walls tap showcase (not that anyone who has seen Glover's work would expect that), and by making minimal eye contact with the audience in the first two numbers—one solo, the other with guitarist Gabriel Hermida—Glover seemed to be challenging the uninitiated to throw off dance recital assumptions. The message was clear: We were watching an artist at work.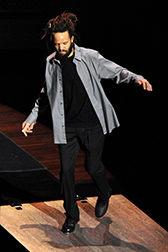 "Bring in Da' Noise Bring in Da' Funk" star Savion Glover performed at the Palladium. (Photo Courtesy Mike Lee)
What could have been pretentious and academic, though, subtly revealed its richness as the one-hour, 45-minute/no intermission evening progressed. Incorporating vocalist/percussionist Carmen Estevez, bassist Francesco Beccaro, and his fellow "Bring in Da' Noise Bring in Da' Funk" cast member Marshall Davis Jr. into the tight combo, Glover explored, celebrated and challenged assumptions about tap, connecting with the audience first through his feet, then through his body, then, eventually, allowing the light to hit his beatific face.
By the end, he seemed able to tap on water.
__________
Melissa James Gibson's play "This," having its regional premiere at the Phoenix Theatre (through April 24), treads familiar "Big Chill" territory but does it with grace and style. What's remarkable is that if I weren't aware of its off-Broadway roots,
I'd swear it was written specifically to showcase the strengths of three of Indy's leading actors.
Ryan Artzberger once again—and as effectively as in the past—plays a blue-collar guy whose silences betray a man burning to articulate what's going on inside him. Scot Greenwell once again plays a gay man who realizes his most interesting days may have passed. And Jennifer Johansen offers another take on the composed woman on the brink of a meltdown. All three are terrific, as is Phoenix newcomer Eric J. Olson as an outsider with insight.
The catalyst for the plot: A dinner party takes a sour turn when an innocent party game reveals an inner secret. I'll say no more. Suffice it to say this is the kind of easily accessible, meaty-enough/funny-enough drama that could turn your friend at the office into a semi-regular Phoenix-goer.
__________
"Annie Get Your Gun" has always been kind of a moving target.
Almost every major revival of it has made changes to deal with the fact that its enormous musical comedy pleasures come with uncomfortable, politically incorrect elements central to its very being. The most recent Broadway revival of "AGYG," starring Bernadette Peters, attempted to mitigate the women-should-capitulate message and Native American stereotypes by giving it a show-within-a-show framing device, ditching the "I'm an Indian, Too" number, and altering the ending (to mixed results).
In bringing the show back to its stage for the first time in 17 years (where it runs through May 8), the powers that be at Beef & Boards Dinner Theatre have opted instead to embrace the show with all its joys and flaws. The result is a wonderful production that will occasionally make audiences cringe a bit. (Did Annie have to pat her mouth during the "I'm an Indian, Too" dance?)
What makes the show still work is the gloriously fun Irving Berlin songs, the spirited directing (by Douglas E. Stark, who mercifully keeps the cast mugging to a minimum), the sparklingly simple design, and the totally winning performance in the lead.
So strong, in a different way, as Olive in B&B's "Spelling Bee" earlier this year, Tiana Checchia proves a near ideal Annie Oakley, gorgeously full of spunk and spirit and, at the same time, able to do justice to Berlin's slyly subversive songs. (Who else but Berlin would have the delightfully dirty "Doin' What Comes Natur'lly" backed up by a trio of adorable kids? Or have those same tykes sung to sleep by a "Moonshine Lullaby"?)
Checchia's wistful "I Got Lost in His Arms" and the rollicking "You Can't Get a Man With a Gun" would be enough to make me want to see it again. I only wish the latter had included all of Berlin's verses—I missed the one about how "they don't buy pajamas/for pistol-packin' mamas."•
__________
This column appears weekly. Send information on upcoming arts and entertainment events to lharry@ibj.com.
Please enable JavaScript to view this content.