It's easy to see the history in the friendship between Actors Theatre of Indiana co-founders Judy Fitzgerald and Cynthia Collins.
They don't finish each other's sentences so much as they pick up the threads of each other's thoughts, together weaving their tale of moving from New York City in 2005 with the singular goal of establishing a professional musical theater company in Hamilton County.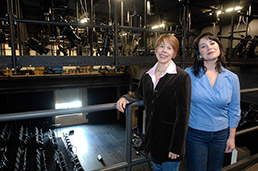 Best friends Cynthia Collins, left, and Judy Fitzgerald open the seventh season of their theater company in the brand new Studio Theatre in Carmel's Center for the Performing Arts. "Chicago" opens April 29. (IBJ Photo/ Perry Reichanadter)
That company is now Actors Theatre of Indiana, entering its seventh season and recently named the professional theater in residence of Carmel's sparkling new Center for the Performing Arts. ATI's premiere in the center's 200-seat Studio Theatre is "Chicago." The show opens April 29.
Don Farrell, Fitzgerald's husband, is the third prong of the trio that left the bright lights of the big city to fill what they saw as a dearth of strictly professional musical theater in the Indianapolis area. They each brought with them a resume as long as your arm, from off-Broadway to regional productions across the country—a combined 72 years of experience.
Their idea began percolating in 2004, when Fitzgerald learned she was pregnant.
"I saw people dragging strollers down the subway. I didn't want to do that," she said. "I wanted my child to have a yard, family, pets."
She, Farrell and Collins had worked together on various shows for years. The two women were best friends. In fact, when they met in 1998 on a production of "My Fair Lady," Fitzgerald said, "it was like we'd known each other for years."
By 2005, all three players had experience in so many areas of theater production, as well as performance, that they convinced themselves they could start a regional theater company somewhere beyond the Big Apple. They had no stash of cash, no formal business plan.
"When you're a performer, you can't think about the fear," Collins said.
Fitzgerald is an Indianapolis native. Family ties were a pull in this direction, and she told Collins, "I don't want to go without you."
In fact, the bond between Fitzgerald, 44, and Collins, 45, is so strong that Farrell said, laughing, he sometimes feels like "the third wheel."
A mutual friend set up a meeting between the would-be theater owners and Carmel Mayor James Brainard, who already had his heart set on a world-class concert hall but was still deliberating the notion of a regional theater facility to go along with it. He said he was taken immediately with the trio's professionalism.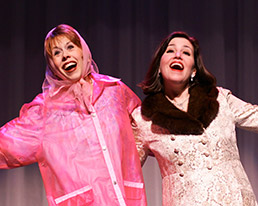 Cynthia Collins, left, and Judy Fitzgerald find performing, as here in an ATI production of "And The World Goes 'Round," the easy part of running a theater. (Photo courtesy Actors Theatre of Indiana/David Alkire)
Fitzgerald said she and her colleagues were equally impressed with Brainard's vision. They borrowed money from family and friends and hit the ground running, performing in Zionsville a production they'd already put on in a Georgia regional theater. They received a glowing Indianapolis Star review for "My Way," a musical tribute to Frank Sinatra, and they never looked back.
Over the next six seasons, ATI has produced 26 more shows, most of them musicals, in multiple venues. The trio often performs in their productions, but not always. Fitzgerald sometimes directs. Collins sometimes choreographs. But every aspect of every show—from box office to casting to set design to accounting—is their baby.
"This is our company from the ground up," Collins said. "Our blood, sweat and tears are in this company."
Bradley Reynolds, a New Yorker, has acted in two or three shows in each of ATI's first six seasons. He said both Collins and Fitzgerald have a sense of professionalism and "very good taste" in their choices of shows and crew members that keeps him coming back. Everyone gets along and he's never witnessed "an argument or terse word."
"They're up against a very, very difficult task" in starting any not-for-profit right before a recession, much less one that asks for people's disposable income, he said.
Dave Lawrence, president and CEO of the Arts Council of Indianapolis, said ATI actually arrived here at a receptive time. The local arts community has grown "by leaps and bounds over the last 20 or 30 years," so it's eager to "nurture companies that have big, bold vision."
Fitzgerald said ATI has survived its growth pains and the wait for its permanent home through the trio's shared trust, perfectionism and old-fashioned elbow grease.
"We've worked so hard," Collins added. "We should have a production [facility] like this."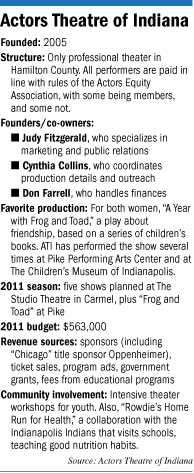 The move to The Studio Theatre will test the group's friendship on a whole new level. ATI's 2011 operating budget, $563,000, is 60-percent higher than last year's, Fitzgerald said. One reason for that is an $85,000 rental fee for the center's posh facility. That made it necessary to raise ticket prices, from $32 to $37.50.
The company is preparing for its step into adolescence. "Chicago" has a title sponsor, a first for an ATI production, and the company is adding new sponsors every day. The board has expanded, to 17 members.
"It started with the three of us and Judy's sister," a lawyer, Collins said.
ATI now has a structured business plan. The center staff has taken box-office duties from Fitzgerald, for which she said she is most grateful. And ATI hopes soon to hire a director of development, its first employee.
People who have worked with ATI say the group's cohesiveness, complementary strengths and high standards have been the key to its success.
"They tend to be more interested in the quality of what they're doing, music-wise," than other companies, said Terry Woods. He was the musical director on ATI's first production, and has come back for many more. "They're just really fun people to work with."
But each in distinct ways.
"Judy is the calming factor. Cindy is not," said Reynolds, the New York actor. "If they weren't opposites, I don't know that that relationship would be as powerful as it is."
Farrell called his wife "the glue that holds all three of us together." Collins, a New Jersey native, strengthens the company with her no-nonsense, get-it-done attitude, he said. "You know where you stand with Cindy."
"There's a stronger connection between them" that Farrell said he sometimes envies, but he added that all three keep their eye on the shared prize of a successful, high-quality theater company.
"We know that each one of us can come through at the end of the day," Farrell said. "We're always there for each other."
Fitzgerald and Collins said ATI's growth validates their risk of seven years ago.
The company has had so much support and so many factors have fallen into place along the way, like easily securing rights to perform "Chicago" with a simple, mailed-in application, when "nobody gets the rights," Fitzgerald said, that the founders are convinced "this was meant to be."
They believe the years spent hoofing the tough streets of New York theater prepared them for the challenge.
"We're primarily performers," Collins said. But a performer has to be self-promotional, a marketer, a networker, she added. "To pay your rent, you're already a businessperson."
In fact, singing and dancing and acting are the easy parts of their jobs, Fitzgerald said. The three have worked together for so long that they don't get pre-show jitters. That's the moment when concerns about box office and promotions and making ends meet evaporate. There's only one task to focus on, and it's the fun one.
"When we perform together, there's some kind of a comfort zone. It becomes easy," she said.
This next stage in the company's development might not be quite so comfortable, but both women said they're not intimidated by the challenge.
"Bring it on," Fitzgerald said. "We're ready to go."•
Please enable JavaScript to view this content.