The owners of Indiana Live racetrack and casino, which filed for bankruptcy protection this month, are sparing no expense in restructuring their financial affairs.
Indianapolis Downs LLC, which operates the Shelbyville racino, has hired top-tier national investment banking and law firms to represent it in Chapter 11 proceedings in U.S. bankruptcy court in Delaware.
Those firms come at top dollar: $285,000 a month between a financial advisory firm and a restructuring officer, four law firms with hourly rates ranging from $145 to $945, and a public relations company to handle communications about the bankruptcy at fees from $250 to $600 per hour.
That's in addition to Indianapolis Downs' ongoing expenses of paying lobbyists, lawyers and consultants who advise the company on matters outside the bankruptcy case.
Experts say such spending can pay off. If the professionals do their job well, it increases the odds the company will land on solid financial footing. But it also poses a risk.
"If the case languishes, these fees will rack up and could impact the restructuring," said Henry Efroymson, chairman of the bankruptcy and restructuring group at Indianapolis-based Ice Miller LLP.
Indianapolis Downs says it doesn't share that concern.
In an e-mail, Mike Geczi, who is handling public relations for the company, said Indianapolis Downs selected firms based on their experience with the racino owner, the gambling industry and the courts involved.
"We did not choose to retain expensive firms," Geczi said. "We chose to retain firms that were the best for this particular matter."
Indianapolis Downs, whose main shareholder is South Bend-based Oliver Racing LLC, generated $270 million in revenue last year, an 8.7-percent increase from 2009, according to bankruptcy filings.
The company's main struggle has been its hefty debt load, which ballooned after it paid the state a $250 million slots-licensing fee in 2007. Indianapolis Downs is using bankruptcy mostly to restructure its institutional debt, which includes $98 million in first-lien debt, $375 million in senior secured notes, and $73 million in subordinated notes.
Indianapolis Downs aims to strengthen its finances by improving operations, increasing its market share, and seeking changes in the Legislature that would lighten its tax bill, according to the filing.
Meanwhile, IBJ reported last month that two nearby competitors, Louisviille-based Churchill Downs and Indianapolis-based Centaur, parent of Anderson's Hoosier Park racino, have signaled interest in buying the company, should Indianapolis Downs be interested in selling.
In bankruptcy cases, it's critical to hire savvy investment banking firms to handle restructuring, Efroymson said. But there are high-quality alternatives to the pricey outfits.
"You could do it more frugally," said Tom Roller, a local consultant who restructures distressed companies. "There are a lot of small boutique firms with top talent that could do just as good a job."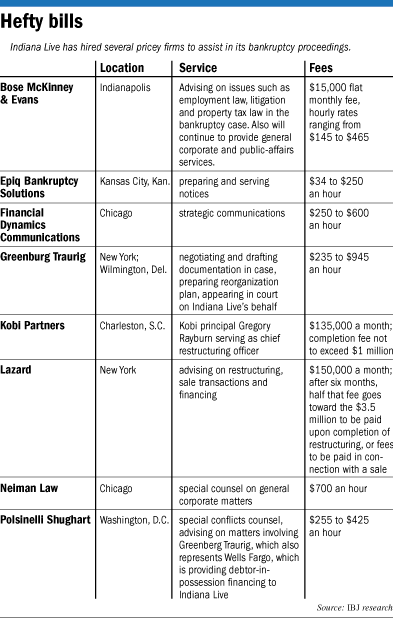 Roller said firms going through bankruptcy often are inexperienced with the process. Many sophisticated businesspeople in that position feel vulnerable and seek help from name-brand talent.
Indianapolis Downs turned to Miami-based Greenberg Traurig, which had counseled it on other gambling matters since 2007. It's charging the $945 hourly rate for one of its partners.
But because Greenberg Traurig also does work with Wells Fargo, which is providing financing for Indianapolis Downs while it's in bankruptcy, the company had to bring in another law firm, Washington, D.C.-based Polsinelli Shughart, to advise on potential conflicts of interest.
That's in addition to local counsel Bose McKinney & Evans, which will provide advice in some specialized areas, and Chicago-based Nieman Law, which will serve as special counsel on general corporate matters.
Indianapolis Downs also hired more than one firm to provide financial advice. The company tapped South Carolina-based Kobi Partners in order to retain its principal, Gregory Rayburn, who will lead the company's restructuring process. In addition, Bermuda-based financial advisory firm Lazard will handle tasks such as analyzing the company's business operations and evaluating its debt capacity.
On top of their monthly fees, both firms would receive payments if the company successfully reorganizes in bankruptcy court. Those include a payment of less than $1 million for Kobi Partners and $3.5 million for Lazard. Lazard would receive additional payments in the case of a sale of Indianapolis Downs' assets.
The company is paying its professional fees from its operating cash flow.
The bankruptcy court must initially sign off on the firms and their fees, but that's just the first step in the process. Companies also must file monthly reports detailing their expenses and report final fees, both of which must be approved by the court.
But objections to fees are rare, and courts typically award the lion's share of what companies apply for, according to two University of California at Los Angeles law school professors, who wrote a book released this year on professional fees in corporate bankruptcy cases. Fees rose 9.5 percent each year from 1998 through 2007.
Efroymson said the expense Indianapolis Downs is footing might raise questions were the case proceeding in Indianapolis. But judges in Delaware, where many bankruptcy cases are handled, are accustomed to those kinds of numbers. In addition, the fact that Indiana Downs is a gambling company should strengthen its ability to get fee approval.
"The gaming industry doesn't have a problem with [high fees] because the industry generates a lot of cash flow," Efroymson said. "With a company that has a problem with cash flow, this becomes a critical issue."•
Please enable JavaScript to view this content.