The Flagship Enterprise Center in Anderson, an incubator for technology firms and other emerging firms, has teamed with the Indianapolis angel investing network StepStone Angels.
StepStone has more than 20 members, including physicians, entrepreneurs and financial service professionals, with money to invest in promising upstarts.
The Indianapolis group has focused mostly on investments in life sciences startups, but will provide access to other market segments, particularly as the group expands statewide, said Oscar Moralez, who founded StepStone along with Indianapolis physician and entrepreneur Steven Isenberg.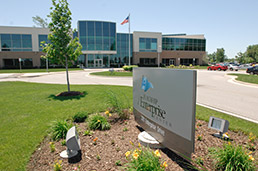 Indianapolis-based StepStone Angels has launched a chapter at Anderson's Flagship Enterprise Center, a tech incubator. (IBJ File Photo)
"The availability of capital is one of the most urgent needs our clients and other small businesses face," said DeWayne Landwehr, executive director of Flagship.
Landwehr said the center last summer started an SBA Microloan program, which should also bolster financing prospects at the state's second-largest business incubator. The center at Exit 22 off Interstate 69, which also functions as a growth-stage business accelerator, is a partnership of Anderson University and the city of Anderson.
Please enable JavaScript to view this content.