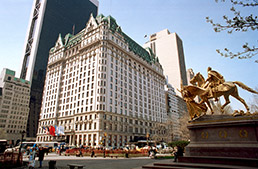 Manhattan's Plaza Hotel is one of the country's most prestigious addresses. (AP Photo)
Bren Simon may have lost control over her late husband's multibillion-dollar estate, but for now she can do as she wishes with the palatial homes they collected over the years.
And Bren, a 68-year-old interior designer known for budget-busting tastes, is taking full advantage. She sold a New York City condo for $48 million in March, and is trying to sell a mansion in Los Angeles for $50 million.
The properties she controls—which also include lavish spreads in London; Washington, D.C.; Aspen, Colo.; and Carmel—are not part of the high-profile $2 billion estate dispute with her stepchildren.
But that could change. The plaintiffs' complaint suggests that Bren bought many of the properties after Melvin was diagnosed with dementia in 2006, during the period she was supposed to be acting in the interests of Melvin and the beneficiaries of a family trust. Bren had some of the homes titled in her name only and others titled jointly, allowing them to pass directly to her—outside the estate—when the shopping mall mogul died in September 2009.
Bren has continued to buy and sell properties even as her attorneys fought unsuccessfully to overturn her removal as trustee over Melvin's estate. (See story here.)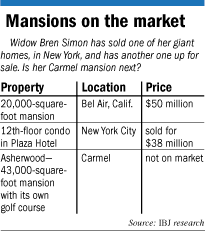 In late March, Bren sold a 6,000-square-foot condominium on the 12th floor of the Plaza hotel in Manhattan for $48 million—reportedly the most ever paid for a New York City condo. Melvin and Bren had bought two units in the Plaza with views of Central Park for about $37 million in 2007 and combined them. The buyers: Russian composer Igor Krutoy and his wife, Olga.
She's asking $50 million for a 20,000-square-foot home known as Bellagio House in the exclusive Bel Air neighborhood of Los Angeles. The couple paid about $28 million for the home in 2006, spent another $9 million acquiring a neighboring property, and invested millions more to outfit the property.
The Bel Air home has a movie theater, indoor spa and gym, underground 10-car parking garage, 16 bathrooms and eight bedrooms, including a 2,000-square-foot master bedroom—about the size of the average single-family U.S. home, based on Census data.
Bren also may be quietly courting potential buyers for Asherwood, her 43,000-square-foot home and private golf course west of Ditch Road between 96th and 106th streets in Carmel. The home cost a rumored $55 million to build, more than a decade ago. She also owns a three-story "city home" in the Village of West Clay.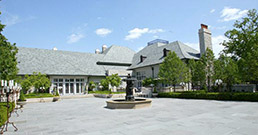 Asherwood (IBJ File Photo)
Buying and selling pricey homes is nothing new for Bren. She and Melvin bought and sold several homes since they married in 1972, but the pace of deals appears to have picked up in recent years. And none of the homes came with a mortgage.
An attorney for Bren, DLA Piper partner Marianne Schmitt Hellauer of Baltimore, referred questions to Anton Valukas, chairman of the Chicago-based law firm Jenner & Block. Valukas did not return a phone message by press time.
Attorneys for Deborah Simon, one of Melvin's children from a previous marriage, also declined to comment. Deborah Simon claims Bren coerced Melvin to make changes to his estate plan seven months before he died, all so Bren could inherit a greater share. Bren says the changes reflected Melvin's wishes.
One of the most prominent properties the Simons have owned is Villa de Venezia, a 52-room home near Palm Beach, Fla., built by Harold K. Vanderbilt in 1929. Melvin and Bren hosted a party for Bill Clinton while he was president and a fundraising dinner for Hillary Clinton's campaign for the U.S. Senate at the property, which has a private dock, tennis courts, a two-bedroom guest house and a three-bedroom beach house.
They bought Villa de Venezia for $6 million in 1986, and sold it in 2000 for almost $30 million—a single-home record for Florida at the time—to Veronica and Randolph Hearst.
The Simons paid $6 million for a 10,300-square-foot ski house in Aspen and $2.5 million for the four-bed, four-bath Beaux-Arts home in the Village of West Clay, according to The Real Estalker, a dishy blog that described Bren and Melvin as "unrepentant real estate size queens."
Bren maintains a home in the Georgetown neighborhood of Washington, D.C., that she acquired a few years back in hopes of landing a political appointment in a Hillary Clinton administration. But she has sold properties in the Dominican Republic and Turkey, a source said.
In May 2010, a few months after she listed the Bel Air mansion, Bren bought 100 acres in Ventura County, Calif., for $21 million and plans to build a mansion there, The Wall Street Journal reported.
If Bren opts to sell Asherwood, the Carmel property would most likely carry an asking price of more than $40 million, an unprecedented sum for the state, said Jeffrey Cohen, founding principal of Encore Sothebys International Realty of Indianapolis.
Cohen, whose firm has listings for about 20 central Indiana properties with asking prices of $1 million or above, said he has not heard any indication Bren plans to sell the home.
However, she never put the New York City condo up for sale officially before it sold in March. (The seller of the property is a limited liability company that has Bren's attorney as its registered agent.)
A broker likely would market Asherwood to an international audience; breaking up the property to build more homes probably would not be financially feasible since the market for estate lots is weak, Cohen said.
Bren considered donating the mansion to Indiana University, but the roughly $1 million in annual upkeep scuttled the deal.
"It's beautiful, incredible, an extraordinary property," Cohen said. "You'd be hard-pressed to find anything like Asherwood in the Midwest. There aren't many like it in the country or the world."•
Please enable JavaScript to view this content.