The latest piece of art to be installed along downtown Indianapolis' Cultural Trail will cost almost as much as the first eight pieces combined.
Located inside the Virginia Avenue parking garage south of Maryland Street, "Swarm Street" by Acconci Studio of New York is an interactive light display that the creators compare to swarms of fireflies. With the unveiling of Swarm Street, all of the public art to be built as part of the trail's construction has been revealed. Other pieces are likely to be added after the trail is complete.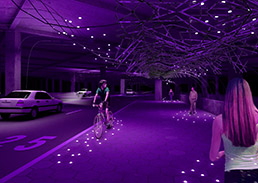 The interactive light display has been compared to swarms of fireflies.(Rendering courtesy Indianapolis Cultural Trail)
The project, which is set to be done by year's end, costs $975,000 and will be funded by private donations to the Cultural Trail. Acconci Studio's design fee is $97,000. Most of the remainder will go to Indiana-based contractors that will handle fabrication and installation, said Cultural Trail officials.
Local contractor Shiel Sexton will provide construction management for the project—at no charge—and coordinate other subcontractors.
More than 1,000 LED lights will be embedded below Cultural Trail travelers in the pavement, plus another 1,000 will be installed in an open steel-framework above. Movement from users on the trail will activate light sensors that "swarm" around the user and follow movement through the space.
"As you walk through the tunnel, as you cycle through, a swarm of fireflies—above you, below you—gathers around you and lights your way. One sparkle attracts another, like a magnet, " explained Vito Acconci, owner of Acconci Studios. "When someone passes you, when someone comes toward you, some sparkles veer off in a different direction, and a new flock of fireflies emerges."
When it's finished in 2012, the eight-mile urban trail will represent $62.5 million in public and private investment. Brian Payne, who has spent the past nine years turning his concept of the trail into reality, doesn't want to see it treated like common pavement.
"It's something that's a world-class amenity," said Payne, president of the Central Indiana Community Foundation. The foundation is building the trail in conjunction with the city of Indianapolis.
To date, more than $1 million has been invested in eight other art displays that are in the process of being installed during the trail's design and construction.
Artists or architects currently living in or with ties to Indiana created five of the eight projects. In addition, three Indiana-based poets have been commissioned to do work that will be featured on new Cultural Trail bus shelters, with the possibility of five more authors receiving commissions.
"The garage is our biggest design challenge," Payne said. "In addition to the railroad and interstate, it creates another visual barrier to the neighborhoods south of downtown. We also anticipated that people would be concerned about using a trail that takes users through a dark space. We knew that a public art installation could transform this space from a dark scary place to a vibrant, fun destination."
The Cultural Trail's Public Art Advisory Committee first approached Acconci in 2007 based on his "world-renowned reputation as an artist, designer, and thinker," Payne said.
 
Acconci also has designed a donor recognition wall in this space. The names of donors who have contributed $100,000 or more will be laser cut from mirrored stainless steel and displayed along the interior of the installation.
Please enable JavaScript to view this content.