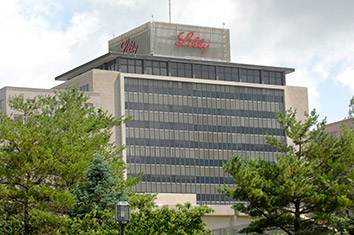 Eli Lilly and Co. said Wednesday that a federal court is blocking low-cost generic versions of Cymbalta from the market until the patents supporting the drug expire.
Lilly said the order from the U.S. District Court for the Southern District of Indiana will stop generic competition for Cymbalta, its second best-selling drug, until at least June 2013. The Indianapolis drugmaker said the court initially entered a judgment in its favor on March 21. As part of Wednesday's ruling, the defendants are required to inform the Food and Drug Administration that they are not seeking approval for generic Cymbalta until the patents expire.
The litigation has been dismissed and no appeal is possible.
Cymbalta, or duloxetine, is approved to treat depression, fibromyalgia and musculoskeletal pain. The company reported $2.77 billion in U.S. sales in 2010. That was 80 percent of worldwide Cymbalta sales, which totaled $3.48 billion.
The U.S. patents on Lilly's best-selling product, the antipsychotic Zyprexa, will expire in October. The patent on its diabetes treatment Humalog will also expire in 2013. Over the next two years, the company will lose patent protection on a group of drugs that brought in 46 percent of its revenue in 2010.
Lilly shares rose 41 cents to $37.23 Wednesday. The stock was unchanged in aftermarket trading.
Please enable JavaScript to view this content.