The starchy Indianapolis law firm of Barnes & Thornburg LLP has gone Hollywood.
Well, that might be a bit of a stretch. But its entrance into the Los Angeles market earlier this year capped off a string of office openings that vaulted it into an elite national player.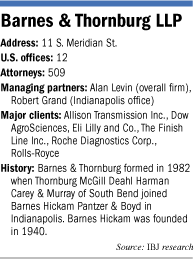 Information submitted by Barnes & Thornburg for IBJ's Book of Lists puts the firm at 509 attorneys—including retired partners—at the end of 2010.
Counting another way, National Law Journal says Barnes & Thornburg has grown to 450 lawyers in 12 offices nationwide, approximately a 20-percent increase from five years ago, easily placing it among the 100 largest firm in the country.
That's good enough to place it among some pretty high-profile practices, considering only 20 firms in the nation boast more than 1,000 attorneys. And those behemoths are not only national, but international, in scope.
As Indianapolis' biggest firm, Barnes & Thornburg launched the West Coast practice in February, stretching its presence to all major regions of the United States—from Minneapolis to Atlanta and from Washington, D.C., to Los Angeles.
That the firm has expanded at a time when many competitors are content to wait until the economy fully rebounds before making any bold moves is quite impressive.
Perhaps equally striking is that Barnes & Thornburg has grown in stature while headquartered in a city "that might be con-
sidered a second-tier legal market," said Ward Bower, a principal in the suburban
Philadelphia consulting firm Altman Weil Inc.
"That's harder to do … than it might from Chicago, Los Angeles or Washington, D.C.," he said. "And those are hard places to move into if you're coming from Indianapolis, because no one knows who you are."
Barnes & Thornburg, however, had done enough work in Los Angeles to lure a top partner from one of the nation's 50-largest firms to lead its new practice.
David Allen, managing partner of the Los Angeles office of Washington, D.C.-based Akin Gump Strauss Hauer & Feld LLP, now holds the same title for Barnes & Thornburg's rival upstart.
Allen also launched Akin Gump there in 1997. In the meantime, he became familiar with Barnes & Thornburg while helping litigate cases involving clients with a West Coast presence.
"About a year-and-a-half ago, they came to me and told me they were interested in opening an L.A. office," Allen recalled. "They just wanted to pick my brain about doing it. One thing led to another, and I became interested in doing it."
Merger not in cards
Levin
Barnes & Thornburg officially entered Los Angeles in February after a spate of office openings throughout 2009 in Atlanta, Minneapolis and Columbus, Ohio. The firm has additional locations in Elkhart, Fort Wayne and South Bend, as well as in Chicago; Washington, D.C.; Grand Rapids, Mich.; and Wilmington, Del.
Its ascent to a dozen offices nationally is enough to land Barnes & Thornburg coveted national law firm status among legal observers. That's significant because the firm can serve clients from multiple parts of the country rather than defer to outside lawyers for assistance. In addition, and even more important, it gains access to new clients that otherwise would be unreachable.
Alan Levin, Barnes & Thornburg's managing partner since 1997—one of the city's longest-running firm leaders—recalled how partners opted for expansion over other growth alternatives.
"We get approached from time to time," Levin acknowledged. "But we feel pretty good about what we're building and accomplishing. So we made a decision where we think we can grow this way [rather] than doing a merger of equals or getting acquired."
Now it's time to "catch our breath," said Levin, noting the firm has no plans at the moment to launch another office.
Baker & Daniels LLP, one of Barnes & Thornburg's biggest competitors in Indianapolis, also has offices in Chicago and Washington, D.C., but while firm leaders are open to exploring additional locations, it's not a priority, said Tom Froehle, Baker & Daniels' managing partner.
"I think everybody has their own strategies," Froehle said. "Ours has been less on geography and more on practice strengths."
Scores of firms nationwide have broadened their geographic footprints to gain a competitive edge. But Barnes & Thornburg has been the most aggressive Indianapolis-based firm to undertake the strategy.
Conversely, several outside firms have arrived in the city by opening offices or absorbing existing practices. Some of the more prominent include Greenville, S.C.-based Ogletree Deakins Nash Smoak & Stewart PC and Cleveland-based Benesch Friedlander Coplan & Aronoff LLP, in addition to Cincinnati firms Taft Stettinius Hollister LLP and Frost Brown Todd LLC.
Robert Hicks, managing partner of Taft Stettinius' local office, applauded Barnes & Thornburg's efforts.
"I can say that Barnes has performed incredibly well and has an outstanding track record with its expansions," Hicks said. "Looking back, it seems like it was far ahead of many other Midwestern law firms."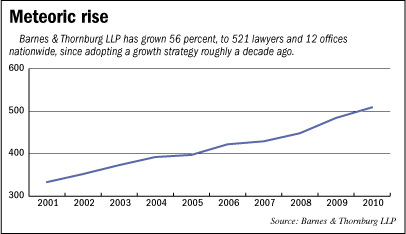 Shrinking client base
To be sure, Barnes & Thornburg—formed in 1982 from a merger of two Indiana firms—first stepped outside the Hoosier state in the mid-1990s by trying its luck in Chicago. The gamble has paid off with an office that now boasts nearly 100 lawyers.
The firm followed up by adopting a strategy in 2000 that essentially laid out a road map for expansion.
An office in Grand Rapids, Mich., opened in 2003. But the pace quickened in 2009, when the Atlanta, Minneapolis and Columbus, Ohio, offices opened within three months.
The Atlanta and Columbus locations launched organically, with just a lawyer or two. Barnes & Thornburg took a different tack in Minneapolis, however, by acquiring an existing firm with 22 lawyers.
Atlanta and Minneapolis now have roughly 30 lawyers, and the Los Angeles location has grown quickly to about a dozen.
The allure of new clients and added revenue is enough to justify most any firm expansion. However, the danger of losing existing ones can enter into the equation, too, Levin explained.
He joined Barnes & Thornburg in 1982, fresh from the Indiana University School of Law in Bloomington. Cutting his teeth in the employee benefits arena, Levin counted as clients Mayflower Transit LLC and the former Arvin Industries, Merchants National Bank and Indiana National Bank, all of which have moved out of state or been acquired.
"I did all their work and all those companies are gone," Levin said. "Now there's still good legal work here. But just being realistic, are there going to be opportunities to grow that significantly? The answer is really no."
Levin is more optimistic about his firm's Los Angeles prospects. He thinks it can crack the market by charging Midwestern rates that are typically cheaper than West Coast fees. Corporations are scrutinizing fees much more closely, particularly following the recession.
Allen, the lawyer Barnes & Thornburg brought on board to lead the office, can attest to that.
"The rate structure at Akin [caused me to be] priced out of certain work in the Los Angeles market," he said. "The rates at Akin were going up as our clients were demanding they go down."
In any case, another office means more travel time for Levin. He's out of town at least once a week visiting one of the firm's 11 locations outside Indianapolis.
Said Levin: "They know me at the airport; let's put it that way."•
Please enable JavaScript to view this content.