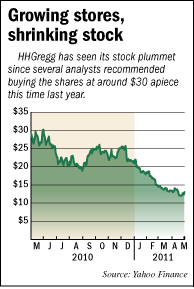 HHGregg Inc. continues to plow into new markets, opening an average of one store a week, even as Wall Street is feeling less gung-ho about the prospects for such a fast-growing brick-and-mortar electronics chain.
Investors and analysts worry about the Indianapolis-based chain's two years of same-store sales drops, limited exposure to the hot tablet-computer and smart-phone categories, flat-lining sales of high-end televisions, and formidable competition from online players like Amazon.com.
In June 2010, investors bid up shares of the home electronics and appliance chain to more than $31, as HHGregg raced to secure dozens of new store locations to take advantage of a depressed commercial real estate market and fill a void left by the bankrupt Circuit City.
The shares have tumbled by more than half since then, reaching a low of about $12 in April, before recovering to roughly $13.50 in May trading.
Some of the same analysts who slapped the shares with buy ratings when they traded in the mid-$20 range now urge caution, though they still have high hopes the chain's rapid growth—and strategy of using highly trained commission sales associates to sell the latest electronics and appliances—will find surer footing in the not-too-distant future.
"HHGregg Inc. remains one of the more compelling longer-term-growth stories in our coverage universe," KeyBanc analysts wrote in an April 18 report.
HHGregg, which was founded in 1955, added 42 stores in its just-ended fiscal year and plans to add as many as 45 more in the current fiscal year, including its first locations in Pittsburgh, Miami and Chicago.
The chain had just 50 stores in 2004, now has 173, and is building toward a goal of 600 locations coast-to-coast.
Growth spurt
HHGregg executives expected the growth spurt could encounter some bumps, but ultimately would succeed since vendors want an alternative to Best Buy and Walmart and consumers respond to expert customer service, said Alan Wolf, senior editor for retail at The Week in Consumer Electronics, or TWICE, magazine.
He sees the slide in HHGregg's shares not as an indictment of the company in particular or its leadership, but as evidence of headwinds in an evolving industry.
Wolf points to moves by Walmart to downsize its space for consumer electronics, moving away from the industry-standard giant TV walls, and electronics market leader Best Buy's acknowledgement that its massive real estate footprint is becoming less of a competitive advantage.
The Web is an important factor, as Amazon.com and other online retailers steal share in part by selling big-ticket items without charging sales tax.
HHGregg is fighting back online. It plans to launch a revamped website in August that will allow customers who live near a store to chat live with a sales associate, CEO Dennis May said at a February conference in New York City hosted by an investment-research firm. The company's website already offers hundreds of items for sale, including big-screen TVs and appliances, with most items available for shipping, delivery or store pickup.
And HHGregg store employees are using the Internet as a sales tool, showing customers prices at competing retailers and matching them when necessary to close sales.
"In today's world of low-serve/self-serve, the consumer is just begging for [service], they're crying out for a little attention, you know, 'Make me feel important,'" May said at the New York conference, according to a transcript. "So that's what we excel at. That's what we do."
HHGregg officials declined an interview invitation for this story, citing a quiet period before their quarterly earnings release, scheduled for May 26.
TV sales fading
Of particular concern for HHGregg shareholders has been a flattening of television sales growth.
Consumers are spending more discretionary dollars on smartphones and tablet computers and fewer on upgrading their televisions, according to a report from KeyBanc Capital Markets.
That's of particular concern for HHGregg, which gets about 50 percent of its annual sales from TVs.
On top of that, prices on like-model televisions continue to drop as much as 30 percent per year, squeezing margins, and consumers have not shown an eagerness to spend more for newer features like 3D.
"Longer term, we expect the category to settle out like major appliances, in which sales are driven by housing and normal replacements," the KeyBanc analysts wrote. "But at this point, it appears to be several more years before breakage or upgrades become steady drivers of sales again."
KeyBanc rates HHGregg shares a hold, despite a positive view on the company's "longer-term growth prospects, management team and current strategy."
The chain did make a fortuitous pick when it contracted with a Verizon Wireless affiliate to open kiosks in each of its stores. HHGregg chose its partner before Verizon landed the coveted iPhone, and has seen a strong bump in traffic as a result.
The arrangement yields rental payments to HHGregg and some additional cash for the chain to buy advertising.
HHGregg also is making headway in computers, its fastest-growing line of business after entering the category just three years ago.
Picking a top
A flurry of insider sales near last year's peak for HHGregg's shares suggest executives suspected the stock was approaching full valuation at about $30.
Chairman Jerry Throgmartin, CEO May and Chief Operating Officer Gregg Throgmartin sold a combined $37 million worth of shares on June 1, 2010, according to Yahoo! Finance. The closing price was $28.40 per share. None of the three has bought or sold shares on the open market since.
May noted at the February conference that the company's management team owns a combined 20 percent of HHGregg and believes in the growth story.
The chain has managed to enter new markets profitably, generating positive cash flow from new stores in an average of 90 days, and paying down debt even as it opened 73 stores in the last five years.
The company's last earnings report did not inspire confidence, as HHGregg reported a 6-percent drop in same-store sales and lowered its per-share earnings guidance for the year.
The new estimate of $1.10 to $1.15 per share, down from a range of $1.15 to $1.23, shows how difficult an operating environment the company is facing, said Nathan Mendes, an analyst at Little Rock, Ark.-based Stephens Inc. The company also lowered its expectations for same-store sales for fiscal 2011, to a drop in the range of 4 percent to 5 percent.
Spiking gas prices also are weighing on the company, since consumers have fewer dollars to spend on electronics, and it now costs more to deliver them. Higher commodity costs also lead to more expensive appliances.
"Investors will pay for profitable growth, but when you're guiding to negative comps, that gives investors pause," said Mendes, whose firm has an equal-weight rating on the shares, down from an overweight until November 2010.•
Please enable JavaScript to view this content.