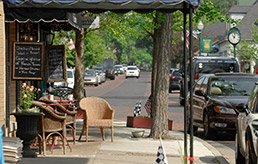 Residents want to preserve Zionsville's charm, reflected in its Main Street, as they grow the commercial base. (IBJ Photo/ Perry Reichanadter)
For years, Zionsville residents have taken pride in their status as a bedroom community with more horse farms and mom-and-pop shops than chain restaurants and big boxes.
But after property tax caps crimped local dollars and a struggle for school funding prompted a referendum that failed, many locals have decided it's time to attract what they've viewed as a potential threat: commercial development.
Now, residents in the 11,500-person town are tangled in a hot dispute over how to achieve that goal.
It's an issue that took center stage in the primary election this month for seven spots on the town council, the governing body that runs Zionsville since it doesn't have a mayor.
The primary likely settled the general election in this Republican bastion. But the debate rages on.
The primary winners had support from a group called Citizens for a Better Zionsville, which has been promoted by some of the town's power structure, including current council leadership and those in the development community.
Their challengers, who ran as a team dubbed Your Zionsville, were led by Wendy Brant, a former Boone County commissioner and firebrand who led the opposition to last year's school referendum.
Both sides say they agree the town needs more businesses. They also agree they don't want to jeopardize Zionsville's old-town charm in the process of attracting them.
Trouble is, neither side believes opponents mean what they say.
"What's being said by both camps is identical," said David Carr, a local attorney and former town councilor who resigned in 2009, in part out of frustration with council leadership.
"I just think the Your Zionsville group would have done it," he said, referring to responsible growth. "We have one group that actually means it and one group that is saying it to get votes."
Carr and other Your Zionsville supporters fear that Citizens for a Better Zionsville, because of its support from developers, will allow the town's growth to be driven by developer interests.
But Citizens for a Better Zionsville supporters, including four town council incumbents who prevailed in the primary, say their actions to date have paved the way for strategic development—and proved their critics wrong.
They also argue their opponents do not genuinely favor commercial growth, but would prefer to keep Zionsville as an exclusive bedroom community drawing residents who can afford to pay more for services. The town's median household income is $107,346, more than twice that of the state as a whole.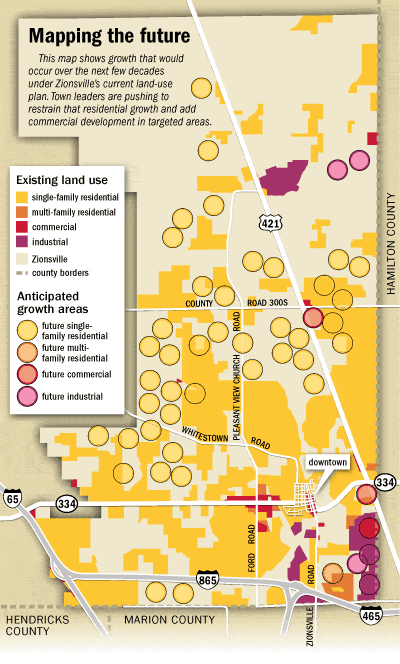 "Their vision is different," said Matt Price, the current town council president who is aligned with Citizens for a Better Zionsville and isn't seeking another term. "It isn't arguing for a balanced tax base. It's more Zionsville as a country club. What they're doing is borrowing nomenclature."
Foundation for growth
Over the last 20 years, Zionsville has tripled in population. But there's been little commercial development alongside that residential growth, and the town's tax base is about 93-percent residential.
As a result, Zionsville's tax rate is $2.08 per $100 of assessed value—higher than rates for nearby municipalities such as Carmel and Fishers.
The lack of businesses stems in part from a reticence to let them in. Zionsville residents are fiercely protective of the town's charm, reflected in its well-kept Main Street and attractive downtown shops, and fear an encroachment of chain stores and restaurants would make it look like a run-of-the-mill suburb.
The town, for example, has been in a legal battle to keep out Wal-Mart since 2006.
With that sentiment has come a reluctance to offer businesses tax incentives.
"There's a mentality out there that good quality growth is going to come to us, and we're not going to do the things we need to do to invite it in," said Dax Norton, executive director of the Boone County Economic Development Corp., who helps market Zionsville to outside businesses.
In the last few years, though, that view has begun to change, propelled by the reality that residential development alone can't support the tax base.
In 2006, a group of community leaders began discussing the need to craft a more proactive way to develop the town. Through Citizens for a Better Zionsville, they promoted a slate of like-minded candidates who were elected in 2007 and took control of the council.
Their first priority was to merge Zionsville with two unincorporated townships via referendum in 2008 to give town leaders planning control over the 52-square-mile area.
Last year, the council also approved increasing Norton's involvement in Zionsville's economic development efforts, increasing funding to his group from $2,000 a year to an annual $50,000.
And this month, council members approved a set of zoning criteria that would foster redevelopment of a 130-acre property between 96th and 106th streets and bordered by the busy thoroughfares of Zionsville Road and U.S. 421.
The now-vacant land is owned by Michigan-based Dow Chemical and was formerly used by the company for product testing.
Town and economic development leaders see that area as the first focus for new commercial development—a prime spot for high-tech or light manufacturing jobs with restaurants and retail to serve the employees.
The town has commissioned engineering firm American Structurepoint to come up with an economic development strategy for the Dow site and the tax-increment financing district that surrounds the area. That will include ideas for funding water lines and road enhancements needed for the project to be ready for development.
Town leaders see those moves as laying the groundwork for what will be a more aggressive effort to attract businesses in coming years.
Norton's group has set a goal of making 20 percent of Zionsville's tax base commercial within nine years, which would require an additional $150 million in commercial development. And he said the town can't shy away from incentives if it's going to be competitive in attracting jobs.
Chad Pittman, a Zionsville resident and former director at homebuilder C.P. Morgan who has helped mobilize Citizens for a Better Zionsville, said the recent election of candidates who endorsed Norton's plan shows residents appreciate the town's efforts so far.
"You have one group of people talking about philosophically controlling growth. Another side is saying, 'Let's actually control growth,'" Pittman said. "I think the voters got a chance to say whether they want to continue down the direction current town leadership put us on."
Too much influence?
But what Pittman describes as earnest efforts are seen by political opponents as moves to promote self-interest.
Opponents believe Citizens for a Better Zionsville has been overly influenced by developers, and say the group's real motive is to bring more low-priced cookie-cutter homes and apartments to Zionsville and allow for rampant commercial growth.
Campaign finance reports show the Metropolitan Indianapolis Board of Realtors' political action committee contributed to all the town council candidates who won in the primary. When Price won election to the council in 2007, one of his contributors was a mortgage-financing company founded by Paul Estridge Sr., a prominent developer.
Pittman's family owns 50 acres of land in a highly trafficked corner of Zionsville, and his brother, Steve, a developer, owns about 100 acres in Zionsville. Chad has played a key role in supporting the candidates who align themselves with Citizens for a Better Zionsville.
"We've got a political action committee put together by developers coming up with a plan for our town," said Valerie Swack, a current town councilor who has disagreed with the majority on several issues and chose not to seek re-election.
Those who oppose the current power structure believe those ties have driven what has transpired in the town since the 2007 election.
They point to Price's decision after the consolidation of the unincorporated townships to have all board and commission members resign and allow the council to appoint new ones.
Price said that was to ensure fair representation from the newly consolidated areas, but opponents saw it as a way to select people friendly to the council majority to powerful bodies such as the plan commission.
"You've got political appointees coming in and driving the whole thing," said Brant, leader of the Your Zionsville group that opposed the incumbents in the recent primary. "Out of all of this has come a very special-interest-driven approach of how we're going to develop."
Brant and others also complain town leadership didn't draft a new master development plan, a process they say would have required more community input, after the consolidation was approved in late 2008.
Instead, they focused on having a group of residents—including Pittman councilors and city staffers—update the town's transportation plan.
And specific elements of that plan, such as a new Interstate 865 interchange and an extension of a road through the town's horse country, were controversial partly because some saw them as an attempt to appease developers.
Price pointed out that the interchange—which, along with the road extension, has since been dropped from the plan—initially was included in the late 1980s and was designed to alleviate traffic on heavily traveled arteries.
But at this stage, supporters of Your Zionsville take little their opponents say at face value. One thing both sides agree on is that town residents over the next four years will find out whether those suspicions were well-founded.
"They've made a promise, and they've got to run again in four years," Art Harris, a 10-year councilor who isn't seeking another term, said of the primary winners. "It'll be something the voters can hold them to."•
Please enable JavaScript to view this content.