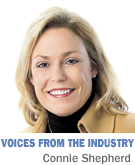 As a business banker of more than 20 years, I've witnessed amazing talent and determination from entrepreneurs striving to start or expand small businesses. The desire and drive is admirable, and that is the reason I don't want to see future owners fall victim to using personal credit to make their dreams a reality.
Personal credit cards used to finance a business are often tapped out or inadequate to finance all business expenses. Businesses then turn to banks to provide the appropriate financing but quickly learn their personal credit score has declined, which disqualifies them from a business loan or line of credit.
Personal credit scores are used to determine business financial decisions. Tapping out personal credit usually limits future business borrowing.
I often encounter owners using personal credit to buy business equipment. In one case, an owner bought four company vehicles with a personal credit card and, unfortunately, had made a few late payments. The owner's personal credit score started to decline.
As the business expanded, the owner applied for a line of credit to help pay for daily operation costs. The business was in good financial standing and was bringing in a steady cash flow, but was denied the line due to the low personal credit score.
Get smart about credit and borrowing. Visit a business adviser or lender before using personal credit to start or expand a business, because a business owner who has maxed out personal credit will not qualify for a business loan.
Introductory credit card interest rates are appealing, but eventually the rates will rise and a business owner is left with expensive debt. If personal credit cards are used as startup capital and the business fails, the owner is still responsible for paying off the credit card debt and could damage their credit for future purchases, including a mortgage refinance or even a car.
Credit card debt is not a replacement for true cash or capital in building a business. To be successful, build a strong business balance sheet to obtain proper financing for expansion, loans or lines of credit.
Business credit cards can be an effective business tool to assist with expenses but it's important to use them correctly by paying off balances monthly.
Banks want to loan to credible small businesses that have cash capital and personal cash investment. Entrepreneurs with a great idea need to save and invest in their company and not try to borrow 100 percent from the bank for startup costs.
Consider this example of a wholesale vehicle parts supplier that had supported its business and purchased its inventory on three personal credit cards since the business opened. The business needed to expand and applied for a term loan to refinance all of the credit card debt.
These cards were nearly maxed out and the parts supplier needed to continue buying inventory to keep up with its rapidly expanding customer base. The business also wanted a line of credit to begin using for inventory purchases.
This business could have applied for business financing through a bank prior to running up personal credit cards. Ultimately, this customer ended up getting into a situation where the business was very close to being disrupted as credit ran out.
Proper business credit and financing is essential to the success of any business. There are tremendous resources for entrepreneurs to guide them in financial planning, such as the Small Business Development Center, attorneys and accountants.•
__________
Shepherd is senior vice president of business banking at M&I Bank in Indianapolis. Views expressed here are the writer's.
Please enable JavaScript to view this content.