Technology finally caught up with Indianapolis' only independent map retailer.

After a 27-year run, Odyssey Map Store will close on Aug. 31, owners Tim and Dayle Gravenstreter announced Wednesday.

The husband and wife had considered shutting the doors for quite some time but tried to keep the downtown store at 902 N. Delaware St. open as long as possible.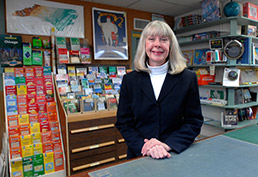 Odyssey co-owner Dayle Gravenstreter is the store's only employee. (IBJ Photo/Perry Reichanadter)
"This is a long time coming," Tim, 62, lamented as he surveyed the merchandise of maps.
The couple attribute the store's demise to the proliferation of GPS units and smart phones, which have helped to render traditional paper maps nearly useless.

A decline in domestic and foreign travel, and a softening of the wall map and gift markets, hasn't helped either, they said.

In fact, by today's standards, Odyssey might be considered a relic. Indianapolis' only other independent map retailer, Mid-States Map and Globe, closed nearly 15 years ago.

That leaves book superstores such as Barnes & Noble and Borders to sell maps and travel books. But even those chains are closing stores as they face stiff competition from electronic reading devices.

Tim's love for maps and atlases as a child prompted him and Dayle to open Odyssey in 1984 in the City Market. The store rapidly outgrew its space and, in 1986, it moved to 148 N. Delaware St. Odyssey has been at its current location since 1993.

They bought the building and occupy 1,200 square feet, leasing a portion of the one-story structure to a small law practice.

The maps, atlases and globes that line the shelves pale in value compared to the treasure trove of historic maps stored in the basement.

The couple through the years has acquired a large collection of Marion County maps once used for insurance purposes. The neighborhood maps detailing the Irvington or Pogues Run areas, for instance, indicate by color which homes are constructed of wood or brick, to help determine insurance rates.

An 1889 map of Irvington shows where Butler University was located before it moved to its present location in 1928.

The Gravenstreters reproduce the maps for framing and are undecided about what to do with the rare collection. The new merchandise will be liquidated at sale prices.

"We certainly won't have a fire sale on these [rare items] because we'd never see them again," Tim said. "For us, they're a genealogical treasure trove."

The store never has been a big moneymaker. Annual revenue through the years topped out north of $150,000, Tim estimated. Even 10 years ago, sales still hit $140,000. But, by 2010, they had plummeted to $55,000.

In 2000, Tim formed the Countrywide Guides & Maps division, which publishes booklets of information about counties. He'll continue that operation.

At one time, the couple considered any profit as college money for their sons. It also helped supplement Tim's income as a district manager for a utility consulting firm.

Odyssey also employed a manager and one employee, both of whom are gone now. The only employee remaining is Dayle.

Many Odyssey customers are business travelers who need to learn their way around town for a few days. But some rather unusual individuals have been known to patronize the store. Once, a customer came in looking for a map of Mars because he was building a spaceship.

And then there was the mysterious incident with the Russians. According to Dayle, two Russian military pilots came into the store back in the 1990s looking for topographic maps of the area. Shortly after they left, two FBI agents showed up asking questions. The Gravenstreters never knew what became of the pilots.

If a customer needs a map of Reykjavik, Iceland, Odyssey has one in stock. That's the type of assorted inventory the store carries.

But not one globe can be spotted in the basement, which once was full of them.

"Today, many Internet purveyors will sell one at retail for less than we paid wholesale," Tim said. "We can't compete with that."