It's a Thursday at Claus' German Sausages and Meats Inc. on South Shelby Street, which means sausage preparation. Two of Claus Muth's seven employees are hosing down the prep room after a full morning of grinding and curing meat for the shop's 52 cased carnivorous specialties.

The spice-filled aroma of smoked meat clings to the air and every surface, though the prep room and adjoining meat locker are so clean they scarcely look used.
Claus Muth has a proud heritage of making specialty meats, but now he faces circumstances that stand to threaten his south-side business. (IBJ Photo/ Perry Reichanadter)
"When we leave here, dogs will follow my wife and me down the street," Muth said in his thick German accent. "The smell lingers like cigarette smoke, but it is so much more pleasant."

Lately, though, not everything about the business smells so great.

The first quarter of 2011 was the worst since Muth bought the business eight years ago. Until that stretch, the boutique family-owned shop had enjoyed steady sales of its handcrafted sausages since 1913, when Muth's great-uncle converted his south-side garage into a sausage factory.

Sales stayed beefy even through a 2007 move from its 50-year home on East South Street; predictably slow in the spring and feverish beginning in June (grilling season) through January (Oktoberfest and the holiday season).

Now Muth is trying to decide if the downturn is temporary or a harbinger of something fatal. Four factors have his attention: the rainy, cool weather; high gas prices; slackened demand from wholesalers; and rising costs that persuaded him to boost prices.

The weather will change.

The high gas prices that discourage customers who make regular trips from as far away as Tennessee are likely to retreat, at least eventually.

Business at the German restaurants that serve his product will probably pick up when the bier gardens fill with toasts and laughter.

However, rising ingredient costs might be another matter—and that's what could gut the business.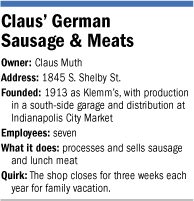 Prices for spices and some other ingredients have shot up as much as 35 percent. That, along with unseasonably high pork prices forced him to raise his prices 20 cents per pound this spring. Four Claus' bratwurst now cost $4.95 compared to a package of four Johnsonville bratwurst at Marsh for $3.99.

"I held out on raising prices as long as I could," he said, "I know my product is already more expensive than grocery store brands."

While his customers are willing to pay the $1 difference for brats made from an old family recipe by someone with a master's degree in sausage making, Jeff McMullen, assistant professor of entrepreneurship at Indiana University, says there's always a limit.

If Muth's supply costs continue to climb, at what margin will customers fail to see the value in traveling to Claus' as opposed to the aisle seven at their local grocer? $1.50? $2? Only time will tell.

McMullen related Claus' predicament to that of Boston Market, which saw its prepared chicken sales drop drastically when the price difference between its product and the grocery store equivalent grew too large.

"There's no silver bullet here," he said, "This is when business owners discover the elasticity of the demand for their product. In a climate like this there's very little option other than to lower prices."•