Principals in Kosene & Kosene Development have sued a former partner, claiming he's trying to cut them out of a city-supported deal to redevelop the former Bank One Operations Center downtown.

The lawsuit, filed May 20 in Marion Superior Court, says Tadd Miller was set to act as the "front man" for a Kosene-led partnership to develop 258 apartments and street-level retail space at the northwest corner of Washington and East streets.
Defendant Tadd Miller says he disagrees with the allegations.
The $30 million project has dragged on for more than three years as the developer, city and property owners tried to sort out financing, timing and valuation. The lawsuit adds yet another variable.

The suit says Miller in 2008 covered initial expenses for the deal by taking $120,000 from a partnership he had set up with Gerry Kosene, David Kosene and Angie Guinn, in which the Kosenes and Miller each owned 32.3 percent and Guinn, Kosene & Kosene's office manager, owned 3 percent.

But simultaneously, Miller was setting up a separate entity he alone controlled to purchase the Bank One Garage and Ops Center and "deceiving the public and all other parties" into believing The Residences at 451 E. Market St. would be his first "solo" project, the suit alleges.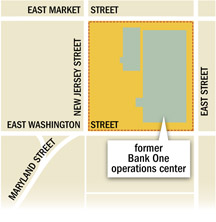 "When confronted about this, Miller explained that in order to ensure the project was ultimately approved by the city, he had to approach it in this manner," the lawsuit says. "According to Miller, Mayor Ballard … did not want G. Kosene involved in the project."

The suit cites the project's "political sensitivity" but does not elaborate.

Miller, 34, said he disagrees with the allegations but would not discuss the specifics of the case. He likened the squabble to a divorce.

"I don't think we could have been partners long term," said Miller, who worked at Kosene for 10 years before he left in 2009 to form Milhaus Development. "I'm disappointed that it came to this, but at some level I think settling this once and for all will be a positive."

Steven Huffer, the Kosenes' attorney, disagrees with Miller's divorce comparison.

"Divorce law suggests a 50-50 split," he said. "Emotionally, he is correct but financially that's not what has occurred here."

The developers have not yet sought an injunction to prevent the project from moving forward, but Huffer said he would not rule it out.

The suit says Kosene had the financial means to develop the project itself. The company built several downtown condo projects including The Hudson, The Clevelander and The Packard.

Miller would not say whether he owes the Kosenes for their role in getting the project moving, noting he has several weeks to respond to the lawsuit in court.

He said the case would not delay the Ops Center redevelopment, for which groundbreaking is scheduled next summer. About 70 percent of the apartments would be one-bedroom or studio units.
Ballard
Miller closed on a project agreement with the city last month, almost two years after the Metropolitan Development Commission blessed the original framework of the deal.

Here's how it works: The city pays the entire purchase price up to $18.5 million for both the Ops Center and the 1,600-space parking garage, keeping the garage but turning over the Ops Center to Milhaus and its new partner, Gene B. Glick Co. (Kosene says in the lawsuit it first learned of Glick Co.'s involvement this February, when IBJ broke news of the partnership.)

In exchange for free-and-clear control of the rundown office building, a 10-year tax abatement and a subsidized deal for 600 parking spaces in the garage, Milhaus and Glick would build The Residences at 451 E. Market St. The city would pay for its purchase of the property from garage revenue.

IBJ requested a copy of the final agreement but did not receive it by press time.

Marc Lotter, a spokesman for Mayor Greg Ballard, declined to comment on the merits of the Kosene lawsuit but described the suggestion that politics played a role in the Ops Center deal as "laughable."

Kosene and Milhaus have made contributions to both Democratic and Republican candidates.•