Angie's List is eyeing locations for hundreds of new employees the fast-growing technology company plans to hire over the next several months. And unlike past expansions, it's looking beyond its East Washington Street headquarters—and Indianapolis.

For the last decade, the company, which provides customer-review services in 200 markets, has grown within 13 renovated buildings on a few blocks just east of downtown.
Angie's List CEO Bill Oesterle said the company is looking at six communities for an expansion.
In the process, Angie's List has contributed to the revival of the Holy Cross neighborhood and become a fixture there.

But this expansion could be different, CEO Bill Oesterle said.

In the weak real estate market, opportunities abound for good deals. That could make finding a spot outside the near-east side cheaper than renovating a large building near the company's current campus.

Angie's List, which now has about 650 employees, is looking at about 30 locations for its expansion. While executives say they'd prefer to stay put, they're also looking at space in other parts of the Indianapolis area and five other communities, including some out of state.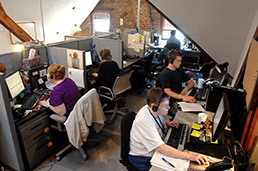 The staff of Angie's List is spread out over a large campus in and around its East Washington Street headquarters. Most of the buildings have small cubicles stuffed in any open area. Executives are looking for additional space in the area, as well as in other cities. (IBJ Photo/ Perry Reichanadter)
Among them are the Lafayette area and Fishers, where Angie's List hosted its holiday party in one of a couple of spaces it's exploring as an option.

Angie's List has hired Indianapolis-based consulting firm Ginovus and is in talks with those communities and some states about possible tax incentives. The company intends to decide where to expand within 45 days, though the process could take longer, Oesterle said.

Indianapolis and state economic development leaders wouldn't comment on specific incentive discussions, but city officials underscored the importance of Angie's List's location in Indianapolis.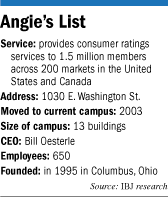 "Angie's List is a huge bright spot in our city," said Marc Lotter, communications director for Mayor Greg Ballard. "Their growth is fantastic and they are an anchor on our near-east side. We're aware of their future expansion needs and look forward to working with them as they make their decisions."

In addition to the main expansion, the company is considering launching two smaller satellite offices that would support its customer care and product development departments.

Salt Lake City, where an Angie's List call-center contractor is located, would be the logical option for the customer care satellite, Oesterle said. The company also has visited Chicago, New York, Boston, Seattle and San Francisco as potential sites for its product development office and is planning a trip to Austin, Texas.

An expansion elsewhere wouldn't signal that the 16-year-old company planned to move its headquarters. But Oesterle said the new facility would be "in competition" with the East Washington Street campus.

And if the new digs proved to be a better fit, he wouldn't rule out the idea of moving the corporate headquarters.

"We were attracted to the near-east side because it was the best deal we could find," Oesterle said. "It has to continue to be for us to proceed forward. We're examining a lot of different alternatives, and we're doing it very deliberately."

Oesterle co-owns the Angie's List campus and a few surrounding properties with Karl Northern, a former owner of a heating and cooling company. As a result, he said, if Angie's List eventually were to leave the neighborhood, it would be in his best interest to make sure the buildings are filled.

That Oesterle would even contemplate leaving the still-transitional neighborhood struck some real estate observers as surprising, given the company's roots in the area.

"They've grown up there. They have very good relationships with all of the other businesses and neighborhood associations in the area," said Jon R. Owens, a senior vice president at commercial real estate firm Cassidy Turley. "Picking up and leaving all of that would be difficult—though not as difficult for them as businesses they left behind."

A different approach

Cheap rent, free parking and easy access to the interstate drew Oesterle and other Angie's List leaders to the East Washington Street campus in 2001. At the time, the neighborhood was in the early stages of revitalization, and they locked in a deal leasing space from Fred Abel, a longtime near-east-side property owner.

The company started with just a handful of employees on the top floor of a three-story converted firehouse. Today, that building, dubbed The Firehouse, is filled with cubicles. One cubicle even sits atop an old firetruck in the building.

Angie's List has since expanded into 12 other buildings on the campus. They range from former sites of small tile and marble manufacturers to old houses that serve as office space.

The company goes to great lengths to maximize use of the unconventional space. In The Firehouse, for instance, an area that used to be a hayloft for horses that pulled firetrucks is now a meeting room.

The company has a philosophy that employees shouldn't get too attached to furniture and work space, and workers move frequently—in part to underscore that philosophy and in part to accommodate growth.

The company purchased the properties it originally rented from Abel. And Henry Amalgamated LLC—co-owned by Oesterle and Northern—has bought and renovated properties near the campus, some of which are now used for Angie's List's offices and day-care facilities.

The company's ties to the neighborhood go deeper than the buildings. Employees maintain an orchard and community garden, donating leftover produce to the nearby Shepherd Community Center.

Employees also volunteer as mentors at nearby IPS School 14, and a staff member who lives in the neighborhood devotes part of his schedule to attending neighborhood meetings.

"I see them as an anchor for redevelopment, and they've helped us on the economic development side," said Pat Dubach, president of the Holy Cross Neighborhood Association and of the Re-Development Group, a for-profit developer that works in mostly urban areas.

Weighing options

The company's growth has ebbed at times. For example, in the fall of 2008, Angie's List announced an aggressive expansion, but cut its work force 20 percent a few months later.

In recent months, it has expanded rapidly. Angie's List added 157 employees in the first four months of this year, said Chief Operating Officer Scott Brenton. Since the winter of 2009, the work force has increased from 350 to about 650.

Company officials wouldn't provide specific growth projections, but said they don't expect the pace to let up. In March, Angie's List announced a $53 million venture capital infusion, and Oesterle said the company may file for an initial public offering this year.

He also said the company could double in size over the next two years.

The company has accommodated prior growth in patchwork fashion, bringing nearby buildings into the mix as needed. But most of those buildings are nearly full. The company earlier this year moved into a tire-patch company's former space at Ohio and Pine streets.

The eight or so remaining buildings Henry Amalgamated owns either are being rented, are too residential for company use, or are not in the vicinity of the campus.

While there are other buildings available nearby, Oesterle said many lack decent roofs, ratcheting up the cost of renovation.

The company said it also needs to examine factors such as crime and access to technology infrastructure, including fiber-optic cable.

While Angie's List is used to adapting to challenges, executives see the appeal of moving into conventional space in a suburban office park.

Oesterle recalled his response when he visited one of the first facilities the company looked at outside Indianapolis.

"I was amazed by how much I liked it," he said. "I thought, 'Hey, this might really work fantastically.'"

Experts agree moving outside of the downtown core could have benefits for Angie's List.

Owens said eventually moving all employees under the same roof could be a more efficient strategy for the company, and finding a space downtown to accommodate close to 1,000 employees would be a challenge.

Still, other observers say they find it hard to believe the company would locate elsewhere, in part because the campus is so intertwined with the company's culture.

Oesterle said he's heard similar things about the company's personality from employees. He likes to remind them that the soul of the company is not its location, but the notion that space is relatively unimportant.

"It's become a little part of our character," Oesterle said of the neighborhood. "We don't want it to become too much of our character. We need flexibility to be part of our character, too."•