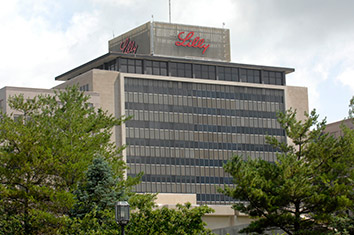 Eli Lilly and Co.'s lung cancer treatment Alimta is poised for continued growth based on recently released study data, according to a Credit Suisse analyst report.
Indianapolis-based Lilly presented study results earlier this month on the use of Alimta as a maintenance therapy to keep the cancer from progressing after the drug also was used as a first option to treat patients.
Alimta is already approved to treat patients with a subset of non-small cell lung cancer as both a first-line treatment or a second option when the disease progresses. It also can be used as a maintenance treatment, but Lilly is seeking to update the drug's label to make it clear that Alimta can be used in this role when it also was used as a first-line treatment.
Analyst Catherine Arnold said in a research note Wednesday that other therapies will replace Alimta as a first-line treatment for the disease, but it will still treat a majority of the patients. She also said study results showed a strong improvement in progression-free survival when Alimta is used as a maintenance treatment, and the new data "reaffirms our positive view on the continued growth of Alimta."
Alimta is one of Lilly's top-selling drugs. It generated about $580 million in sales in the first quarter and $2.21 billion last year.

Please enable JavaScript to view this content.