A century after one energy boom in Madison County blew out, another is blowing in.

The economic potential of some 75 wind turbines on the far northwest corner of the county won't be anywhere near as great as that of the countless gas wells dotting the county and east-central Indiana before the Trenton Field was depleted a century ago.

E.ON Climate & Renewables North America is planning the turbines as part of Madison County's first commercial wind farm, one that could temporarily employ 150 construction workers and bring a dozen permanent jobs. Farmers will pull in thousands of dollars a year in land leases and the county will generate extra tax revenue.

It's not as lucrative as landing a big automotive plant. But for a county still reeling from the loss of 27,500 General Motors jobs since the 1970s and a nearly 10-percent unemployment rate, it's nothing to shrug at, either.

"It continues to help us diversify our efforts in work-force development," said Rob Sparks, executive director of Madison County's Corporation for Economic Development.

There's also the potential the wind farm will help draw other renewable-power companies to the area, as well as manufacturers that consider an area's green pedigree when choosing a plant site.

"Some large power users are asking, 'Where does your power come from? What's your source of power?'" Sparks added.

Generating cash

E.ON, a European company with U.S. offices based in Chicago, plans to construct the Wildcat Wind Farm on 8,500 acres in Madison, Grant, Howard and Tipton counties.

About half the farm will be on the extreme northwest corner of Madison County, north of Elwood.

The farm might cost up to $200 million and sprout up to 125 wind turbines, said Matt Tulis, development manager for E.ON.

Indiana & Michigan Power will buy up to 100 megawatts of power from the farm under a 20-year agreement.

That's enough to power 60,000 homes.

Madison County lucked out. I&M had been looking at building a wind farm in Jay and Randolph counties, but after crunching the numbers decided it would be more cost-effective to buy power from E.ON's Wildcat farm, which will have even more power to sell once completed.

The power could start flowing by the end of next year, although the company still needs to complete land leases and nail down tax abatements.

A proposal being considered by Madison County officials would reduce the company's taxes due over 20 years to about $5 million—$6 million less than they'd be without a tax break.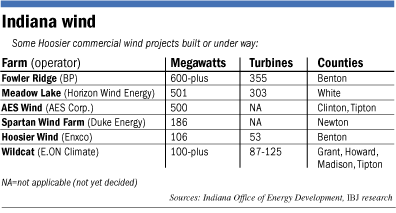 It's not clear how much money landowners could fetch from leasing land to E.ON. The going rates in the industry range from $3,000 to $6,000 an acre per megawatt hour. A run-of-the-mill wind turbine generally produces 2 megawatts.

Landowners also can pull in additional money, such as one-time payments for property easements and turbine-installation payments.

"It's a great boost to the tax base," Sparks said.

Sweet spot

Wind generation is most cost-effective, at least with today's technology, in the extreme northern end of Madison County, using taller wind towers.

Here, the mean wind speed is about eight miles per hour, versus 7.5 mph in the southern end of the county, according to wind maps by the National Renewable Energy Laboratory. That's at an altitude of 328 feet.

The difference in wind speeds might not sound like much, but it's the difference between the wind blowing 39 percent of the time vs. 35 percent of the time. The cutoff for what's considered a "good" wind pattern is 37 percent, given the economics of wind farm equipment.

E.ON spent almost two years measuring wind speeds in the area, Sparks said. "They found a [wind] pocket they're pretty comfortable with."

Madison County is fortunate, because the ideal area for wind in Indiana is Benton County, and to a lesser degree White County, its eastern neighbor.

NREL data show the wind in Benton County blows at a mean speed of 8.5 miles per hour at 328 feet.

That's why the first wind turbines in the state were erected in Benton County. It has 495 of the state's 800 wind turbines, generating 897 of the 1,399 megawatts of wind power in the state, according to Indiana's Office of Energy Development.

Benton County gave birth to commercial wind in Indiana following a study the state commissioned that involved placing wind meters atop commercial broadcast towers statewide.

The so-called Tall Towers report, completed in 2005, showed that portions of the northern half of the state had the most potential, particularly Benton County.

"Back in 2005, there wasn't any wind turbine [generating industry] in Indiana at all," said Eric Burch, spokesman for the Office of Energy Development.

Indiana—which the American Wind Energy Association ranks No. 12 for most installed wind power capacity in the nation—has been attractive despite its relatively low wind speeds compared with Plains states.

"One of the reasons Indiana has done so well is it has convenient access to the grid" for wind farms, Burch said.

That may be why a number of developers have set up towers here despite Indiana's not having a mandatory renewable energy standard—something many states have imposed to force electric utilities to obtain more of their power from non-coal-burning sources.

Except for tax breaks that some counties are offering wind farms, "here in Indiana, it's all market-driven," Burch said of the wind-generating industry.

Priming job growth

Construction of four wind farms in Benton and White counties employed about 2,000 people initially, but the farms now employ only about 85 maintenance and repair workers, according to a study by the Indiana Business Research Center.

The big economic potential from that industry, however, is in component manufacturing.

Neighboring Delaware County recently became home to a wind-turbine-components plant operated by Italy-based Brevini. The $86 million operation outside Muncie is expected to generate 400 jobs.

Sparks, Madison County's economic development executive, would like to get his share of wind energy businesses.

The county already has the makings of a clean energy industry, thanks to the engineering talent that remained after GM blew out of town.

For example, there's an advanced battery plant in Anderson operated by Altairnano, which makes batteries for vehicles and for power grid energy storage.

Pendleton-based Remy makes electric motors for hybrid vehicles. Bright Automotive is developing an electric delivery truck, although it recently moved its headquarters to Michigan.

Clean energy "is a sector I think is going to be here" for a while, Sparks said.•