Ten bids the city received from contractors competing to demolish the vacant Keystone Towers apartment complex came in lower than the project's $2 million budget.

The lowest bid from Tonawanda, N.Y.-based Titan Wrecking Environmental LLC came in at about $571,000. The highest, from Chicago-based Brandenburg Industrial Service Co., was roughly $1.6 million.

John Bartholomew, a spokesman for the city's Department of Metropolitan Development, said the city will evaluate the bidders to make sure they meet certain criteria before selecting the winner later this month. Such projects typically are awarded to the lowest bidders, provided they meet the criteria.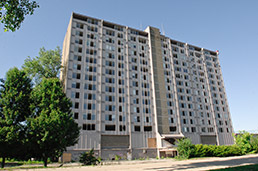 The city plans to use federal money to pay for demolition of the former Keystone Towers apartments. (IBJ Photo/ Perry Reichanadter)
The city is carrying out the Keystone demolition project with $8 million in federal housing dollars targeted for neighborhood revitalization. In addition to demolishing Keystone Towers, the money will go toward tearing down the long-vacant Winona Hospital and rental housing projects in a few parts of the city.

Keystone Towers is near the State Fairgrounds and has become a spot for squatting and drug-dealing. It's been vacant for at least 10 years, but was troubled with high vacancy rates even when it was habitable.

Bartholomew said money originally slated for demolition that is not spent will go toward other projects using the $8 million federal grant money.