Health care providers face a challenging future: See more patients and get paid comparatively less for each one.
Bryan Mills is CEO of the Community Health Network hospital system.
The answer, at least for Community Health Network CEO Bryan Mills, is to turn his organization into a low-cost, high-output machine that can survive the harsh environment.

"We have to be the lowest-cost provider," Mills said, citing 2010 data from Anthem Blue Cross and Blue Shield of Indiana that suggest his hospital already is the cheapest among the four major systems in Indianapolis.

Indeed, Community's strategy differs markedly from that of Indiana University Health, which has been touting itself as the "pre-eminent"—not low-cost—health care system. Meanwhile, St. Vincent Health has made recent moves to keep pace with IU Health in prestige, greatly expanding its organ transplant program and pushing to become a trauma center.

Mills' theory is this: An aging population and the expansion of health insurance coverage by the 2010 health reform law will bring a flood of new patients seeking medical care.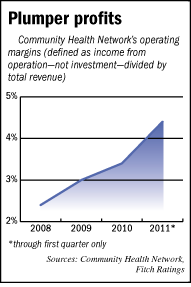 Community's buildings, equipment and staff cost huge amounts of money—whether they're seeing patients or not. So if Community can squeeze more patients into its existing system—even though Community may receive less and less money for them—it can remain healthy financially.

Community's four Indianapolis hospitals operate at only 60-percent capacity. There's plenty of flab in Community's 65 outpatient facilities, too. The challenge is to get the whole network to interact with patients as one entity, not as 70 different facilities.

"I believe that there's enough demand, there's enough capacity, and we can in fact provide this service," said Mills, 50, who has been Community's CEO for nearly two years.

He added that doing so also is consistent with Community's not-for-profit mission: "Our mission is to provide health care to citizens within the geography we serve. It doesn't say those who have good insurance, or those with the right demographics."

So last year Mills insisted the 550 physicians employed by Community all accept Medicaid patients, even though the program pays less than half what it costs Community to provide care. The number of Medicaid patients is set to jump by 500,000 in Indiana by the end of this decade as eligibility for the program expands as part of health care reform.

Mills also has pushed all the front-desk personnel at Community's physician offices and outpatient centers not only to tell patients the next opening at their location, but also to check for the earliest opening at other locations.

Mills wants every patient to be able to get access—to doctors, or MRIs or other services—within 48 hours of calling. A year ago, only 19 percent of Community patients were seen that quickly. Today, Mills said, it's nearly 75 percent.

Last year, Community launched "WebAhead" online scheduling at its nine MedCheck urgent care clinics. Mills wants to extend online scheduling throughout Community's system.

And Community is changing the hours of its facilities to be more convenient for patients. In July, the MedCheck facilities will be open from 9 a.m. to 9 p.m. Also next month the MedCheck clinic in Castleton will be open 24 hours, in an experiment to see if more patients go there rather than the emergency room at nearby Community North hospital.

On June 6, Community announced that its breast care specialists at its East hospital would see patients from noon to 8 p.m. two Wednesdays a month.

"We will be able to fully address the breast health needs of working women in Indiana, when it's convenient for them," said Dr. Robert Goulet Jr., a breast surgeon Community lured away from the Indiana University School of Medicine. "Many women," he added, "who discover a lump in their breast don't have the luxury of taking time off during the day to have it examined."

Mills said Community will make similar changes in the future for most of its specialists.

Community already has implemented an electronic medical record system that allows a single patient record to be read and added to by any physician who sees the patient, anywhere in the system.

But the next step is to get Community's administrative record system up to the same speed, so patients fill out their personal and insurance information only once—and never again—until it changes.

Mills also is having his team closely analyze patient traffic patterns, so Community can staff its facilities deeply during busy times and thinly during slow times.

Further out, Mills wants to work with Anthem and other health insurers to offer MRIs at lower rates during typically slow times, similar to what restaurants do on slow nights, like Mondays, to draw in customers.

"It's Radiation Night," Mills quipped.

Michael Borgani, a credit analyst at Fitch Ratings, is happy with how Community's strategy is panning out financially.

Since Mills was named Community's next CEO two years ago, the system has grown its annual operating revenue nearly 10 percent, to $1.3 billion. Expenses during that time grew less than 9 percent.

Community boosted its income from operations to $45 million last year, up nearly 56 percent from 2008.

"They're able to staff according to volume. As you see these shifts, you're able to meet patient demand," said Borgani, Fitch's lead analyst on Community, from his office in San Francisco.

He also likes Community's strategy of acquiring or closely affiliating with physicians, in order to guarantee a flow of patients into its treatment centers and hold down future growth in costs. All other Indianapolis hospital systems are pursuing similar strategies.

"That should be helpful for their [patient] volumes, that should be helpful for their margins, and that should be helpful for their footprint," said Borgani, noting Community's 22-percent market share, second in its markets only to IU Health's 25 percent.

IU Health last year claimed a market share of 39.5 percent, but its calculations included Tipton, which is well north of Indianapolis, and excluded the market shares of any of the county-owned hospitals surrounding Indianapolis.

"We expect them to gain ground from a market perspective," Borgani said of Community.•