A food truck business that helped spark a mobile culinary trend in Indianapolis a year ago plans to roll into additional cities as soon as this summer.

West Coast Tacos began making waves in Indianapolis last June, when it started selling tortilla-based fare from a modified delivery truck in a Broad Ripple parking lot.

Rising consumer demand has given owners the confidence to expand their concept into the Carmel-Fishers area in July. Entrances into college towns West Lafayette (Purdue University) and Bloomington (Indiana University) should follow in August, bringing the company's fleet of trucks to four.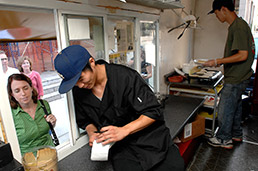 General Manager Daniel Kim helps a West Coast Tacos customer.(IBJ Photo/ Perry Reichanadter)

"We had to make this move because of the competition," West Coast Tacos co-owner Arnold Park, 29, said. "I feel like my back's against the wall."
To be sure, at least 10 food trucks now are wheeling around Indianapolis, offering meals ranging from barbeque, gourmet French fries, grilled pizza and, yes, even more tacos.

Others are serving vegetarian and healthy meals, helping to dispel the notion that the trucks are glorified fair food vendors, said Linda Gilkerson, co-owner of Indy's Kitchen, an incubator at 2442 N. Central Ave that helps launch food-related small businesses.

Several food trucks—Big Dogs BBQ, Byrnes Grilled Pizza, Duos, Groovy Guys Gourmet Fries Co., Mable on the Move and Scratch Street Food—prepare their food at Indy's Kitchen.

"I would like to think Indy's Kitchen has had a big part in the food truck expansion, because you have to have a kitchen to do prep work and cleanup," she said, "and the city hasn't had one."

Mable on the Move owner Kate McKibben can attest to that. The former real estate broker decided to launch her mobile business in March. Her two youngest children entered college last year, giving her time to pursue her business plans.

McKibben sells organic, all-beef hot dogs and organic salads from a 1962 Airstream Globetrotter mobile home that she and her husband purchased in January from a woman in the Catskills. The previous owner sold food from the vehicle for a summer but gave up due to a lack of customers.

That hasn't been a problem for McKibben. She can be found every Sunday afternoon in the Bike Line parking lot near the Monon Trail in Broad Ripple, and at various other places throughout the week, including the Sun King Brewery and Easley Winery.

"It's been super well-received," she said. "I think people are so excited about the food-truck movement."

West Coast Tacos, meanwhile, typically can be found most evenings in what has become its home base—the Cardinal Fitness parking lot in Broad Ripple. The truck also ventures downtown a few times a week, usually near Illinois and Ohio streets, to serve the lunchtime crowd.

Park is a Los Angeles native and former U.S. Army infantryman who left the military in 2006. While attending Pepperdine University, he got a job as a financial adviser at Boston-based John Hancock Financial.

His epiphany came last year at—where else—a taco truck in Los Angeles. That's where he met Indianapolis native John Ban, who spent three years on the West Coast pursuing a music career.

Ban was better known as "DJ Sonic" during his eight years at WHHH-FM 96.3, also known as Hot 96.

The two struck up a conversation, and Park ultimately shared his idea of starting his own taco stand, but in Korea, where he was born. Ban instead persuaded him to come to Indianapolis.

The mobile business has encountered a few speed bumps since, however. Ban left the company to return to Los Angeles. And its other co-owner, Trent Davis, also is gone.

Ban's share was bought out by Henry Sun, a Purdue University student from Taiwan whose family is very wealthy, Park said. Sun's partial ownership gives West Coast Tacos the heft to expand into the other cities.

Revenue during the first year fell short of six figures, but Park is hopeful the venture will reach $250,000 in its second year of operations.

The truck devoted to Hamilton County will park at 116th and Meridian streets in Carmel, as well as other locations in Carmel and Fishers. Suggestions from property managers on where to park the truck are welcome, Park said.

West Coast Tacos has built its following mostly through social media. The company has more than 6,040 followers on Facebook and 5,300 on Twitter.

Its staples, steak and chicken tacos, usually are available for $2 each, or 3 for $5. They're served in a four-inch corn tortilla filled with Korean marinated steak or herbed-and-spiced chicken that can fit in the palm of a hand. They're layered with spicy onion, cilantro and hot sauce.

A fried rice burrito with any meat is available for $6.

A Mongolian beef taco is new to the menu, and future offerings include spicy sesame seed chicken and fish tempura tacos.

"For us to expand to four (trucks) in one year is a good business move," Park said. "We have such a huge following in Fishers and Carmel."