Things are going pretty well for the Indiana Minority Supplier Development Council. The not-for-profit is certifying more minority-owned companies to land lucrative contracts with large corporations, and those small firms are growing.
So, what's a new executive director to do? Take it to the next level, of course.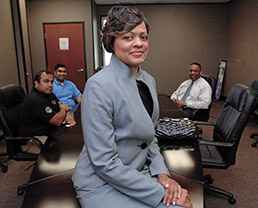 Carolyn Mosby brings experience in the not-for-profit world and private sector. (IBJ Photo/ Perry Reichanadter)
That's the goal of Carolyn Mosby, a 43-year-old Gary native chosen in April to lead the council after its former director, Michele Howell, left to manage Milwaukee-based Johnson Controls' supplier diversity development program.
Mosby has several years of experience in both the not-for-profit world and the private sector, with some entrepreneurial chops mixed in for good measure.
"That gives her great insight into where we are wanting to go with the Indiana Minority Supplier Development Council—to run it like we're a business," said David Gadis, the council's immediate past president and executive vice president of Veolia Water Indianapolis LLC.
"I think we are in a position to grow as an organization," Mosby said. "I think that most companies see the value of having a diversified supplier base."
The not-for-profit operates on a $900,000 annual budget and is partly supported by 150 corporations paying annual membership dues of $2,000 to belong to the council. Minority companies pay $225 annually to keep their certifications current.
Member corporations have access to a pool of minority-operated businesses they can award contracts to as part of their diversity efforts.
Momentum is moving in the council's direction. It served 456 minority-owned businesses in 2010, a 4.3-percent increase from the previous year. And of those companies, 276 had sales of more than $1 million, an 11-percent jump.
Yet the council earlier this year was challenged with hiring a new executive director, its third since longtime leader Donald Jones retired in 2004.
Developing more programs and training activities to help minority owners operate their businesses and score contracts will be at the top of Mosby's to-do list, Gadis said. Providing more help has become particularly important as the economy has struggled and many corporations have cut minority spending efforts.
"As those companies went into survival mode, their outreach efforts really dropped off or diminished," said Reggie Henderson, who led the council from 2004 to 2008 and is now president of Carmel-based Telamon Corp.'s industrial manufacturing group. "With the economy rebounding a bit, some opportunities are there, but those changes are happening slowly."
Mosby has a litany of her own ideas to help put her stamp on an organization that simply needs some tweaking, she said.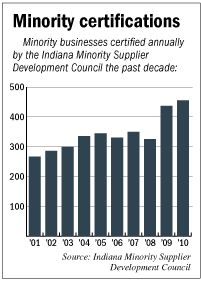 A few of the more subtle changes already have been accomplished, such as promoting a couple of staff members she felt deserved it. Others are in the works.
Companies announcing in the media that they're moving to Indiana or expanding existing operations are greeted with a letter from Mosby, an attempt to grow membership and, she hopes, provide more work for minority firms.
"I'm not sure we've been proactive in going out and seeking members," she said. "I'm not going to wait for them to decide they need us."
The council, founded in 1972, is part of New York-based National Minority Supplier Development Council Inc. There are 37 regional councils nationwide and in Puerto Rico.
Influential roots
The Mosby name is a familiar one to longtime Hoosier Democrats. Mosby's mother, also named Carolyn, served as a state representative and senator from 1978 until her death from lung cancer (she was a non-smoker) in 1990. Her father, John, died about a year and a half earlier.
The loss of her parents caused Mosby to leave Indiana State University for financial reasons. Coincidentally, a job became available in the state's Minority Business Development program, which her mother created in 1981.
Mosby stayed there four years, while commuting two days a week to Terre Haute to complete her degree in 1994 in radio, television and film communications.
After graduating from college, she landed at Indiana Black Expo Inc. as public relations manager. She left for a marketing job within the Yellow Pages division of the former Ameritech about 18 months later at the prodding of Charles Williams, former president of Black Expo. He felt Mosby could be more valuable to the not-for-profit by stepping into the corporate world.
Her stint at the phone company lasted a scant nine months.
"I saw this huge salary increase, but I didn't stop to think about whether I liked the job," she recalled. "How exciting is the phone book?"
Community affairs and marketing jobs followed at USX Corp. in Gary, NICOR Gas Co. in Naperville, Ill., and Veolia Water in Indianapolis before she hung her own shingle as a communications consultant in 2005 while living in northern Kentucky. She also did communications work for Texas-based Dell at its Cincinnati location.
In 2008, she became chief marketing officer of Kiwanis International, headquartered in Indianapolis. Her job was eliminated last year and, though she was offered another position, she chose to leave.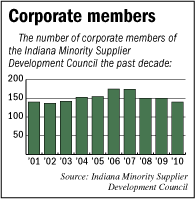 On a personal note, she married and gave birth to a son, Lance, now 6 years old. She has since divorced.
Plans aplenty
Mosby had returned to consulting and public relations work when she learned about the opening at the Indiana Minority Supplier Diversity Council. She initially encouraged a few acquaintances to apply before others persuaded her to throw her hat into the ring. She beat out more than 100 applicants, said the council's board chairwoman, Holly Harrington.
"The challenge is, how do you take us to the next level?" said Harrington, Lilly's director of supplier diversity development. "There are new industries coming to Indiana. How do you ensure MBEs are granted the opportunity within the business community?"
Mosby wants to reach out to established minority firms to encourage them to mentor young entrepreneurs who need assistance getting a foot in the door. The council boasts five companies that do business nationally and are Corporate-Plus-designated by the national council. They are Indianapolis-based Freight Masters Systems, Garcia Construction Group Inc., Harmon Steel, Mays Chemical Co. Inc. and Telamon.
KPaul Properties LLC on Indianapolis' west side could join the group, if it continues to grow at a rapid pace. KPaul is a holding company for four divisions that provide hardware and software, industrial, office and medical supplies.
Last summer, it cracked the Inc. 500, an annual ranking of the nation's fastest-growing private companies. At No. 10, KPaul had revenue growth of 10,925 percent in a three-year span ending in 2009. Its revenue in 2009 was $11.2 million.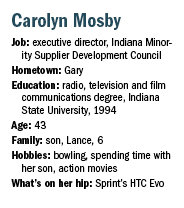 The company was certified as an Asian business enterprise by the local council in January of this year. Owner Kevin Paul since has developed a few leads with corporations that he hopes will translate into contracts. "It opened a door," Paul said of the certification. "That's the key we were looking for. Otherwise, it's so hard to get in the door."
An additional benefit to minority firms could be the Minority Business Center's recent move into the council's North Meridian Street building. The U.S. Department of Commerce awarded the not-for-profit a $225,000 annual grant to house the federal program, which provides business counseling. A search for a program director is under way.
Also, the local SCORE office, which provides counseling services to small businesses, has approached Mosby about establishing a partnership to mentor minority business owners.
Mosby intends to roll out the council's strategy, developed by a predecessor but never fully implemented, and she has expanded marketing efforts by introducing the organization to social media. It now has a Facebook page and a presence on Linked In, and Mosby plans to start a blog.
One of the more obvious marketing omissions, however, is the lack of signage on the council's building, which Mosby immediately noticed upon accepting the job.
"But that costs money," she said, "so we need to raise it."
Spoken like a true executive director.•
 
Please enable JavaScript to view this content.