Residents of the Chatham Arch neighborhood on the northeast side of downtown have dedicated a common area for residents and visitors.
The park, at the northeast corner of East and St. Clair streets, includes walking paths, a pergola, brick benches, plantings, and a Tom Otterness sculpture that was part of a public art exhibit here in 2005.
Neighbors christened the first phase of the $140,000 project with a ceremony on June 28.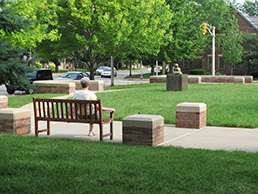 Phase one of Chatham Commons was dedicated June 28. (Photo courtesy of Chatham Arch Neighborhood Foundation )
Chatham Arch spans roughly from East 10th Street south to Massachusetts Avenue and College Avenue west to East Street.
The late Paul Atkinson and Tom Jones, who were neighborhood residents and boosters, donated the land to the Chatham Arch Neighborhood Foundation. Jones, who passed away in 2008, also purchased the Otterness sculpture, "Boy and Dog," that is the park's centerpiece and set aside an undisclosed amount from his estate for the foundation's use.
Funds from the foundation, which has more than $1 million collected from neighborhood residents and donations such as Jones', covered design and construction of the park.
Steve Tegarden, president of the Chatham Arch Neighborhood Foundation, said the foundation plans to spend another $100,000 for two additional pergolas for the park, possibly sometime next year.
Other benches, chairs and planting beds likely will be added, as well. The foundation is seeking gifts to pay for elements of the park that will be added.
Please enable JavaScript to view this content.