As efforts drag on to study and fund a commuter rail system using the former Nickel Plate rail line, the group now using the 37-mile corridor to run excursion trains in Hamilton County and to the Indiana State Fair is looking at running its trains farther south—to downtown.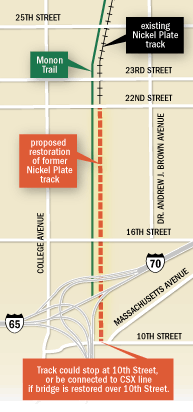 Indiana Transportation Museum officials emphasize that they're not trying to establish a commuter service, an idea that's been kicked around as a way to introduce commuter rail on the cheap. They're considering only an excursion train.
To get to the doorstep of downtown, the museum would need to extend track between 22nd Street—where it now runs out—to 10th Street, near the Massachusetts Avenue business and cultural district. Another point of reference: The Nickel Plate parallels the Monon Trail in this area.
The mile or so stretch of track here was long ago sold, or otherwise stolen, for scrap. The 37-mile Nickel Plate corridor is owned by the Hoosier Heritage Port Authority, which preserves it for a future transit system and for use by the ITM.
Today, the Noblesville-based ITM runs excursion trains as far south as the Indiana State Fairgrounds, at 38th Street. One of the 2011 strategic goals of the museum/excursion railroad operator is looking at reconnecting both ends of the Nickel Plate Line. In Hamilton County, it could push farther north to link with existing rail lines—possibly going to cities such as Kokomo.
To the south, in Marion County, a reconnection would be with the CSX freight line that parallels Massachusetts Avenue and then runs south to Union Station, in the heart of downtown.
That connection was severed in the 1970s when the downtown interstate highways were built and the Nickel Plate bridge over 10th Street was removed.
But a tie-in bridge to the CSX isn't needed to deliver passengers to downtown, noted David Andrichik, owner of the Chatterbox Jazz Club on Massachusetts Avenue. Andrichik, who welcomes the rail extension, pointed out that passengers could disembark from the train near 10th Street and make a short stroll to Massachusetts Avenue via the Monon Trail.
The ITM has reached out to the Massachusetts Avenue Merchants Association. It recently gave members of the organization a ride aboard Standard Oil founder Henry Flagler's 1894 passenger car, which is on loan to the museum.
Among those taking the trip was Cassie Stockamp, president of the Athenaeum Foundation.
"I think this is a possibility," she said, expressing support for the concept.
"We're really just putting out our official feelers right now," said Art Hall, a member of the ITM's board.
Although the ITM has over the years floated the idea of offering a rudimentary commuter service from Hamilton County to downtown Indianapolis, "we're looking at excursion possibilities only," Hall emphasized repeatedly.
Even if the northeast commuter rail system is built—proposed to connect Noblesville and Fishers to downtown—such excursions could continue, Hall said. For example, in Austin, Texas, the Austin Steam Train runs excursions partly on commuter rail lines. Such trips could be scheduled for weekends and holidays, when commuter train frequency is light.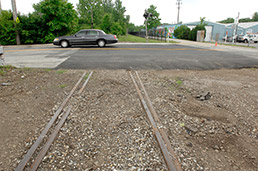 The tracks of the former Nickel Plate Line end at 22nd Street. The Indiana Transportation Museum's plan would require rebuilding tracks to 10th Street. (IBJ Photo/ Perry Reichanadter)
One potential benefit of train excursions to the northeast side of downtown, Hall added, is that it would intersect with and could enhance two other assets in Indianapolis—the Monon Trail and the Cultural Trail.
Not linking to the CSX line, which runs to the heart of downtown, could limit the potential types of excursions, however, said Brenda Myers, executive director of the Hamilton County Convention and Visitors Bureau.
"You would eliminate the Colts games, I think, if you did that," she said, noting it is several blocks from Massachusetts Avenue to Lucas Oil Stadium.
Still, "We think it's a wonderful idea to go south," added Myers, mindful that the train also could bring northward tourists from Marion County.
"It's just, how practical is it?" she said, of the cost.
Worth the investment?
Myers, whose group has been talking with ITM about making the downtown link, said estimates range from $20 million to $30 million.
That would include the cost of new track, numerous crossing upgrades and installation of passenger shelters.
The ITM isn't exactly awash in money, however.
The volunteer organization has annual revenue of around $500,000, largely from fees it collects for trips ranging from the State Fair Train to dinner train rides to Tipton.
Potential sources of funding beyond ITM are federal transportation grants, corporate support or other private fundraising.
And then there are potential political obstructions on the track.
ITM doesn't want to step on the toes of the Central Indiana Corporate Partnership, which is on board with Central Indiana Regional Transportation Authority in the ongoing effort to get rolling with the northeast corridor commuter rail line, which could cost $1 billion.
The president of CIRTA's board, Christine Altman, noted that, if ITM installed track south of 22nd Street, its investment could be short-lived if the modern commuter rail line were constructed in the not-too-distant future.
Such a line would use modern diesel passenger cars and require new track to allow for higher speeds and more passenger comfort. "It's not an inexpensive ticket if we're going to replace [the track] later."
Of course, a northeast commuter rail line may be a ways off.
CIRTA, upon advice from legislators, decided to delay until next year a full-court press in the Indiana General Assembly for funding. A funding mechanism could come in the form of a referendum, with voters in participating counties deciding whether they'd want to chip in for the commuter rail system on the northeast side.
Transit proponents are trying to sweeten the odds of getting a regional buy-in—rolling out maps of potential commuter lines elsewhere, such as one between downtown and Johnson County.
In the meantime, CIRTA is working to complete an environmental study so it will be ready in time to apply for federal funding—something easier to obtain if local funding commitments are secured first, noted Ehren Bingaman, executive director of CIRTA.
As for the Indiana Transportation Museum's idea of running down to 10th Street: "It's interesting to explore. I think it's a unique opportunity for excursions," Bingaman said.
Anything more than that could be problematic, however. Bingaman noted that federal regulations require heavy use of train horns at crossings, something that could be an issue for those living along the tracks.
The modern commuter rail system contemplated for the northeast corridor under the regional mass transit initiative would come with more modern road crossings and gates. Contemporary diesel units also incorporate the power plant into the passenger car, rather than operating with a separate locomotive. The units have low floors that make loading and unloading quicker, particularly for those in wheelchairs.
Tantalizing prospects
In contrast, the excursion train concept being explored by the ITM is modest.
Its fleet of restored historic cars dates back decades, if not more than a century in the case of the Henry Flagler car. The ITM's aged stock moves at lower speeds, so high-speed-capable track isn't needed.
But that's not to say such excursion trains wouldn't be a draw for tourists or even for corporations, which perhaps could rent cars for special events, Hall said.
Still, the thought of a passenger train running to downtown evokes the tantalizing idea of using the trains for commuting.
It's been contemplated. Imagine ITM passenger cars with Wi-Fi, televisions and fancy seating—that could draw several hundred commuters a day out of their cars, Myers said. Commuting could be a prime revenue generator for the museum.
It's a fair question to raise, Bingaman said, trying to be diplomatic. But such a concept has its risks.
For one, older locomotives aren't as quiet as modern units. The risk is alienating a public in Indianapolis already jaded about transit, given the low levels of funding allocated to its bus system.
"You don't want to start low-end. You need to do it well—straight out of the gate," Bingaman said.•
Please enable JavaScript to view this content.