Omnicity Inc.'s business plan is to snap up rural broadband systems throughout the Midwest. Lately, however, it's been accumulating more in the way of lawsuits.
The latest of at least five suits filed since early last year involves Columbus, Ohio-based SZD Whiteboard, a consulting firm that says Omnicity defaulted on a promissory note.
Whiteboard seeks $134,737 plus 8-percent annual interest on the note, issued last year in return for consulting services to help Omnicity identify and acquire wireless providers in rural Ohio.
U.S. District Court for the Southern District of Ohio on June 21 entered a judgment in favor of Whiteboard, according to court records.
Whiteboard pointed to Omnicity's recent financial statements, which included a $418,290 loss in its most recent quarter, ended Jan. 31. Rushville-based Omnicity had a working capital deficit of $4.2 million and stockholders' deficit of $2 million.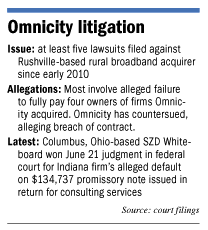 "All of these factors combined raises substantial doubt regarding the company's ability to continue as a going concern," Omnicity stated in its most recent financial report filed in May.
Whiteboard also asked the court for a temporary restraining order and preliminary injunction to prevent Omnicity from transferring collateral pledged on the note.
Judge Michael Watson scheduled a hearing on the request for June 29. But Watson ruled just before the hearing, as Omnicity officials were on their way to Columbus, to stay the request by Whiteboard, pending mediation.
Alan Starkoff, an attorney for Whiteboard, said he was unsure why the court chose mediation.
Omnicity has been held out as a promising growth company.
Last year, the Indiana Economic Development Corp. offered up to $25,000 in training grants toward an expansion in Rushville.
The IEDC also provided a $110,000 grant to Rushville officials to help the company with its expansion. The company has about 45 employees.
Much of Omnicity's business involves delivering Internet service via wireless signals. Omnicity said it had 10,600 active subscribers on Jan. 31, built mainly through acquisitions.
But Omnicity has rankled some of the ex-owners of broadband firms it acquired along the way.
Lawsuits filed in Rush County and in Holmes County, Ohio, by four owners of companies Omnicity purchased allege Omnicity failed to fully pay them for the acquisitions. Collectively, they claim they're owed more than $1.2 million.
Among them was Steve Narducci, who sold his Alexandria-based NDWave LLC to Omnicity in early 2009 and was hired by Omnicity as part of the deal.
Last year, Narducci filed suit, alleging Omnicity owes him more than $405,000, plus interest.
Kyle Yoder, former owner of Digital Network Solutions, in Berlin, Ohio, also sued last year.
Yoder said Omnicity gave him $700,000 in cash but failed to pay him the installment on a $500,000 promissory note. He alleges that triggered a clause that made the entire amount due immediately. He's also seeking a $50,000 payment he agreed to defer, and $150,000 in company stock.
Omnicity has been fighting back against both men.
In a countersuit filed earlier this year, Omnicity alleged Narducci breached his contract and fiduciary duty and defamed it by telling certain companies that it was on the "verge of bankruptcy."
Narducci was terminated by Omnicity, and later formed a competing company. He refuted Omnicity's charges, telling IBJ earlier this year, "I had to find a way to make a living again."
Omnicity also filed a countersuit against Yoder, alleging he breached his contract and non-compete clause, failed to pay vendors, and refused to provide the company with terms and conditions of customer contracts.
"In both these cases, we have not gotten what we purchased," Omnicity CEO Greg Jarman told IBJ last February.
Omnicity's vice president of business development and corporate partnerships, David Waddell, characterized the Whiteboard suit as "a simple disagreement between two companies."
Waddell said the litigation in the last two years masks the progress Omnicity is making. Its revenue grew to $1.2 million in the first quarter of this year, from $635,946 for the same period in 2010.
He also pointed to progress in bringing broadband to underserved rural areas, such as Columbiana County, Ohio, where Omnicity plans to offer service to more than 300 homes from a 250-foot tower.
"Our business model has proven itself," Waddell said, saying a new round of acquisition announcements was forthcoming.
In February, Rush Superior Court ordered Omnicity to pay $67,500 to owners of USppp Inc., which Omnicity bought in 2009.
It's also been behind in loan payments to the Muncie Industrial Revolving Loan Fund.•
Please enable JavaScript to view this content.