SANTA CLAUS—Good luck keeping up with Pat Koch.
If you don't tire out standing with her for two hours greeting arriving visitors at Holiday World & Splashin' Safari amusement and water park, then see how you fare as she makes her early rounds, sweeping rest rooms, picking up a dropped program, and checking on the well-being of employees—or hosts and hostesses, as Holiday World calls its workers.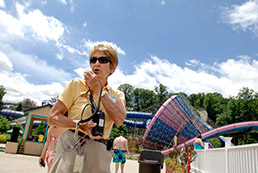 No detail in Holiday World's operations is too small to escape Pat Koch's notice. (IBJ Photo/ Perry Reichanadter)
Take a minute to catch your breath as the matriarch of Holiday World's family owners darts into her office to check her e-mail and speak with the office staff, depositing a stray food tray or two on the way. Then try to keep up as she briskly canvasses the 100-acre park in the rolling southern Indiana hills of Santa Claus, making sandwiches in a cafeteria, pitching in to shorten a lengthy line at a ride, making a sweep of stray beach towels and flip-flops.
IBJ.COM EXTRA
To see more photos of Pat Koch at Holiday World,
click here.
Next, stay as alert as she is through afternoon meetings that focus on the never-ending quest to improve guests' experience. Run to catch her as she heads back to the park gate late in the day, rechecking rest rooms for cleanliness on the way. Stand with her another hour or two—smiling, answering questions, waving goodbye to weary customers, urging them to return.

Go home about 7:30, fall into bed, and meet her at the entrance again the next day at 9 a.m. Because that's where you'll find her every morning during Holiday World's peak months of June and July, when it's open seven days a week. She keeps that grueling schedule any day the park operates, from mid-May through early October. She was at the gate last year on June 14, the morning after her eldest son and Holiday World President Will Koch died suddenly, and she'll be there this Aug. 14, too, on her 80th birthday.



Pat Koch's official title is director of values, a moniker that couldn't suit her better, according to her family, employees and those in the industry.

"She is a walking, living example of the work ethic we want for our hosts and hostesses," said Matt Eckert, general manager of two of Holiday World's three company divisions. "There's not a job she won't do."

Or hasn't done. Koch, also known as Miss Pat to many employees and legions of visitors who've watched her on TV commercials through the years, has mopped floors, sweated in character costumes, operated rides, made cotton candy, and hawked hot dogs. Every year from Thanksgiving to Christmas, she oversees and works alongside Santa's Elves, who last year answered the letters of 20,000 children that wrote Santa at his Indiana address. Also in the off season, she guides the operations of the Santa Claus Museum she founded in 2006, just up the road a piece from Holiday World, and gives motivational speeches.

"The way I grew up was to work," Koch said. "If you want something done right, you'd better get in there and do it." Koch's father, Jim Yellig, owned and operated a restaurant and also served as the official Santa for Holiday World, then known as Santa Claus Land, from its opening in 1946 until 1983, three months before he died at age 90.

The power of two

Koch's work ethic might have come naturally, but running a theme park was not her first love. She joined the Daughters of Charity of St. Vincent de Paul at age 19, earning a nursing degree and serving the religious order for 10 years in St. Louis, New Orleans and Chicago.

All that changed in 1960, when she left the order to care for her ill parents. While she was home, Bill Koch, Santa Claus Land's owner, courted her. She married Koch on Dec. 27, 1960. He had lofty goals for the quaint little amusement park his father had started, and Pat Koch wanted him to follow those dreams. So his dreams became hers.

"We were a great team," Koch said of the relationship she and her husband shared for 40 years. Bill Koch died in 2001, but his vision and her people skills—and their combined hard work—drove the success of their family enterprises, she said.

Over the years, the couple not only expanded and improved their theme park, but they also developed a subdivision, a shopping center and a campground. Bill Koch spearheaded the effort in the 1960s that persuaded lawmakers to build Interstate 64 straight across southern Indiana, instead of angling it from Louisville to Terre Haute. In the 1990s, Pat Koch saw to it that a Catholic church was built in Santa Claus.

The couple also raised five children together. Pat was the primary caretaker and homemaker, but as the kids grew, so did their and her involvement in the park's operations.

"We hustled, even when we were small," said Dan Koch, president and CEO of Holiday World & Splashin' Safari. His mother "impressed upon me to get people through the line. … I was proud of myself as a kid that I had the highest [per-capita] volume" on arcade games.

But she didn't drag him and his siblings into their chores. She led by example, he said, so they all bought into the family vision with her.

And the Koch children were encouraged to get an education, to follow their own dreams. All five earned college degrees. Dan became an attorney before joining the family business; Kristi Koch George is a neurologist in Indianapolis; Natalie Koch works at Holiday World but also operates a sheep farm. Will and Philip came back to Santa Claus as soon as they finished college.

Heart of a park

That total family immersion impresses those in the amusement park industry.

"There are many great families in our industry," said Chip Cleary, CEO of the International Association of Amusement Parks and Attractions, which represents nearly every tourist attraction in the United States and theme parks in 90 countries worldwide. "What separates the Koch family is that, if you go in the park, you're going to find them in the park. … If you say 'Holiday World' in our industry, it's well-known."



Cleary, who has known the Kochs for 20 years, said Pat in particular is "the guiding light" and cheerleader of the Holiday World staff and her family. In large part through her example of steadfast commitment to Holiday World's focus on a family atmosphere and making employees and visitors happy, "lots of [industry] people respect what they've done and accomplished there." Cleary has seen much larger theme parks emulate the Kochs' innovations, including having upper management greet guests as they enter.

"The size of a park is one thing," Cleary said. "The heart of a park is another."

And the consensus is that Pat Koch is the heart of Holiday World. Eckert, the general manager of two Holiday World divisions, called her a second mom.

"It's very unusual to have such an influential person in the workplace who creates an environment where you can come talk to her," he said.

Karen Strahl, who started out as seasonal help and is now executive assistant to Holiday World's management team, said Koch took her in as a daughter.

"Work-related or personal, you can always go to her," Strahl said. "She doesn't sugarcoat anything, either. You know you're always going to get the truth from her."

That straight-on, no-nonsense approach to life is what motivates Koch to kindly but firmly offer arriving visitors a shirt if they don't meet Holiday World's dress code. It drives her to inspire her staff never to rest on their laurels.

And it has served her well through hardship. In April 2001, Koch was diagnosed with colon cancer. She underwent chemotherapy treatment for four months, and finished her master's thesis while lying on the sofa, she said. She earned an A on the paper. She then had surgery, and came back to work a week later. Her husband died in September, and her daughter Natalie was married in November.

"That was the hardest thing to do [that year], give her away by myself," Koch said.

So no one should have been surprised that Koch was at the park entrance the morning after her son Will died suddenly of diabetes complications. Her staff certainly wasn't.

"The world could be falling [apart] at her feet," Strahl said, "but she always puts on a smile. She makes sure she is always out there for the guests, anyway."

Bill Koch's office is now Pat's office. The walls are still lined with his awards and his memorabilia. She hasn't removed them, nor turned the page on his August 2001 calendar. She still nurtures his vision, she said, and still sweats every detail, year-round. She has a home in Florida, which she tries in vain to relax in, in the winter.

"I go maybe one week," she said, "then I have to come home."•