Developer George P. Broadbent sold The Broadbent Co. to his wife for $50,000 in March 2010 as he faced a barrage of lawsuits threatening his control over the real estate company he co-founded in 1972.
As lenders circled, Broadbent also transferred his ownership interests in five retail properties to his wife, Mary Clare Broadbent, for "estate planning reasons," and sold to her his ownership interest in nine other properties for $150,000 to "raise personal capital" and "diversify her portfolio," court records show.
George P. Broadbent has transferred several properties to his wife, Mary Clare.
And Mary Clare continues to factor large as the Indianapolis-based strip-center specialist sends at least three of its properties through Chapter 11 bankruptcy reorganization after lenders refused to renew maturing loans.
In each such case, Mary Clare has agreed to invest new equity to recapitalize the affected properties in what attorneys for The Broadbent Co. describe as arm's-length transactions. In two of the cases, Broadbent put the entities into Chapter 11 to stave off the pending appointment of a receiver.
The moves represent Mary Clare's first foray into the real estate business.
Lenders are crying foul, saying the transfer of properties between husband and wife and her purportedly independent equity investments in other properties are designed to block creditors from foreclosing and collecting on unpaid loans. They say The Broadbent Co., which manages more than 3 million square feet of retail space mostly in central Indiana, is playing legal games in a bid to save itself.
Fraudulent transfers?
PNC Bank has asked a federal judge to void the "fraudulent" transfers between George Broadbent and his wife and appoint a receiver to oversee the affected properties.
The bank in June secured an order to garnishee the wages of George Broadbent after he failed to pay judgments totaling $2.7 million. PNC also tried, unsuccessfully, to compel Broadbent to turn over shares he owns in The National Bank of Indianapolis.
George Broadbent, 70, remains president of The Broadbent Co. and earns a salary of $600,000, court records show.
"The transfers were made by Broadbent with the actual intent to hinder, delay or defraud creditors," attorneys for PNC wrote in a court filing.
It was not clear which 14 properties were transferred since George Broadbent persuaded PNC and U.S. Magistrate Judge Tim A. Baker to allow the company to redact the names and addresses of properties, what they are worth, and even his wife's name from court filings.
An attorney for The Broadbent Co., Erick D. Ponader of Taft Stettinius & Hollister LLP, declined to explain the rationale or mechanics behind the transfers between George Broadbent and his wife, other than to say they were legal and appropriate.
"Certainly we disagree with any position that any of his conveyances were fraudulent, and we intend to show that in court, where I think these issues are most appropriately evaluated and determined," he said.
In a separate case, Broadbent testified that the $50,000 his wife paid for The Broadbent Co. was "the full value of the company."
Ponader said the half-dozen pending lawsuits are not a threat to the solvency of The Broadbent Co., but an indication of the limited refinancing alternatives for commercial real estate.
He said the details redacted in court filings are confidential trade secrets.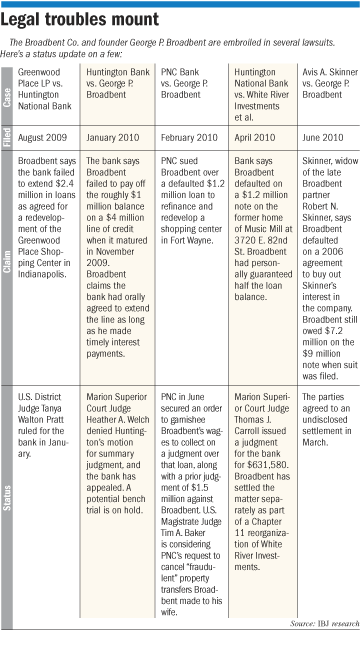 Retaining control
The Broadbent subsidiary that owns the 175,000-square-foot Castleton Plaza shopping center filed for Chapter 11 reorganization in February, freezing an attempt by German American Bancorp to foreclose on the vacancy-plagued property.
The bank is owed $10.1 million, about $2 million more than a recent appraisal shows the property is worth. Tenants include Cutting Edge Nutrition, Campus Outfitters, West Marine Products and a shuttered Steak n Shake restaurant.
Broadbent is pushing for a reorganization plan that would split the unpaid loan balance into secured (principal balance) and unsecured (interest and fees) portions.
Under Broadbent's proposal, German American would have to offer a 10-year extension on the secured loan balance of $8.7 million at an interest rate of 5.25 percent. The bank would have to take substantially less than it's owed on the unsecured portion.
The reorganization proposal would put Mary Clare Broadbent in control of the property in exchange for a cash infusion of $75,000. (No other potential equity investor would have a chance at the deal.)
Attorneys for German American bristled at the proposal, arguing there's no case for a reorganization since the debtor has zero equity. The bank has asked for the appointment of a receiver.
German American said in a June 28 filing that Broadbent's proposals are "simply bad-faith attempts to frustrate the lender's efforts to enforce its rights in the property, and to shift all risk of debtor's potential failure to the lender."
U.S. District Judge Basil H. Lorch has not yet ruled on the plan.
'Newfound interest'
In February, U.S. District Judge Anthony J. Metz approved a similar reorganization plan for the Greenwood Point shopping center, which is anchored by Michael's and Hobby Lobby and formerly was home to a Circuit City.
The reorganization plan calls for Mary Clare Broadbent to invest $100,000 for control of the company that owns the 136,000-square-foot shopping center along U.S. 31 South.
Meanwhile, lender CWCapital will be forced to refinance $4.5 million of the balance as a 10-year note paying 6.25 percent and accept 15 cents on the dollar for the remaining $2.4 million it is owed.
CWCapital voted against the plan but was forced to accept it since a majority of those holding the remaining $54,000 of unsecured claims was willing to accept the small payout.
Robert Gracey, a friend and business associate of George Broadbent's, helped seal the so called cram-down after he acquired claims of $4,640 from Varsity Contractors, $67 from Indianapolis Water Co., and $722 from Citizens Gas, and voted to accept the plan.
The Broadbent Co. collects 4.25 percent of gross revenue in exchange for managing the shopping center.
Mary Clare will make a similar investment, of $200,000, to recapitalize the partnership that owns the former home of Music Mill at 3720 E. 82nd St.
U.S. District Judge James K. Coachys in May approved a reorganization plan that refinances $796,000 of a $1.2 million loan balance owed to Huntington Bank for the 15,000-square-foot building on 1.7 acres.
George Broadbent had personally guaranteed half of that loan balance but settled with Huntington for $400,000; the plan calls for him to be repaid in quarterly installments over four years.
On the Greenwood Point property, CWCapital had argued in court papers that Mary Clare was a "straw" buyer whose only interest was helping her husband salvage an equity position.
But Judge Metz didn't buy it.
"While Mary Clare may not have been previously involved in the operations of [The Broadbent Co.] or any of the TBC Centers, it seems that she has, for whatever reason, a newfound interest in acquiring much of the TBC holdings," he wrote. "Once she acquired these holdings, it is reasonable that, for the first time, she would be interested in the TBC organization."•
Please enable JavaScript to view this content.