Once upon a time, 20 years in the apartment development business was enough for John Watson.
The seemingly inexhaustible developer, in partnership with Carl Van Rooy at Van Rooy Cos., spent two decades feverishly adding rental units to the Indianapolis downtown market and surrounding areas. Many well-known addresses—including the Marott, the Blacherne and Continental Towers—bear the Watson stamp.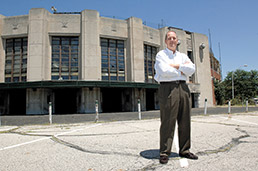 John Watson scored in commercial real estate before taking on reuse of the Indianapolis Indians' former home. (IBJ Photo/ Perry Reichanadter)
He was so prolific that, in 2006, at the ripe old age of 49, Watson retired from the business. Years of golf, tennis and travel stretched ahead of him when the economy tanked and, counterintuitively, Watson jumped back in the game.
By 2009, he was snapping up the mortgage on two ailing properties at Senate and North streets, then known as the Avondale and Deauville apartment buildings. It was supposed to be a quick deal resulting in a resale of the properties. Instead, Watson converted the low-income housing into the market-rate Senate Manor Apartments.
"All of a sudden," he said, "I was back in the real estate business."
As of June 16, Watson came back in a big way. His firm, Core Redevelopment LLC, announced that day that it will take the lead on an ambitious reuse of Bush Stadium.
Plans call for 268 units in the proposed Stadium Lofts and Stadium Flats apartments on West 16th Street, near White River. The housing is just one component of the 16 Downtown Technology District, a sweeping redevelopment project unveiled last month by city and economic development officials.
Existing portions of Bush Stadium, including the façade, have been incorporated into the designs. To bring the vision to life, Watson will be responsible for 75 percent of the project's estimated $23 million price tag, or $17 million, while the city will kick in $5 million.
He plans to secure $12 million in government financing through a 221(d) Housing and Urban Development loan. Watson will infuse the project with $1 million in cash and make up the rest through bank financing or additional personal capital.
The stakes are high for the Munster native, who began his career in 1981 as a commercial real estate broker. But Watson is enjoying his second shot and all that comes with it.
"When I came back to work and started my company, I found myself really having fun," he said. "I'm doing it for different reasons."
Former colleagues describe Watson as an honest, resourceful businessman who brings an imaginative spark to his projects.
"He's very creative and he knows how to get things done," said Van Rooy, a brokerage client of Watson's early in his career who lured him to the development side of the business and spent several years trying to talk him out of his premature retirement.
During Watson's tenure, Van Rooy Cos. developed or redeveloped thousands of units in Indiana, Wisconsin and Florida. Locally, the company owns and operates 56 apartment properties with 11,000 units.
Some of its notable holdings include the Buckingham and Balmoral apartment complex on Meridian Street, the historic Turnverien building at 10th and Meridian streets, and the Real Silk Lofts near the Massachusetts Avenue corridor.
"John has quietly and steadily been a major force in the revitalization of downtown Indianapolis, especially with respect to creating quality living spaces," added Marsh Davis, president of Indiana Landmarks, the locally based preservation group Watson chaired from 2007 to 2008.
Davis credits Watson with a pioneering spirit that allows him to take on projects others would gladly pass up. That very much goes for the rundown Avondale and Deauville buildings.
"Conventional development wisdom would have said to take [them] down," Davis said. "But now it looks great and it is part of the fabric of our city."
As Watson tells it, Davis was part of the original conceptualization of Bush Stadium's new life, asking Watson back in 2007 to tinker around with some ideas for the historic site.
"It started as an academic exercise," Watson said. "Marsh Davis asked me to analyze what was possible."
Calling Watson's vision "exciting," Davis said both he and Watson have long advocated for saving the former home of the Indianapolis Indians.
Eventually, the stadium housing will serve as home base for students and employees in the planned technology corridor between IUPUI and 16th Street. The future life sciences hub is expected to breathe new life into not only Bush Stadium, but an entire swath of the city that is ripe for renewal.
It's a plan that is right up Watson's alley, and one that he hopes to hit out of the park.
"I'm not building suburban apartments out in the middle of cornfields," he said of the different challenges he takes on. "Every building is different. I love solving those types of problems."•
 
Please enable JavaScript to view this content.