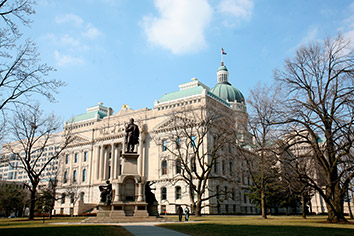 After a year of spending cuts to state agencies and school districts, during which state workers were asked to do more than ever, Indiana released its final budget numbers for the fiscal year that showed it sitting on a $1.2 billion surplus.
State Auditor Tim Berry called the state workers who bore most of those budget cuts via greater workloads, "heroes."
"The surplus was built on the backs of state employees," said Berry, after he thanked them for tightening their belts.
Republican Gov. Mitch Daniels has already said he plans to keep that money in savings rather than reverse cuts made in recent years.
The Daniels administration set a target of cutting $597 million from the budget last July, just before state tax collections improved. Although tax collections improved dramatically over the last year, the administration cut deeper as the year went on, ultimately cutting roughly $460 million more than what they planned for last July.
"More money in Hoosiers' incomes and a terrific job of cost control by state employees working together combined to produce an even stronger result than we expected at budget time," Daniels said in a statement Thursday. He planned a Friday morning press conference to discuss the budget.
But talk of the massive state surplus glossed over how the administration achieved it, which was largely through cuts to education and children's health care, House Minority Leader Pat Bauer said Thursday.
"This is a gimmicky report; which has not been unusual for this administration," said Bauer, D-South Bend.
The state school system bore much of the brunt over the last year, returning $325 million from the $6.9 billion that it was allotted in the previous budget. The cuts were more pronounced for state agencies with smaller budgets such as the Department of Child Services, which had its budget slashed by $104 million.
David Patterson, spokesman for American Federation of State, County and Municipal Employees Council 62, which represents state workers, said he feels the surplus should go back to the state employees who have had to carry heavier workloads as the state eliminated vacant positions.
"Public service workers across the country have been demonized in political rhetoric, in many instances seen their bargaining rights stripped, and had budgets balanced on our backs," Patterson said.
Beyond the budget cuts, unions have fended off political attacks like "right to work" legislation which sparked a five-week walkout by House Democrats this year.
The other half of the state's budget equation, tax collections, improved significantly over the last year, and the state collected $204 million more than it had projected. Most of that money, $195 million, came from income taxes.
The budget surplus should help the state replenish its emergency spending fund, the Rainy Day Fund, which is monitored closely by bond-rating agencies as they set interest rates for the state on its outstanding debt.
The $1.2 billion also fell just short of the amount needed to trigger automatic tax refunds for Hoosiers. The automatic tax refunds kick in when the state has a surplus equal to 10 percent or more of general spending. The $1.2 billion figure amounted to 9.1 percent of spending.
Please enable JavaScript to view this content.