John P. Craine House, which offers alternative sentencing to women with young children, is planning a move that could quadruple its capacity.
A former assisted-living facility at 6130 N. Michigan Road is under contract, Executive Director Suzanne Pierce said.
"Finding a property that didn't look or feel institutional has been challenging," she said.
The program has operated from a house at 3535 N. Pennsylvania St. since its founding in 1978. Craine House is one of only six in the country that allows non-violent offenders to serve their sentences while living with their children.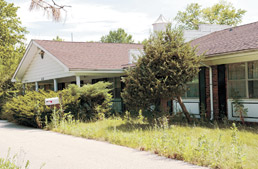 At this Michigan Road site, Craine House might be able to house as many as 40 female offenders and their children. (IBJ Photo/Eric Learned)
The organization contracts with the Indiana Department of Corrections and Marion County Community Corrections to serve as many as nine women at a time. At the Michigan Road site, the capacity could be as high as 40, Pierce said.
Pierce said she should have no problem filling the rooms. Women often end up serving out their sentences in state and county jails while waiting for a space at the house.
Craine House, which has a roughly half-million-dollar budget, is planning a capital campaign of about $1 million to help finance its move.
Please enable JavaScript to view this content.