According to a study done by local media firm Borshoff, Butler University earned $512 million worth of media exposure thanks to the school's back-to-back runs to the men's basketball NCAA Championship game.
The study found that the performance of the Butler men's basketball team generated $60.4 million in television publicity value, $2.8 million in print publicity value, and $449.2 million in online publicity value. The study did not consider the publicity value of radio broadcasts or talk shows.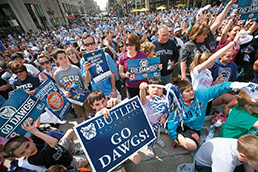 Butler University men's basketball team was mentioned on television more than 7,600 times during the final two weeks of the 2010 and 2011 NCAA tournaments. (IBJ File Photo)
Television coverage during the final two weeks of the NCAA Tournament provided more than 7,600 mentions of the Butler men's basketball team, with an estimated publicity value of more than $42.5 million. The championship game's publicity value was estimated at more than $2.2 million. Overall, Butler basketball received nearly 10,000 mentions and reached an estimated audience of 1.4 billion.
The study monitored any type of mentions for Butler on every social media platform, as well as YouTube.
Please enable JavaScript to view this content.