Extracting fuel from used tires is an unproven business in the United States, but Chinese entrepreneur Zhou Bo thinks he could change that with technology developed in his home country.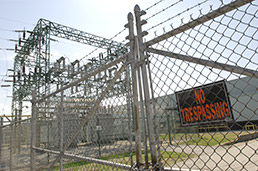 The former Visteon plant in Connersville could house a tire recycling business. (IBJ File Photo)
Bo's Good Time Technology Development intends to open its first U.S. tire-recycling facility in Indiana. The company is considering vacant industrial sites in Connersville, Kokomo and Muncie.
"There's nobody that can do what we can do with our technology," said Mark Wastl, director of North American operations.
Good Time is throwing out large numbers for its potential hiring and industrial footprint, but other firms have struggled to make the same technology into a viable business.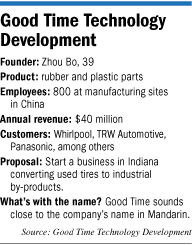 "Mr. Zhou Bo talked to the governor about a campus where we would employ up to 5,000 people in 10 years," Wastl said. The company is looking at large, vacant facilities, including Visteon's old building in Connersville and the former BorgWarner plant in Muncie.
Good Time's initial investment would be much more modest, $20 million to outfit 200,000 square feet of space with two production lines, Wastl said.
Good Time would extract steel from old tires and put them through a high-heat, low-oxygen process called pyrolysis. The process results in a char that includes carbon black, which goes into ink and other industrial products; gas, which can provide heat for the process; and oil.
Wastl acknowledged that other firms have set up tire pyrolysis operations, but he said the oil they produce is low-grade. Good Time is the only company that can produce a "consumer-grade, ultra-low-sulfur" diesel fuel, he said. "It can be put right in a car."
Other firms haven't been successful. The U.S. Environmental Protection Agency includes on its website about tire pyrolysis this note: "Although many attempts have been made over the past several decades, EPA is not aware of any commercial pyrolysis systems operating continuously in the U.S."
One company, Seattle-based Reklaim, built a plant in Boardman, Ore., in 2008 but doesn't appear to have begun recycling tires. The company's website says it hoped to be operational in 2010. An employee who answered the phone at the Seattle office couldn't say whether the plant was operating.
Bo hails from Ningbo in Zhejiang province, which has a sister-state relationship with Indiana. His company, which has $40 million in annual revenue, currently employs about 800 people at two Chinese plants that make rubber and plastic parts for appliances and the auto industry, Wastl said.
Tire recycling is a new business Bo entered with a partner from northern China, who developed the diesel-producing technology, Wastl said. The partners have a plant in China, and they're starting one in South Africa, he said.
Bo uses the name Good Time for both enterprises. The phrase Good Time is a sound-alike to the name in Mandarin, rather than a direct translation.
The 39-year-old entrepreneur is a mechanical engineer by training. His father and younger brother operate a family-owned rubber-manufacturing business. Bo struck out on his own in 1997.
Bo has visited Indiana on multiple occasions since Good Time set up U.S. distribution from Indianapolis three years ago for the rubber parts it makes. The company's customers include Whirlpool, TRW Automotive and Panasonic.
Connersville Mayor Leonard Urban, who visited Bo's tire-recycling plant in China in June, said, "It looks like a great big still."
He also watched Good Time fill the tank of an Audi with diesel fuel.
"We drove three hours on it," he said.
Good Time is looking in the United States at a time the Chinese government is encouraging international expansion for its native companies, said Benjamin Shobert, managing director of Teleos, a company that helps Chinese firms set up operations here.
"They can't continue to be the world's manufacturer," he said of China. "Their brand and their businesses need to move upstream."
Chinese companies invested $758 million in the United States in the first six months of this year, Shobert said, citing Ministry of Commerce and Finance reports. That's on pace with 2010, when Chinese investment here increased 130 percent over the previous year.
One of the bigger deals on the board is Nanshan America's nearly $100 million investment in Lafayette, where it will make aluminum components for transportation and industrial machinery.
Commerce Secretary Mitch Roob would like to see Indiana establish the kind of reputation it has in Japan, where firms look here first.
One reason he thinks that's possible is that the Chinese government wields so much influence over its businesses, and Gov. Mitch Daniels' administration has forged relationships with officials in China. Roob first met Bo and his partners in 2009, during Daniels' first trip to China.
Bo signed a memorandum of understanding with the IEDC on July 18, when Daniels hosted the Indiana-Zhejiang Investment and Trade Symposium at the JW Marriott downtown.
The MOU, which is not binding, says Bo will decide on his preferred location in the first half of 2012, and the IEDC will consider financial incentives and help guide Good Time through environmental permitting.
Good Time considers its process "clean" because it would use the same type of emissions scrubbers found on the least-polluting coal power plants, Wastl said.
Roob said he and his staff did not tour Good Time's facilities or research tire recycling.
"We're excited about anybody who wants to make an investment in Indiana," he said. "We don't try to pick winners."
Bo would like to move here with his family when the tire-recycling business opens, Wastl said.
"He wants to have a presence here. He wants to be a good citizen."
Some Chinese businessmen who want to obtain a U.S. visa have been told the easiest way to do so is by making a large investment in the country, Shobert said. That's why communities presented with Chinese business deals need to make sure personal motives don't outweigh business fundamentals.
"Successful investments … tend to be deals that bring together three components—the financial, strategic and personal," Shobert said.•
Please enable JavaScript to view this content.