Bill Mays, the most successful black businessman in Indiana, plans to retire from Mays Chemical Co. Inc. at the end of this year as part of a transition that will ultimately put his daughter at the helm of the company.
Since Mays, 65, founded the Indianapolis distribution firm in 1980, he has built it from a one-man shop to a $172 million company employing 120 people.
But his impact has been far wider than that. Mays has invested—both money and time—in more than 100 companies, most of them minority- or women-owned. He also has doled out millions in philanthropy and logged numerous hours on corporate and not-for-profit boards.
"His impact has been exponential," said Dennis Bland, president of the Center for Leadership Development, an Indianapolis not-for-profit Mays has supported, which works with young minorities to pursue education and career development. "His impact has been exponential because of his own success, just the encouragement and motivation that up-and-coming entrepreneurs observe from him."
At Mays Chemical, Chief Operating Officer Bill West will become president of the company on Aug. 1 and, most likely, its chairman and CEO on Jan. 1.
Mays-Corbitt
Mays also has been grooming his daughter, Kristin Mays-Corbitt, to lead the company. She has been director of operations and will assume the title of executive vice president on Aug. 1.
If West, who is 62, becomes CEO, he only wants to remain in the job for about a year or two, Mays said. After that, Mays-Corbitt would step in as CEO.
West
And there's still some possibility that West will decide not to become CEO, in which case Mays said he likely would continue on as CEO until his daughter, who is 35, is ready to replace him.
"It depends on what Mr. West wants to do," Mays said. Either way, he added, "I'm leaving the company in very good shape."
Big-name clients

Mays Chemical continues to provide chemicals and other ingredients to manufacturers in the auto, pharmaceutical, food and beverage industries. Its customers include Eli Lilly and Co., Abbott Laboratories, Pfizer Inc. and Kellogg.
Mays Chemical has a $30 million revolving credit line, with recently expanded operations in Puerto Rico, from which Mays hopes to gain a toehold in South America. His daughter Kristin even has her eyes on entering Asian markets.
Yet there also are challenges. Mays lost roughly $30 million in revenue three years ago after it decided to let go of a five-year contract it had with General Motors Corp. in Canada that was losing money.
In addition, profit margins have been gradually squeezed over the years as the largest companies have tried—or at least threatened—to source their chemicals directly from the manufacturers, rather than through middlemen like Mays. In response, chemical distributors have been consolidating.
Mays said he will be working "a lot less" after he retires, but that he won't stop working.
He has property investments around the city, including the Gray Eagle golf course and a housing development in Fishers and the site of the former Payton Wells auto dealership, which is now embroiled in a lawsuit with PNC Bank.
Mays also has investments or lending relationships with nearly two dozen companies, said Matt Murphy, vice president of finance at Mays Chemical who also handles Bill Mays' outside investments.
Mays' highest-profile investments were his 1990 purchase of The Indianapolis Recorder newspaper and his joint venture with Bill Shirk that in 1993 bought television and radio stations, including WHHH-FM (96.3) and WYJZ-FM (100.9). The broadcasting properties sold in 2000 to Maryland-based Radio One for $40 million.
"I have many business ventures. People don't even understand," Mays said.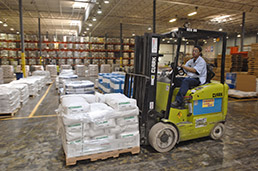 With facilities in Indianapolis, Greenwood, Chicago, New Jersey and Puerto Rico, Mays Chemical supplies companies in the automotive, drug, food and beverage industries. (IBJ File Photo)
The key to Mays' ability to run a successful company while also making money on so many side ventures is his ability to hire good people and give them the freedom to thrive, said John Thompson, who worked at Mays Chemical for 17 years before leaving to run three of his own companies.
"He knew how to attract and retain good people. He delegated a fair bit and didn't micromanage," said Thompson, who is CEO of Indianapolis-based Thompson Distribution Co. Inc., a distributor of mechanical supplies. "If you were handling something and he had confidence in you, he would let you handle it."
One of the companies Mays helped over the years was the Harmon Group, a North Vernon firm that was struggling after the recession of the early 1990s.
Mays helped recapitalize the company in the mid-1990s, and today Harmon runs two general contracting businesses, including one that does most new-store construction and remodeling work for Minnesota-based Target Corp., as well as a steel-erection business.
"Bill is one of these types of guys who believes that he always needs to share his talent to make the community a better place," said Steve Beck, Indiana managing director of Chicago-based Geneva Capital Group and a longtime local banker. "I think there were times where Bill had to beat people away from his doors."
Building relationships
Beck worked at Indiana National Bank in 1980 when Mays secured his first loan for his chemical company. But even before he won bank financing, Mays recalled, he borrowed $50,000 from another local company, Superior Solvents & Chemicals.
Having that money helped him secure the bank loan—as did his casual relationship with Indiana National executive Andy Payne, whom Mays met when they both were serving on the board of the Indiana University school of business.
Mays never forgot either lesson. In addition to lending money to businesses, he uses Murphy to help minority- and women-owned companies learn to talk the language of bankers, in order to improve their chances of getting the capital they need.
Mays has kept serving on boards. He was the first and only African-American chairman of the board for the Greater Indianapolis Chamber of Commerce. And he was the first black chairman of the annual campaign for the United Way of Central Indiana.
Today, Mays is on the boards of Indianapolis-based health insurer WellPoint Inc., Evansville-based power utility Vectren Corp., the IU Foundation and the National Minority Supplier Development Council.
Mays said he serves on boards in part because so few African-Americans get the chance to, and because he feels he can help open opportunities for minorities to develop their skills in the business world.
For example, he said he has challenged New York-based Goldman Sachs & Co. to bring at least one minority partner when the firm makes a pitch to sell bonds for WellPoint. Otherwise, he reasons, how will minorities ever get the experience needed to know how to deal with a multibillion-dollar company?
"We've got to get black folks and other minorities in general to develop their skills and then we pick the best talent," Mays said.
In fact, Mays hopes more people in the black community realize that it's not just good-paying jobs that can move them forward, but entrepreneurship and business management.
"Who hires attorneys? Who buys goods and services? It's the businesspeople, the entrepreneurs that hire people and create jobs," he said, adding, "How much further along would we as a people be if we got past the civil rights and moved to the economic?"•
Please enable JavaScript to view this content.