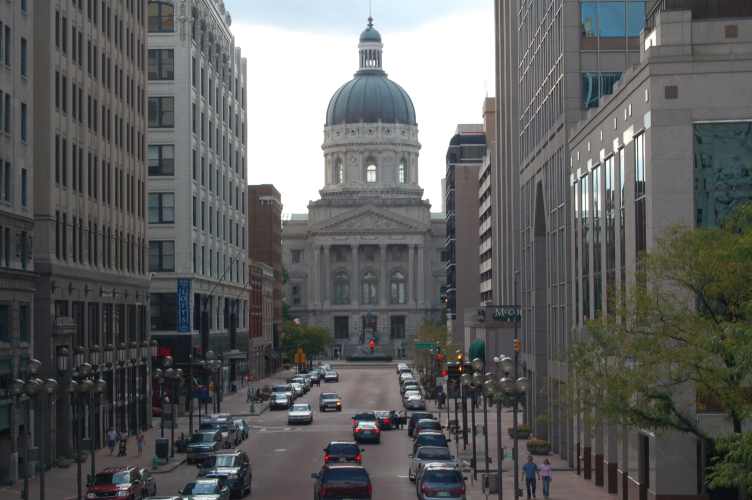 Indiana's leaders have no idea what will happen to their federal money if the U.S. defaults on its loans this week, but they say the state should be able to weather a crisis—at least for a while.
The state would be able to draw down its $1.2 billion cash reserves and lean on money from the $3.8 billion Indiana Toll Road lease to carry it for a few months until the federal government came up with a plan, state budget director Adam Horst says.
"I think from a short-term cash-flow perspective, this is exactly why the state has reserves," Horst said Friday. "In the short-term basis, we feel like we're in fairly good shape."
The roughly $9 billion Indiana gets from the federal government each year pays largely for Medicaid, road construction and education programs. Some of that money, like the Title I education funds, is directly passed through to the state's 92 counties. Other programs, like Medicaid, are run by the state and would leave more discretion in the governor's hands.
"What's going to happen? Nobody has any idea," Horst said. That's because the Obama administration has been "radio silent" with state budget leaders on how bills would be paid if the U.S. defaults, he said.
The best thing a state can do at this point is be prepared, Gov. Mitch Daniels said.
"If hypothetically the federal government really did have a temporary collapse of its activities, we could cover, for instance, if Medicaid checks didn't come," Daniels said. "Other states would be up a creek."
The National Conference of State Legislatures has been telling its members to expect to receive only 60 percent of the federal money they're expecting if the U.S. defaults, said Michael Bird, NCSL federal affairs counsel. That estimate is based largely on assumptions that the Treasury Department would be forced to pay off interest on bonds first before making disbursements to all other government programs, he said.
But how the rest of that money would go to the states is still anyone's guess.
"Then there is the issue of how long does that last, 20 minutes? 20 hours? 20 days?" Bird said. "There is just no guidebook on that."
The deeper impact for states may lie with Social Security recipients, veterans and others if they don't get their checks next month. The ripple effect would greatly hamper consumer spending, the state's economy and, ultimately states' tax collections, he said.
Indiana state budget expert John Ketzenberger said it's hard to determine what impact the U.S. defaulting on its loans would have on the state.
"This is uncharted territory," said Ketzenberger, president of the Indiana Fiscal Policy Institute.
Indiana is one of 15 states to maintain a top-tier, AAA credit rating from the three major credit rating agencies. Moody's placed five of those 15 states on credit watch because of their closer ties to the federal government, but Indiana was not one of them.
If the U.S. does default, Moody's will review the credit ratings of those states on credit watch. After that, the agency will review other states' credit ratings, said Moody's spokesman David Jacobson.
Indiana does not have a contingency plan for what programs would be funded and how much they would get if the U.S. defaults on Tuesday, Horst said.
"We're all just sitting here guessing and they're not telling us anything," Horst said. "I think the reality is the state's in a strong financial position, so we can weather at least a short-term disruption. How long can that be, I don't know. I mean, I don't know what they're going to do."
Please enable JavaScript to view this content.