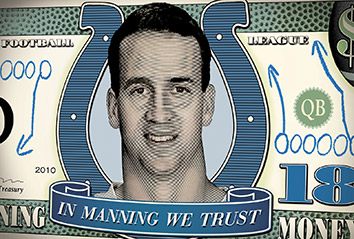 Peyton Manning has a new long-term deal in time to report to training camp.
He still hasn't been cleared to practice.
Colts owner Jim Irsay said he was "thrilled" to sign the only four-time MVP in league history to a deal that will likely keep him in Indianapolis for the rest of his career. It's a five-year contract for $90 million with $69 million of that paid in the first three years, Irsay posted on his Twitter account.
"Signing Peyton was a top priority for this organization and we are thrilled that the deal is complete," Irsay said in a statement released by the team Saturday. "We feel that it is a salary cap friendly deal and it allows us more flexibility."
Irsay and team president Bill Polian are scheduled to discuss the deal at a Sunday afternoon news conference.
The deal comes nearly five months after the team used the exclusive franchise tag to prevent Manning from negotiating with any other teams. Had Manning signed the one-year offer, he would have made $23.1 million this season.
By getting the long-term deal done, Manning's salary cap number will be reduced this season to $16 million, Irsay wrote, allowing the team to sign more of its own free agents. The Colts have already re-signed two key veterans—safety Melvin Bullitt and kicker Adam Vinatieri — this week. They also lost linebacker Clint Session to Jacksonville in free agency.
They reportedly also signed running back Joseph Addai, shortly after Manning's deal was announced. Addai would be a major help because he's the best blocking back Indy has.
That leaves left tackle Charlie Johnson and defensive tackle Dan Muir as the next big ticket items. They still have not signed their first three draft picks, either, tackles Anthony Castonzo and Ben Ijalana or defensive tackle Drake Nevis.
The Colts report to training camp Sunday at Anderson University, about 40 miles northeast of Indianapolis.
"It's a credit 2 Peyton;he put Coltfans,teammates, Ind. n winning ahead of all else," Irsay wrote on Twitter.
The deal should ensure Manning arrives in camp on time.
Coach Jim Caldwell said Friday he expected Manning to be at camp if he was signed.
But Manning will not practice because he's continuing to rehabilitate from neck surgery he had in May. It was the second since March 2010 that he had neck surgery.
Caldwell also said Friday he did not expect Manning to practice, and the team announced Saturday it will put Manning on the physically unable to perform list, preventing him from practicing until he is removed from the list. Because it is the preseason, he could be removed from the list at any time and return to practice.
"There is every medical indication that he is progressing steadily, team neurosurgeon Dr. Hank Feuer said in a statement. "While he looks fine, he still has some rehabilitation to go. Recovery from disc surgery is unpredictable and it is not a medical concern that he is not ready at this time."
Manning has started all 227 regular-season and playoff games in his 14-year career, and the Colts have repeatedly said they expect Manning to be ready to start the regular-season opener against Houston.
Manning has completed 64.9 percent of his passes in his career, has thrown for nearly 55,000 yards and 399 touchdowns. He's led the Colts to the playoffs 12 times, to two Super Bowls and one world championship.
But as the negotiations dragged on, Manning became more irritated with the pace.
On Friday night, he told The Indianapolis Star that he had instructed agent Tom Condon to complete the deal by Sunday at the latest.
And after months of Irsay promising to make Manning the highest-paid player in league history, surpassing the annual average salary of $18 million that Tom Brady agreed to in September. Manning also said he didn't have to have the title.
On Saturday, the two sides finally came to terms on a deal that will continue to make Manning the highest-paid player in franchise with a caveat—that the team can hopefully keep some of Manning's teammates under contract, too.
Please enable JavaScript to view this content.