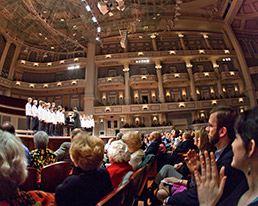 Palladium managers reported strong ticket sales for the Vienna Boys Choir performance in March. (Photo Courtesy Center for the Performing Arts)
About 40 percent of the tickets sold during the Palladium's first half-season went to subscribers, prompting managers to expand the series offerings for the full season that begins later this month.
"It's clear, they were hungry for this," said David Anderson, director of marketing at the Center for the Performing Arts in Carmel, which includes the Palladium concert hall.
The high rate of subscription sales was one of few surprises in the Palladium's inaugural season that kicked off in late January. The Palladium grossed $1.67 million from 34,467 tickets over 24 performances.
That's an average of 1,436 tickets per show, or about 90 percent of the Palladium's 1,600 seats.
Not all seats are available for every show, as 229 are behind the stage. So Palladium managers said the ticket sales represented 96 percent of available inventory.
Anderson, who came from the Milwaukee Repertory Theatre, said he expected building a subscriber base to take time. But audiences seem to have jumped at the chance to pick their favorite genre and subscribe for an average discount of 15 percent per show.
Based on that response, the center added a four-show bluegrass series. The other options are classical, or "classics," songbook, country, jazz and dance.
The center's recently departed CEO, Steven Libman, predicted that the 2011-2012 season will bring in $4.4 million with 81 performances in three venues. The $175 million, city-backed complex includes a 500-seat theater, The Tarkington, and a 200-seat space, The Studio.
Anderson said there weren't many surprises about the Palladium's top ticket buyers. They came from one of seven ZIP codes in Carmel, the north side of Indianapolis—especially Meridian Hills— Westfield and Zionsville.
Novelty might have been a factor in the Palladium's successful debut, but competing venues are reporting strong seasons as well.
"Overall, the concert business is doing better than it was a year ago," said Gary Bongiovanni, editor-in-chief at Pollstar, which tracks ticket sales at venues around the world.
The number of tickets sold is actually down, he said, but revenue is up. That reflects higher ticket prices, which are driven by some big-name artists choosing smaller markets, or artists splitting the bill.
"It's attempting to give fans a better value," he said.
The Palladium upped the ante for similar-size venues like Clowes Memorial Hall at Butler University and Hilbert Circle Theatre downtown.
Marketing directors at those venues are working to differentiate themselves. This season, Clowes unveils "Clowes Off-Center," aimed at 20- and 30-somethings.
The lineup, which includes improv comedy with puppets, a concert spawned by YouTube, and a percussion show, is not necessarily family-friendly, Marketing Director Josh Lingenfelter said. Clowes will offer the three shows separately from its traditional "Clowes Presents" series, which is a mix of music, dance and international acts.
Clowes is also touting its average ticket price, which is around $35 when not including Broadway Across America shows and the Indianapolis Opera. (The Palladium average this year was about $60.)
"We're not the $90-ticket type of presenter," Lingenfelter said.
Clowes managers wondered whether they would take a hit from the Palladium's opening buzz, but instead saw ticket revenue rise 3 percent, to $4.4 million, Lingenfelter said.
The Indianapolis Symphony Orchestra is trying to capitalize on the Carmel performing arts center by holding some concerts there while continuing to draw crowds to Hilbert Circle Theatre downtown.
That seemed to work this spring and summer, though Marketing Director Mark Newman declined to disclose sales figures.
"I feel good about where we're sitting right now," he said.
Newman admitted the ISO felt the effects of the Palladium's opening early in the season, as the Cleveland Symphony Orchestra and other classical groups played in Carmel.
He said sales improved through spring, and the ISO's own shows at the Palladium exceeded expectations.
"There was some evidence that we had folks in the Palladium who may not be regular attendees at Hilbert Circle Theatre," Newman said.
The ISO will take six shows to the Palladium in 2011-2012. All will be Sunday performances of the Pops series. Newman said that decision stemmed from the success the Palladium seems to be having with popular music.
"We have to be more strategic about the artists we pursue," he said. "It's bringing in the stuff the general music lover wouldn't find anywhere else."•
Please enable JavaScript to view this content.