A two-man Indianapolis firm is making a splash in the graphic design industry with a Web-based tool that allows designers unfamiliar with Apple Inc. software code to build applications for iPads and iPhones.
Invisions Technical Arts still makes apps for small publishers. But the "App Press" tool it uses to produce them might be where the real money is. The tool works so well that Invisions has made it available in the form of software-as-a-service website, myappress.com, starting at $15 a month.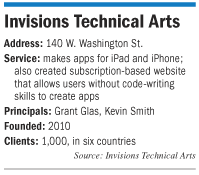 In contrast, hiring a good app developer can cost $90 an hour and up.
Launched in late May, and without spending a dime on marketing, App Press has already found customers across the globe. Sparking interest was a piece last February in the magazine of the Society of Publication Designers about Invisions CEO Grant Glas and the App Press tool.
Since May 28, the number of clients using App Press has zoomed, to more than 1,000 in six countries.
"Starting from a two-man operation and getting the traction we do in the marketplace, it's safe to say it's a 12-hour-a-day operation," said Glas, 27, who rattles off a long list of clients.
Among them is Melbourne-based Jacky Winter Group, an agency that matches Australian illustrators with big corporate clients such as Nike and Conde Nast.
"Developers are in such high demand they can pretty much charge whatever they want to develop an app, and those budgets are usually going to be out of range for most small businesses like ours," said Jeremy Wortsman, CEO of the Australian company.
Large customers of App Press include publishing giant Random House, design consultancy Pentagram and media gorilla Gannett Co. Gannett used App Press to convert a coffee-table book on the Indianapolis 500 into a format for viewing on mobile devices.
"The mobile space seems to be immune to the troubled economy. As mobile devices become more and more common, so will the need for businesses to get their content onto those devices," said Kevin Smith, co-founder of Invisions and the code-writing brain behind App Press.
Do-it-yourself apps
Of course, the countless app-developers springing up in central Indiana might dismiss this as an app-building tool for dummies, and one with limited capabilities.
After all, many of these developers create comprehensive, sophisticated apps for enterprise-level functions from expense reporting to sales and marketing.
Something like App Press could be a gateway for small businesses that want to experiment with apps as part of a bigger mobile strategy, observes James Burnes, CEO of Indianapolis app development and strategy firm Mobiltopia.
On the other hand, "I suspect that many companies who use this tool where mobile applications are central to their strategy will quickly outgrow the platform," he said.
But Invisions' App Press users aren't striving for apps that run the back office or reserve a restaurant table using one's iPhone. Its customers are largely graphic designers who don't have the time or money to learn Apple iOS—the operating system that underpins Apple's mobile devices.
The tool allows Jacky Winter, for example, to quickly generate apps that feature its clients' illustrations. Meanwhile, in the United Kingdom, NetfitDesign, which has created digital content for companies such as Suzuki and Laura Ashley, said the tool has given it an edge on its competition largely because it doesn't have to perform time-consuming coding.
"I looked at dozens of possibilities for the iPad, including solutions from the 'big boys,' and none matched the ease of use," said Andy Maitland, design director of NetfitDesign.
Another client, New York-based AngioDynamics, used the tool to develop an employee manual that runs on the company's iPhones and iPads.
"I had always envisioned a product that would allow anyone to create quality apps with no programming knowledge," Smith said.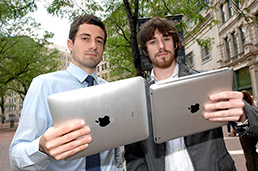 Grant Glas, left, and partner Kevin Smith have developed an app that helps people make their own apps. (IBJ Photo/ Perry Reichanadter)
Smith, 25, wanted to start his own company that would do iOS development. He met Glas, a graphic designer who was looking for a way to publish magazine content via the iPad.
Smith put together a prototype app tool.
"It worked well," he said. "With some training, Grant was able to build apps that [sold] well on the App Store."
One success was creating a cookbook of chili recipes based on a piece that had been published in culinary publication Indianapolis Dine. Mixing in photos that accompanied the article, they built The Chili Chef app, which has been featured in the iTunes store.
But refining such a tool for mass consumption by those who knew little-to-nothing of Apple iOS was an engineering feat.
"I got my first computer in first grade and was writing simple programs by the third grade," Smith said.
The first iPhone app he wrote allowed users to control the lights in their homes remotely.
"Kevin is the Hemingway of Xcode," Glas said of Smith's proficiency in Apple's toolset for building Mac, iPad and iPhone applications.
As recently as February, Glas was a graphic designer at Indianapolis-based USA Gymnastics. That's when he told his wife of six months, Gina, that he wanted to quit his day job to pursue further development of Invisions with Smith.
One experience that validated the duo's confidence in App Press was a test with students in an entry-level design course the two taught at IUPUI. By the end of the week, 95 percent of students successfully completed an app using their tool.
"It was the perfect beta test," Glas said.
Two-pronged revenue strategy
Invisions subscribers log into App Press' website and upload their images—jpgs from Photoshop, for example. The designer then positions graphic and text on a user interface at the site, set up in the display configuration of the iPad and iPhone.
The company's revenue model includes not only the monthly subscription fee for the website, but also a $14.95 fee for an App Press app, downloaded from Apple's app store. It allows one to view the image on an iPad or iPhone, "the actual look and functionality of what the client just designed on the App Press website," Glas said.
That revenue source didn't come without initial resistance from Apple, which in February rejected the proposed app for its store.
"[The Apple official] called me and said, 'App Press is not going to happen. We don't allow an app store within an app store.'"
Glas appealed the decision—spending three hours writing a letter to Apple. If nothing else, it was good mental therapy.
A couple of weeks later, as he and his wife were out at a restaurant, he received three e-mails from Apple, in quick succession, informing him that he'd won his appeal. "I was ecstatic. I ran outside in the street and did kind of a fist-pump thing."
The preview app is one-of-a-kind, Smith said, "so much that it took a lot of work to get Apple to understand before they would approve it."
In the first month, revenue tallied about $50,000. Glas declines to specify today how much Invisions' App Press is pulling down. But, he added, "what I can present to investors is a pretty compelling case."
Other applications
So far, the duo have funded the company with their own money, on the cheap. Exactly how they're positioning the company is still being sorted—so the revenue potential is hard to gauge.
They have other potential customers in the works besides graphic designers. Might App Press have potential in the educational market, for example, given its success in their class at IUPUI?
Indianapolis graphic designer Jason Murdock, a lecturer at Herron School of Art and Design, said the App Press tool gives students a way to see and interact with their work. Otherwise, unless they're proficient in Apple code writing, it's more of a static exercise.
"I have a lot planned for App Press, but there isn't much I can talk about," Smith said.
There is already competition, such as Adobe's Dreamweaver package that allows designers without expertise in writing code for a particular platform to create sophisticated, interactive projects.
Glas and Smith contend that their App Press tool is easier to use and has features specifically tailored for publishers and small design studios.
"The main challenge," Glas said, "is that a lot of people don't even know anything like this exists."•
Please enable JavaScript to view this content.