More Habitat for Humanity home-building projects these days start with sledgehammers.

Witness the transformation of a small 1940s-era house in Fortville. Habitat for Humanity of Hamilton County volunteers helped tear down multiple walls, replace the entire roof structure, and relocate doors and windows.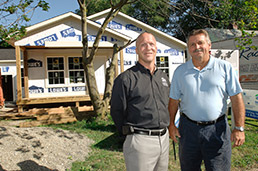 Rhett Cecil, CEO of Habitat for Humanity of Hamilton County, and construction manager Randy McKnight are tackling their first rehabilitation project at 517 E. Mill St. in Fortville. (IBJ Photo/ Perry Reichanadter)
"We've done 53 stick builds," said Rhett Cecil, CEO of the Hamilton County Habitat affiliate. "We've never rehabbed any houses. We've never gutted any houses. We are learning this on the fly."

Yet Cecil and many other Habitat leaders across the country want to make rehabbed housing a large part of what they do. It seems to make sense, as thousands of bank-owned properties linger in neighborhoods both urban and suburban four years after the housing market collapsed.

Atlanta-based Habitat for Humanity International encourages rehab, repair and even weatherization through its Neighborhood Revitalization Initiative, launched in the summer of 2010. The number of houses Habitat affiliates rehabbed nationwide rose from around 600 in the fiscal year that ended June 30, 2010, to 1,595 in the latest fiscal year.

(Habitat also saw new construction rise, though not as steeply, to 4,583, compared with 4,196 in 2010.) The initiative pushes Habitat for Humanity affiliates further into community redevelopment territory, where they may compete with other organizations for federal funds.

The potential for overlap is not lost on Jim Morris, CEO of Habitat for Humanity of Greater Indianapolis. His organization has worked closely with neighborhood-based community development corporations as it builds 20 or more new houses per year. Now he's talking to those same groups about where Habitat could fit into the rehab scene.

"I'm a big advocate of not being duplicative when we have a scarcity of resources," Morris said.

There's no shortage of vacant houses in Marion County, however, and Habitat can help recruit and prepare families for homeownership, Morris said.

The traditional Habitat for Humanity model is to acquire land and build houses, then sell them to needy families at zero interest. The partner family also has to log a certain number of volunteer hours, helping build its own house or others.

As an affordable-housing financier, Habitat affiliates have seen their share of failures during the recession. Habitat in Indianapolis repossessed half a dozen houses, which will be spruced up and sold to other qualified families, Morris said.

One of the Hamilton County affiliate's next projects will be renovating a house that Habitat built in Cicero about 10 years ago, Cecil said. The family left the house and fell 11 months into arrears before contacting the Habitat office, he said. Now the house on Wiley Street will go to one of 10 families waiting for homes.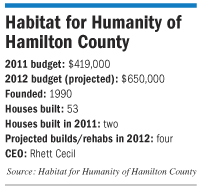 The house on Mill Street in Fortville will go to Lydia Chapman, a 37-year-old mother of three. Chapman, who cleans houses for a living, rents in Fortville for $650 a month, and utilities add another $400 to monthly bills, Cecil said.

Chapman's new mortgage will cost $370 per month.

Habitat for Humanity of Hamilton County, founded in 1990, remains small, with just two full-time employees, including Cecil. Randy McKnight, a former board member and construction professional, oversees all the building projects as a contract employee. Last year, the affiliate built two houses, and this year it's aiming for four.

Cecil said his organization has no trouble finding partner families. Many are willing to rent in Hamilton County just so they can become eligible for a Habitat house in a Hamilton County school district, he said.

The affiliate did not own any land when Cecil took the CEO post in October, so he immediately began looking for bank-owned property. The Wells Fargo Housing Foundation donated the house in Fortville plus $35,000 toward the project. (Although Fortville is in Hancock County, the lack of a Habitat affiliate allowed the Hamilton County-based organization to cross county lines.)

Since then, other banks have donated a house on Park Street in Westfield and two vacant lots in Home Place in Clay Township.

Cecil also hopes to acquire a privately owned property in Noblesville, where the house is partially burned. He went before the Hamilton County commissioners seeking community development block grant funds, and President Christine Altman pointedly asked whether Habitat had considered rehabbing existing homes.

Altman said she was glad to hear about Habitat's push in that direction.

"I think the neighbors would view that as a true benefit," she said. "There are lots of areas where properties are distressed. It would be much better to have a family living in that home."

Rehab work presents a host of planning challenges, starting with time. Cecil added four weeks to the typical 10-week construction calendar for the Fortville house. He also had to round up new partners, such as EcoGuard, a company that tests for mold and other environmental hazards.

Habitat avoided coming in contact with lead paint on the Fortville house because it was sided in aluminum, and the interior was covered in many layers of wallpaper, he said.

The crew uncovered its first problem in Fortville after demolishing a brick addition and realizing it had been built with no footing. Cecil phoned a local cement company, which was willing to pour footers that afternoon.

If any organization is going to master the challenges of rehabbing houses, it should be Habitat for Humanity, Cecil said.

"We should be the first ones standing in line saying, 'We can do this,'" he said.

Habitat for Humanity International's effort was prompted by some proactive affiliates around the country, said Jeff Pope, senior director for neighborhood revitalization.

The glut of foreclosures means that, even after cost overruns, affiliates can do rehabilitation cheaper than new construction, he said.

"It's going to be a cyclical opportunity," he said.

Morris, who joined the Indianapolis affiliate in March, is still learning about the process from more experienced executives in Evansville and Muncie.

Indianapolis has done one rehab project, he said, but it's too early to tell how many it will take on in the 2012 fiscal year.

Because rehabilitation takes longer, affiliates could end up serving fewer families each year. Pope said that hasn't affected Habitat's ability to generate donations and volunteer support on a national level.

In fact, affiliates are finding that volunteers and corporate partners like the idea of rehabbing because it means they learn something new with each project.

"We really think it broadens it," he said.•