Eddie Brochin has traveled from Mongolia to California studying and filming outdoor adventures for his television show.
But the Indianapolis resident said the appeal of the show—"Ultimate Outdoors with Eddie Brochin"—comes from its down-home flavor.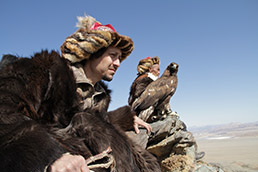 Eddie Brochin is one of the few Americans to practice falconry with native Mongolians. (Photo courtesy Eddie Brochin)
"I see these shows with guys hunting big game in Africa, or traveling to this or that exotic place … and some of it is interesting. But it's unattainable to the average outdoorsman," said Brochin, an Evansville native who now lives with a fleet of hunting birds and dogs on Indianapolis' north side.
"My shows are about the things that would be interesting to almost any outdoorsman. I try to give them information that would make their own outdoors experiences better."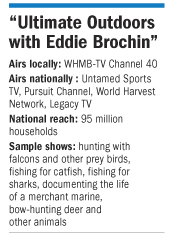 Brochin is a lifelong outdoorsman who began leading hunting and fishing expeditions in the late 1990s. In 2001, he began chronicling his adventures in his own TV show, which now airs at 3 p.m. Saturdays on WHMB-TV Channel 40.
Brochin increased the show's audience by signing deals with specialty outdoors channels with a nationwide reach. "Ultimate Outdoors with Eddie Brochin" now is available in 95 million homes across the country, making it one of the most-widely distributed TV shows produced in Indiana.
A specialty show like "Ultimate Outdoors" is typically viewed by 5 percent or fewer of the households it reaches, but that doesn't mean it doesn't have commercial appeal, said advertising experts.
"Niche programs like hunting and fishing shows may have a relatively small audience, but those shows attract a very specific demographic and often have an extremely loyal audience," said Bob Gustafson, a Ball State University advertising professor.
"There will always be companies, maybe that produce products in that category, that want to get in front of an audience with those characteristics."
Adventurous programming
Brochin packs his programs with adventure—from hunting deer in Midwest fields and forests to dragging 50- to 70-pound catfish from White River.
Not everything Brochin does is within reach of average outdoorsmen—unless they happen to own a hunting hawk, eagle or owl.
(To see "Ultimate Outdoors" footage of Brochin hunting prey, check the video below.)
Brochin's weapon of choice often is a bird of prey. He keeps three and has trained countless others in his years as a licensed master-class falconer, a designation that comes from the U.S. Fish and Wildlife Services.
Brochin recently returned from Mongolia, where he was one of the few non-natives ever allowed to practice falconry in the region he visited.
He's hunted everything from small game to coyotes with his winged weapons. He said he can teach birds to hunt in just two to three weeks.
"We don't really own the birds," he said. "They belong to nature, and we just borrow them for a while."
Brochin said he rarely keeps a bird in captivity more than a few years before letting it free.
"They retain their hunting skills, so they have no problem surviving in the wild," Brochin said. "I've seen some of my birds years later."
But there's more to the 40-year-old than falconry.
He's a local hunting and fishing guide known for his air boat tours along White River. He's a U.S. Coast Guard-approved maritime captain, a fifth-degree black belt, a small-business owner and a writer for hunting, fishing and outdoor magazines.
And, increasingly, he's a significant force on TV. In July, Brochin signed a deal with Pursuit Channel, an outdoor channel distributed by DirecTV and DishTV to more than 40 million households.
The show also has distribution deals with Untamed Sports TV, World Harvest Television Legacy TV and AT&T U-verse, as well as a handful of independent stations from Florida to Hawaii.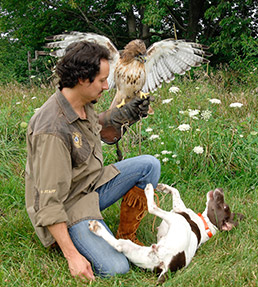 Local outdoorsman Eddie Brochin trains a fleet of dogs and birds to hunt anything from small game to coyotes. He said he never keeps one of his birds for more than a few years before setting it free. (IBJ Photo/ Perry Reichanadter)
"Reaching an audience [of 95 million] is very difficult to attain," said Tom Cochrun, who ran Indianapolis-based video production house Nineteenth Star from 1996 to 2005. "The market is so competitive, and there are so many very big, well-established content providers, it's just extremely difficult to get your foot in the door.
"And if you do get your shot, you better have a good product to showcase."
Brochin does, said Keith Passon, WHMB's general manager, who has hunted with Brochin several times.
"I've been hunting and fishing for 45 years, and I wish I had one-fourth the knowledge he has," Passon said.
Holding down costs
Passon, an avid watcher of outdoors TV shows, said the quality of Brochin's show is remarkable given its relatively small budget. Brochin said it costs $15,000 to $25,000 to produce an episode. That's about 10 percent to 25 percent the budget of most nationally syndicated outdoors shows.
"I'd put his shows up against more than half the big, nationally syndicated shows out there," Passon said.
He thinks Brochin needs to land two sponsors willing to put up a low-six-figure sum each to put his show on a higher plane.
Currently, Brochin pays either a production fee or for the time slot where his show airs. In exchange, he controls the sales of the commercials and retains revenue from those ads. Brochin said every episode so far has been profitable.
Passon said the show's hometown appeal and Brochin's on-camera persona help draw viewers.
"Eddie is a surprising person," Passon said. "He's a very multi-faceted person, and can teach people on a lot of topics. He's not just some guy chasing animals through the woods."
Brochin did 13 episodes of "Ultimate Outdoors" during the show's debut season in 2001, but he quickly realized he needed more footage to do the show the way he wanted.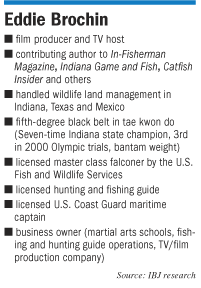 Brochin said he had offers from potential sponsors to help fund his early efforts, but resisted because he "didn't want to do an infomercial."
"I needed a video library to tell the stories the way I wanted to, and I was determined to do it independently," Brochin said. "I don't mind subtle sponsor mentions, but I didn't want to do a show where it ended up being a 'buy one today' deal."
While he built his video library, he continued to run several Indianapolis-area tae kwon do schools. Brochin is a seven-time Indiana tae kwon do champion and was third in the 2000 U.S. Olympic trials in the bantam weight class.
Brochin picked up tae kwon do shortly after moving from his native Evansville to Texas at age 9.
"I was the new kid," Brochin said. "I went to school wearing OshKosh overalls and a white T-shirt. They might as well have painted a bull's-eye on my back. I had to fight for my life. So I learned to defend myself."
He uses the martial arts to be still and stealth while hunting and fishing and otherwise blending with nature.
Brochin moved to Indianapolis in 1991 as a heating/air-conditioning repairman, before starting his tae kwon do schools in 1993. He began leading fishing expeditions for Geist Lake Charters in 1997, and at the request of some of his customers, produced an instructional fishing video in 2000.
"My family descended from French fur traders," Brochin said. "I've been hunting and fishing since I was 4 years old. Leading the guide service and teaching people came naturally to me."
After producing the educational video, he got the bug to do TV.
Brochin had plenty to learn, Passon said, and over the years his on-air presence, camera work and the quality of his equipment have improved dramatically.
Russ Dodge, a longtime local broadcaster, calls Brochin's most recent shows "National Geographic quality."
"When I see the show, I can't believe it's produced out of Indianapolis," Dodge said.
Having the show produced from Indianapolis can be an obstacle to netting big sponsorship and network deals, Cochrun said.
"I know when we first started shopping our shows, there was a certain element that, if you weren't from New York, L.A. or maybe Chicago, they wouldn't give you the time of day," Cochrun said.
But it is possible, Cochrun said, pointing to successes by local producers including Creative Street and Michael Husain, who was formerly with Pathway Productions and is now president of Good Vibes Media.
"You have to hone a great concept at just the right time to catch that big break with a big network," Husain said. "And the landscape is constantly changing. You essentially have to catch lightning in a bottle."
Changing landscapes. Lightning in a bottle.
It sounds like just the sort of challenge an avid outdoorsman would savor.•
Please enable JavaScript to view this content.