Summer rain drizzles as two golfers who are no taller than a standard driver methodically set golf balls on wooden tees and swing. Their faces light up when they see Patrick White, the 25-year-old head golf pro at Crooked Stick Golf Club, striding toward them.
"The weather's good, isn't it?" he jokes as they show him what they've practiced since last week, hitting ball after ball onto the driving range.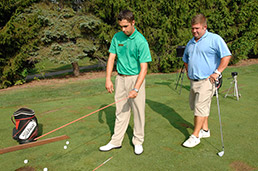 Crooked Stick Golf Club pro Patrick White gives Eddie Opalinski pointers on his swing.(IBJ Photo/ Perry Reichanadter)
He addresses the junior golfers by name, corrects their mistakes gently, and offers suggestions for improving their grip and swing.
"How do you like your new clubs?" he asks one.
Teaching golf lessons isn't quite as glamorous as hitting the links with members of the exclusive club in Carmel, but White said it's one of his favorite job-related duties nevertheless. The fact is, his 90-plus-hour work weeks don't offer much glitz. (Click on the video below to see White in action both on and off the course.)
Being a golf pro is a far cry from being a professional golfer.
White works every day, rain or shine. He starts most mornings at his desk answering e-mails: Club members request help setting up rounds at in-demand courses across the country, for example, golf merchandisers pitch new products, and tournament sponsors check in.
He also fields calls, often last-minute, throughout the day asking if he can fit a golf lesson into his schedule, and he pencils adult and youth golfers alike into a clean calendar book he keeps on his desk. Typically, White spends about 10 hours each week on lessons, but he teaches as many as he can.
His office—filled with tournament paraphernalia and several pairs of golf shoes he matches with his clothing each day—is right outside the club's pro shop, allowing White to help members choose equipment when necessary. He also manages the operating budget for golf activities at Crooked Stick. While he declined to reveal the budget, he said he oversees equipment repair, supplies, education and payroll.
When he's not shuffling paper or managing his staff—including five other golf pros—he's on the course, driving range or chipping and putting greens, offering hands-on assistance. White must be available at all times to answer members' questions and make sure everything is running smoothly: There are no tee times at Crooked Stick, which can complicate course logistics.
White usually plays one round of golf with club members weekly, which he admits is another fun part of the job. But on the course or off, he's never really off duty.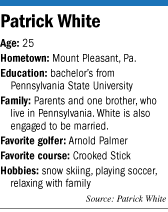 "You need to present yourself professionally at all times, inside and outside the club," he said. "If you go out to dinner and see members, they should be able to say, 'Hey. That's my pro.'"
In the off-season, Crooked Stick reduces its staff, and White must pick up duties others handle during the busy season.
Tee time
White first picked up a golf club in ninth grade, which nowadays could be considered late for a youth sport. Although the Pennsylvania native was in the midst of two-a-day soccer practices at the time, he said he "absolutely fell in love with the game."
Playing an individual sport was an adjustment, especially when he'd dedicated himself to soccer for most of his childhood, but White said he confidently told his parents he could perform well on the course.
"I liked the challenge," he said. "I was very competitive."
White says he never aspired to play golf professionally, but he quickly realized he might be able to make it a career, anyway. He began working at Pleasant Valley Country Club and decided to hang up his soccer cleats and play golf exclusively.
White enrolled at Pennsylvania State University, one of 20 universities that offered a program for aspiring golf pros. He majored in recreational park and tourism management, choosing the professional golf management option.
As part of the program, he was required to pass a players' ability test, scoring 156 or less on 36 holes. Then he could apply to be a professional. By accepting prize money in a pro golf tournament, White surrendered his amateur status and was not allowed to play on the school's golf team.
Still, he practiced golf every chance he had, along with taking classes and studying for Professional Golf Association exams each year. These written and practical exams, which White described as "pretty extensive," included topics such as the PGA constitution, golf tournaments, club repair and golf cart fleet management.
After his freshman year, White completed an internship at Laurel Valley Golf Club in Pennsylvania, which hosted the Senior PGA Championship that summer. When he returned to school, he began to research clubs for future internships and found Crooked Stick, consistently ranked by Golf Digest as a "Top 100" course.
White said he initially was attracted to the course's Pete Dye design and the fact that it had hosted the LPGA Solheim Cup in 2005. Later, he did his research and "found out about John Daly," referring to the golfer's historic rookie win as a ninth-alternate in the 1991 PGA Championship at Crooked Stick.
White interviewed with then-head-pro Tony Pancake during his winter break, and decided he and Crooked Stick were a match. He completed an additional internship at Oakmont Country Club in Oakmont, Pa., but after graduation accepted an offer to become Crooked Stick's tournament director.
The position was "pretty good for a kid just getting out of school," White said. With the work experience and responsibility the job would give him, he "couldn't pass up the opportunity to come back to Crooked Stick."
Hitting his stride
White became head golf pro at age 24—fairly typical for the industry.
"You start looking for that head pro job when you're about 25," he said. "I was extremely fortunate, being in the right place at the right time. … I'm fortunate that I'm at a club that understands and respects the work that I do."
Although he declined to disclose his salary, White said head golf pros typically make $50,000 to $125,000 per year. Some pros choose to pursue additional certifications and continue to take exams, but White is content for now.

The job appears to suit him. White addresses each member by name and asks questions about everything from their golf games to a recent trip a member took to Hilton Head, S.C.
"Obviously, I love to play golf. So if I can interact with members while I play golf, it's a perfect day," he said.
Pancake—White's predecessor and mentor—praised the younger man's attention to detail. After his internship interview, White sent individual thank you notes to each person he met.
"Crooked Stick needs to be a special place, and our members' expectation level is for that," said Pancake, now director of golf and club operations at the club.
But being "a face for the members" isn't always easy, White said.
"You have to have an upbeat personality, I would say, especially working the hours that you do," he said. "When it comes to 6 o'clock, you can't just go into a hole. You have to still be the same guy you were drinking your cup of coffee at 7:30" in the morning.
White also is expected to play in Indiana PGA "sectional" tournaments against other golf professionals, which he does about 12 times each year. He is eligible to play in PGA Tour events, but would have to qualify through a special tournament.
"The more our faces are out there, the more Crooked Stick is going to be out there," White said. "On those days, it's very important how we handle ourselves. It's something we enjoy doing, and important we represent the club well."
Events do the same for Crooked Stick, he said, which is why excitement is building for the BMW Championship scheduled for September 2012.
The tournament will "display our golf course as one of the best," White said. "The economic impact it'll make in the community is outstanding. It'll put Crooked Stick in the forefront on national television, which is obviously great. It will showcase our golf course and our community as well."
The average tenure for a golf pro at any club is about seven years, and Pancake hopes White sticks around a while before looking to move.
"His title is head professional, [but] he still works under my guidance … so eventually he may want to get out on his own," Pancake said. "But Crooked Stick is such a reputable club, I would expect him to stay."
White said he is content at Crooked Stick, at least for now. He said his goal is to serve members of Crooked Stick as well as he can, while increasing his involvement in organizations such as the Indiana Golf Association and the Penn State Alumni Association.
Three years ago, his current position was his dream job. Now he knows it could just be a stepping stone.
"I see myself staying at Crooked Stick as long as possible," he said. "I'd love to be in that position for a while, but I'm realistic with other opportunities and things that could come up."•
Please enable JavaScript to view this content.