Pop music blares from speakers overhead, tempting anyone within earshot to pick up an instrument for a game of Guitar Hero.

Several types of video-game controllers are lined up like soldiers in front of four 51-inch HDTV monitors, ready for the battle to be waged from the 25-foot-long couch along the opposite wall.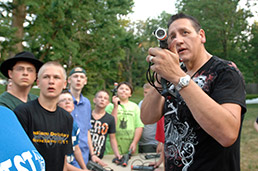 Rick Bravard, owner of Game Guru 2 U, sets up laser tag for boys at an Indiana DeMolay Conclave on the campus of DePauw University in Greencastle.(IBJ Photo/ Perry Reichanadter)
From the outside, Game Guru 2 U's workspace looks to be a humble racing trailer. But inside, it's an entertainment experience—exactly what co-owner Rick Bravard was aiming for when he and partner Daren Carter launched Greenfield-based Game Guru 2 U in April.

Each of the televisions is hooked up to three different video game systems. Other amusement options include mobile laser tag, human bumper balls—huge bubbles that expose only a person's feet—sumo wrestling suits and a prize cannon.

These days, they're hauling the electronics-laden trailer to about 10 events each month, doing both private parties and public events such as the Fishers Freedom Festival and the Indianapolis 500 Community Day.

"We had 2,000 kids and adults go through this," Bravard said of a recent event. "Moms and dads were gaming right along with their children. A lot of parents had never played the game before."

Bravard and Carter spent about a year working to launch Game Guru, one of a growing number of mobile entertainment businesses centered on video game trailers.

The concept got its start in Arizona in 2006, and today a handful of companies operate nationally. One of them, Rolling Video Games, opened a franchise in central Indiana this year.

Austin, Texas-based Games2U, which claims $20 million in annual revenue and more than 70 franchises, has been listed on Entrepreneur magazine's Franchise 500 list.

Game Guru is independently owned, but the partners eventually hope to sell decked-out trailers and offer business support to other entrepreneurs—without the ongoing fees franchisors charge.

"Some of the other companies out there … they have the equipment costs, a franchise fee and royalty fees every month," Bravard said. "That can bite into your bottom line real quick."

Gaming aficionados themselves, Bravard and Carter came up with the idea of a mobile video game arcade but encountered some challenges: stand-alone video games are too bulky and too fragile, and arcade game play is largely solo.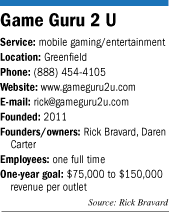 They already had shifted gears when they discovered the franchised operations elsewhere. But rather than be discouraged, they studied the others in hopes of setting Game Guru apart.

"You can learn a lot from your competition," Bravard said. "You can do it better. You have to believe in yourself."

By using networked modern video game systems, Game Guru gives players the chance to face their competition, too. Bravard encourages clients to select multiplayer games so all attendees can be involved.

"Definitely, there is a trend toward multiplayer games in the industry right now," said Jesse Schell, an assistant professor at Carnegie Mellon University who is also a video game developer.

Private parties are a big part of the niche, but Bravard said he is seeing an increase in business events, with team-building games—such as "capture-the-flag" contests—being popular.

"Realistically, the most reasonable way to use video games for corporate team building is if there can be simulations of situations that teams would need to solve together," Schell said. "A team is only meaningful in the context of solving a problem or achieving a goal. Multiplayer simulations of problem-solving situations can be a great help for teams in some cases."

The Game Guru partners teamed up after meeting through the fitness industry when both men owned health clubs.

Bravard started what is now Hancock Wellness Center shortly after graduating from Greenfield-Central High School in 1987. He later sold the club to Hancock Regional Hospital. He also has owned a martial arts school, a home-based gold-buying business and an auction house.

Carter is based in Lexington, Ky., but Game Guru operates only in central Indiana for now.

The partners financed about $100,000 in startup costs themselves and hope eventually to have multiple trailers each doing 20-30 events per month.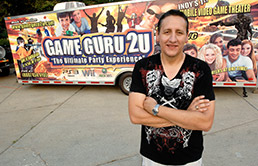 Rick Bravard hopes to sell fully equipped gaming entertainment trailers to other small-business owners. Right now, he focuses on private parties and business events. (IBJ Photo/ Perry Reichanadter)
Annual operating costs include vehicle maintenance, fuel and software. Bravard keeps about 300 game titles active across three platforms: Microsoft Xbox 360, Sony PlayStation 3 and Nintendo Wii.

Game Guru is targeting a broad market. According to the Entertainment Software Association trade group, U.S. video game revenue totaled $25.1 billion in 2010. Worldwide video game revenue is expected to reach $112.1 billion by 2015, according to a July study published by technology research firm Gartner.

"This large market size means that many consumers embrace gaming as a core piece of their entertainment budget," Gartner's Fabrizio Biscotti said in a prepared statement.

Even so, marketing and brand awareness is a challenge for any startup. Game Guru has relied primarily on social media and client referrals.

During events, staffers take photos and post a slide show in the trailer. They also allow attendees to put the photos on Facebook, further expanding their reach.

Game Guru's main competitors aren't other gaming providers, Bravard said, but entertainment options like inflatable play equipment and miniature golf.

"Most of the rental companies drop the stuff off and don't have the service. We're sending an attendant to do everything for you," he said. "We're there to set everything up … and make sure everybody's involved."

Bravard said the company's prices—starting at $199 for an hour rental—are in line with other party options.

"That's about what you'd spend on a party," said Indianapolis resident Melissa Parrish, who hosted a Game Guru 2 U party for her 12-year-old sons and several friends at the end of the school year. "This is a lot more geared to older kids. It's perfect for middle school to high school kids who might be too old for Chuck-E-Cheese or a bounce house."

She said nearly all her guests asked for a Game Guru business card.

Bravard learned the value of satisfied customers early in his entrepreneurial career.

"You start getting those referrals and recommendations from people—that's what makes all the difference," he said. "You can advertise all you want, and you can get some interest. There's nothing in the world like a business that comes from a referral from a happy customer."•