Locally based Vype High School Sports Magazine recently started a foundation to assist central Indiana school sports programs that need a financial boost.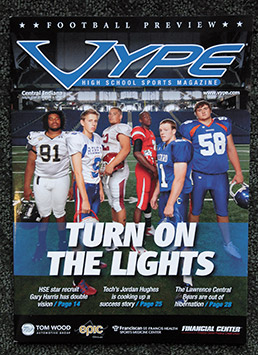 Ninety high-school sports programs should receive money generated by the Central Indiana VYPE Foundation. (IBJ Photo/ Perry Reichanadter)
"The foundation is the perfect vehicle for our sponsors to direct a portion of their investment to schools as well as programs and events that will generate more dollars for schools," said Phil Temple, Vype CEO and publisher.
Temple said that 90 high schools in the nine-county central Indiana region will receive money generated by the foundation. Sports programs have been getting creative to raise money as public funding has dwindled.
"Sponsors like Marsh Supermarkets and Forum Credit Union, as well as professional athletes with Indiana connections, are signing up to help support the athletic programs that are so important to the student athletes, the school systems and the communities," Temple added.
The Central Indiana VYPE Foundation has a threefold mission, Temple said.
It intends to provide funding for local high school athletic departments, provide funding for coverage of high school sports by VYPE magazine, and fund an annual VYPE Central Indiana Sports Awards event.
Temple said the money will be raised with the aid of local sponsors. Vype officials have already signed up Marsh Supermarkets, Forum Credit Union, Advanced Physical Therapy/Greenwood Orthopaedics, Buca di Beppo and Old National Insurance as foundation sponsors.
Please enable JavaScript to view this content.