As the head honcho at not-for-profit Keep Indianapolis Beautiful, David Forsell thought he knew every picturesque nook and cranny of the city he loves and nurtures.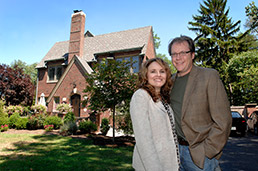 Shannon Forsell, managing director of the Cabaret at the Columbia Club, and David Forsell, president of Keep Indianapolis Beautiful, have lived in their window-filled 1926 Watson-McCord bungalow since 2007. (IBJ Photo/ Perry Reichanadter)
That changed when Forsell stumbled upon Watson Road, a bucolic stretch of homes near 38th Street and College Avenue. He and wife Shannon were so taken with the shady street, manicured lawns and 1920s houses that they quickly put the word out for any properties that came on the market.
"We weren't looking to move," remembers Forsell. But when a quaint Watson Road bungalow became available just a few weeks later, the Forsells took a look and were instantly smitten.
"When we walked in, it felt like coming home," Forsell says of the 2,500-square-foot English Tudor Revival home.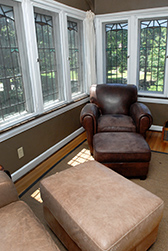 (IBJ Photo/ Perry Reichanadter)
A host of charming features lured them in, including the home's stunning tally of windows (the Forsells counted all 55), original flooring and light fixtures, and a small but comfortable alcove off the master bedroom that Forsell has converted into a book-lined "man cave."
It didn't hurt that the 1926 home had been restored to mint condition by the previous owners, making it easy for the busy couple to relocate from their Butler-Tarkington house without having to worry about repairs.
"What impressed us the most was how intact it was, and yet it hadn't been over-renovated either," said Shannon, a central Indiana native who serves as managing director of the Cabaret at the Columbia Club, formerly known as the American Cabaret Theater.
David grew up in the Chicago area, and met his future wife when both were performing together in theme park productions. They married in 1990.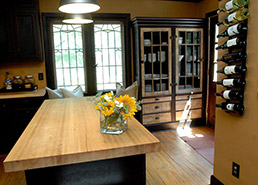 The Forsell home reflects a mix of architectural styles, from Mission to Art Deco. (IBJ Photo/ Perry Reichanadter)
With his background in music and a college degree in journalism, David seemed unlikely to take a detour into the environmental field. During a brief stint as a local radio reporter, he felt continually drawn to covering stories on the environment and community building. He joined Keep Indianapolis Beautiful, then known as Indianapolis Clean City, in the early 1990s, and never looked back.
His career choice is what ultimately led the Forsells to their new home.
David stumbled on the quiet area in 2007 while overseeing a beautification project at nearby McCord Park. His friend and local Realtor, Kevin Warren, soon alerted them to the available property.
A long-time resident and active board member with the Watson-McCord Neighborhood Association, Warren enjoys the surprise on people's faces when they discover the area's hidden gems. "It's a beautiful anomaly, and a well-kept secret," he says.
As is the case with many near-northside areas, time has taken a toll on the neighborhood. Warren attributes that mostly to the aging population of homeowners who have a harder and harder time maintaining their properties. But, over the past 10 years, new owners have breathed life into Watson-McCord.
"It was and is a very stable middle-class neighborhood," he said.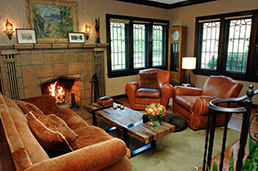 (IBJ Photo/ Perry Reichanadter)
Developed in the 1920s and 30s, Watson Road was the site of several Indiana State Fair show homes. The Forsells aren't sure if their particular home was featured on tour, but they are certain of its timeless appeal.
Among the house's many notable features, the artistically driven couple appreciates the array of design influences on display throughout the home.
"It seems to us the architects had a lot of fun with the house," David says, noting the different Art Deco, neo-classical, Arts and Crafts and even Gothic details present in the tile work, lighting, windows and general architecture.
To reflect that mix, the Forsells furnished the home with a variety of pieces, including a favorite Art Deco vanity of Shannon's and a Mission-style hutch and bar that once belonged to Louis Mahern, a former state senator and Indianapolis mayoral candidate.
An avid bargain shopper, Shannon used a mix of antique and modern furnishings to complete the eclectic look. And while both husband and wife appreciate original artwork, the Forsells displayed pieces sparingly in order to highlight the home's architecture.
"The house itself is the art," says Shannon.
The compact main floor features the living room, dining room, kitchen and a music room built around a baby grand piano that remains in the home to this day. Upstairs, one bathroom serves three bedrooms.
The outdoors serves as an extension of their living space. The large patio and backyard features landscaping aimed at attracting butterflies, birds and other wildlife.
All in all, it's the perfect place for the couple to retreat and escape their daily pressures. "We both have very public jobs and we're constantly out there," says David. "This home is like a haven to us."•
Please enable JavaScript to view this content.