The tumultuous stock market helped Citizens Energy Group secure strong interest rates on $1.08 billion in bonds it sold Aug. 17 to finance the purchase of Indianapolis' water and sewer utilities, a deal that was expected to close Aug. 26.
Citizens' sale of the bonds came almost two weeks after the Dow Jones industrial average fell more than 500 points in its worst daily dip since 2008.
That turbulence has driven many investors to safer territory, including utility bonds backed by customer payments. During the week of Aug. 15, yields on such bonds were at their lowest in nearly a year, according to Bloomberg.
Citizens secured an overall interest rate of about 4.7 percent, lower than the 5.7 percent the utility had projected in its financial model, said Aaron Johnson, vice president of integration.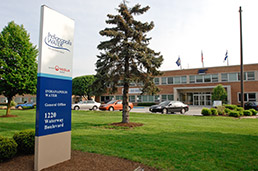 Citizens secured a 4.7 percent interest rate on bonds it sold to buy the city's water and sewer utilities. (IBJ File Photo)
The utility initially had planned to do the sale over two days but condensed it to one after seeing the volatility in the markets.
"We could not have had better timing," Johnson said. "What looks as bad news for everybody else is good news for bonds."
The $1.08 billion included four bond issuances. A $44.7 million bond, rated A- by Fitch Ratings, will fund working capital for the water system. Another $48.3 million will cover wastewater working capital, and $276 million will cover the city's payment for the transaction. Standard & Poor's rated those AA-.
A $717 million issuance, rated AA by S&P, will be used to pay off wastewater system debt. Citizens also will assume about $958 million in debt from the city's water system. It carries an A rating from Fitch.
Please enable JavaScript to view this content.