When lunching at High Velocity (10 S. West St., 860-6500), the sleek-without-being-too-slick sports bar/eatery that now occupies the southeast corner of the JW Marriott monolith, it's difficult not to imagine the Super Bowl crowds that will soon be converging on downtown Indy.
The place seems perfectly crafted to accentuate that event, with plentiful TVs, ample space for standing crowds, friendly service and accommodating bars. Plus, it's got a familiar barroom dining menu, upsized and charged enough to differentiate it from typical taproom offerings.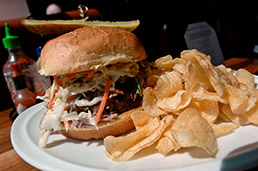 The Pulled Pork Sandwich at High Velocity comes topped with jalapeno coleslaw and Carolina barbecue sauce. (IBJ Photo/ Perry Reichanadter)
Our lunch threesome—two sports nuts and I—kicked off with Asian Honey-Sesame Wings and Fire Wings (each $10 for 10, but our server kindly asked the kitchen to plate five of each for us). The Fire wasn't burning too intensely, but the sesame wings had enough flavor to keep things interesting. Better was the Pulled Pork sandwich ($10). Again, the coating—Carolina barbecue sauce and allegedly jalapeno coleslaw—was conservative in its spicing, but in this case it helped accentuate the flavor of the pork and blended nicely with the lightly toasted brioche bun. Realizing I could steal some fries from my companions, I switched mine out for Kettle Chips, which were disappointingly standard issue. Better was my addition of a side House Salad ($3) in a ginger vinaigrette.
I chastised one of my guests for violating the cardinal rule of restaurant reviewing by stripping his High Velocity Burger ($10) of its cheese, tomato and lettuce,
leaving only the Applewood-smoked bacon and onion to differentiate it from the Classic Burger ($9). He found his hybrid to be good, but short of a home run, while having a field day with the fries, which he deemed some of the best fresh-cut spuds served downtown (and I believe he has tried most of them).
Diner No. 3 went with the beer-battered, panko-crusted Fish and Chips ($11), which he found satisfyingly filling, with plenty of crunch covering a flaky interior. The lemon caper tartar sauce added a flavorful twist without being too far from the expected.
Had our lunch gone into overtime, we may have sampled the Warm Cookie Sundae ($6) or Apple Walnut Cobbler ($6). It wasn't until we were exiting that I realized that the abundance of TV screens—including some control-it-yourself ones at tables—hadn't gotten in the way of our conversation. A sports bar that allows for a low-key lunch? Now that's a game-changer.•
—Lou Harry
__________
First in a month-long series of "game on" eatery reviews.
 
Please enable JavaScript to view this content.