The move from Indianapolis to Carmel is showing promise for Booth Tarkington Civic Theatre.
The not-for-profit musical theater company has grown its subscriber base and raised $2.6 million toward a $10 million goal, Executive Director Cheri Dick said.
Civic announced some large gifts, including $1.5 million from Cheri and her husband, Rollin Dick, during a season-opening gala Sept. 8. (Rollin Dick is also chairman of the board of the Center for the Performing Arts, which includes the 500-seat theater where Civic is the resident company.)
The center offered Civic a 100-year lease and naming rights to move from the campus of Marian University. It was an attractive deal, but Civic leaders weren't sure how many regulars they would lose in the process. That turned out to be about 10 percent of a base of 1,200 subscribers, Cheri Dick said.
Civic offered each of them free tickets to a show at the Tarkington Theatre, and Dick said she hopes they'll give the new location a chance. Meanwhile, a marketing push in Hamilton County brought in 300 new subscribers.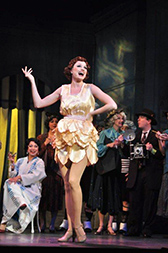 "The Drowsy Chaperone," which runs through Sept. 24, is Booth Tarkington Civic Theatre's debut production in its Carmel home. Hamilton County season-ticket sales are up by 300 since the company's move. (Photo Courtesy of Booth Tarkington Civic Theatre)
"The reception has been extraordinary," Dick said.
The Hamilton County audience will include a lot of first-timers. Before the move, Dick said, about 15 percent of all ticket-buyers were from Hamilton County.
Single-ticket sales are brisk, she said, and residents are jumping at the chance to have their kids participate in Junior Civic, a fee-based program that culminates in a musical.
Civic continues to run its outreach program in Marion County schools, Dick said.
With additional marketing and staff, Civic, which relies on amateur actors, has raised its budget from around $1.5 million to $1.8 million in the year that began July 1.
Several other board members and longtime supporters made significant early gifts to the capital campaign: Donald and Jen Knebel, Carolyn Schaefer Gray, Mike and Cindy McConnell, and Brian and Kelly Smith.
The education wing at the Tarkington will be named after the Dicks. The other early donors will have their names on meeting and rehearsal rooms in the building.
Please enable JavaScript to view this content.