Daily deals juggernaut Groupon has begun promoting local charities to its Indianapolis subscribers.
The company rolled out its charitable-cause marketing arm, G-Team, late this summer with a few selected organizations. Others are welcome to make applications.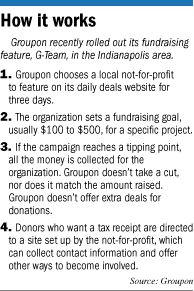 G-Team helps raise small amounts of money for specific projects, but its real attraction is the potential exposure to thousands of Groupon users.
"Because Groupon has such a wide audience, we are hoping it gets our name out," said Jeri Warner, executive director of Trusted Mentors, a small organization that matches adults who are at risk of homelessness with volunteer mentors. Trusted Mentors will seek to raise $350 in a campaign that runs Sept. 27-29.
Chicago-based Groupon has 115 million e-mail subscribers and "hundreds of thousands" in the Indianapolis area, according to a spokeswoman.
Now in 60 markets, G-Team could set Groupon apart from the daily-deal copycats that are cropping up across the country. Research shows that when price and quality are the same, consumers will pick the company that aligns with a cause, said Jocelyne Daw, a marketing expert based in Alberta, Canada.
Not-for-profits need to recognize the value they bring to that arrangement and make sure the benefit they receive matches that value, said Daw, author of "Breakthrough Nonprofit Branding."
"It's hard to believe Groupon is not benefiting from this association," Daw said.
G-Team encourages charities to set small fundraising goals, usually $100 to $500, for specific projects. Then Groupon features the mini-campaign along with its daily deal for three days, Tuesday through Thursday.
If enough Groupon users opt to give, the company will collect the donations and send the charity a check. (Groupon doesn't keep any money, nor does it provide any of its own cash.)
In keeping with its general policy, Groupon does not share any subscriber information with the participating charity. Groupon sends donors a confirmation e-mail that includes a link to an outside page. That's where donors can fill out tax-receipt information and sign up for further involvement.
It's still unclear how many Groupon-driven donors will become long-term supporters.
The inaugural G-Team partner in Indianapolis was Horizon House, a drop-in center for homeless people. Horizon House hoped to land 25 donations of $10, which would provide showers and laundry for 100 people. The August campaign ended up raising $650.
"Any time you can get any money, it's a great thing," Communications Manager Lisa Patton said. "It exposed us to a greater portion of the community."
Patton said she wasn't sure yet how much information was collected on donors. On its receipt page, Horizon House asked donors whether they'd like to receive a monthly newsletter, volunteer or help collect wish-list items.
If nothing else, Patton said, the G-team campaign made Horizon House staffers realize they could be raising money for other small projects outside of Groupon.
One reason managers are willing to try G-Team is that it doesn't require them to run a vote-getting campaign, as with contests like Pepsi Refresh. (Pepsi gives grants of $5,000 to $50,000 to charities and small businesses.)
"To really succeed at those, you have to put the time into it," Warner said. Trusted Mentors has a three-person staff, so G-Team seemed manageable, she said.
IndyReads participates in several cause-marketing efforts a year, raising about $20,000, Executive Director Travis DiNicola said.
"When a business contacts us, I'm willing to do it once to see if it works," DiNicola said.
DiNicola thinks G-team contacted him because of his organization's track record in promoting local business. IndyReads, which trains volunteers as adult-literacy tutors, sought $300 in a promotion Sept. 13-15.
DiNicola said one of his favorite local business partners is jeweler Reis-Nichols, which has netted $1,700 and $2,500 through past fundraisers.
Reis-Nichols doesn't charge a fee for its battery-change service and instead asks customers to drop $5 in a box for local charities.
The jeweler has raised money for a different cause each month for more than six years.
"It's amazing at how nobody ever balks at throwing that $5 in," Marketing Director Lori Roberts said.
Groupon users who elect to donate typically don't get anything extra. The company readily explains, "The only discount you may receive is 100 percent off free, priceless karma."•
Please enable JavaScript to view this content.