Many in Greenwood see the suburb south of Indianapolis as a community at a tipping point.
For decades, Greenwood has attracted a steady stream of new residents and jobs, in part because of its convenient location off Interstate 65. But, increasingly, the city of 50,000 finds itself pitted in competition for those companies and residents with other thriving suburbs, such as Plainfield and Carmel.
What happens next for Greenwood, community leaders say, could hinge on whether the city makes an aggressive push to become more competitive. And the three candidates running to be elected mayor in November are grappling with how—and how much—the city should do that.
Mayor Charles Henderson, who is completing his fourth term, was defeated in the May primary in large part because of the unpopularity of his proposals to make improvements and add amenities aimed at boosting the city's attractiveness to individuals and businesses.
He wanted to issue millions in debt to build a new aquatic center, buy land for city building projects, and make Greenwood's old section a destination by knocking down old structures and improving infrastructure.
The men vying to replace him—Republican Mark Myers, independent David Payne and Libertarian Jeff Spoonamore—are drawing a sharp contrast to Henderson. While all three recognize the pressing need for economic growth, they're proposing every possible way to do it without spending local tax money.
"We need to [attract] businesses first before spending," Myers said. "The more businesses you bring in, the more tax revenue you bring in, and the better amenities can be."
That sentiment resonates in Greenwood, where many residents—in particular, the older population that makes up a core of the voting bloc—are fiscally conservative.
But it also worries some civic leaders who believe spending for amenities is necessary if Greenwood is to attract the kinds of companies that provide high-paying jobs.
"So many of the residents don't understand why we need a new pool. That's going to push commercial development, and commercial development is what we need," said Linda Gibson, who sits on the Greenwood City Council.
"What they don't realize is that, if we don't continue to make investments in our community, these companies that are looking to make a new investment are going to look elsewhere."
A growth rut
Greenwood has expanded greatly over the last few decades as Johnson County became one of the fastest-growing counties in the state.
The suburb boasts Greenwood Park Mall, a few large manufacturers, as well as medical centers and home-based health care companies that have sprouted along the Indianapolis border.
But there's a sense among some, particularly those in the business community, that the city needs to do more if it wants to maintain momentum.
"Gone are the days that Greenwood can sit back and let the development come because it's the next place to be," said Christian Maslowski, executive director of the Greenwood Chamber of Commerce.
"You have to constantly evolve, and if you don't, you become stagnant. I think there's this great sense of anxiety about which way we're going to go."
Maslowski points to the run-down Old Town district and 53-year-old city pool as challenges that need to be tackled.
The chamber supported Henderson's plan for a $7.5 million aquatic center and his goal of improving Old Town. The group, though, did not take an official stance on his proposed $12 million renovation project in Old Town, which included demolishing several buildings.
Henderson's projects—which included another $4.5 million to buy a temporary city hall and land for a new city hall and city court—would have been funded through bond issuances. Henderson said those could be paid for with existing tax rates that now cover city debt that will be paid off in coming years.
Many residents were leery. Myers received 50 percent of the vote to Henderson's 33 percent in the primary. And late last month, a poll showed 60 percent of residents would oppose a referendum to approve money for the land, buildings and aquatic center. That prompted the City Council to pull the initiative from this fall's ballot.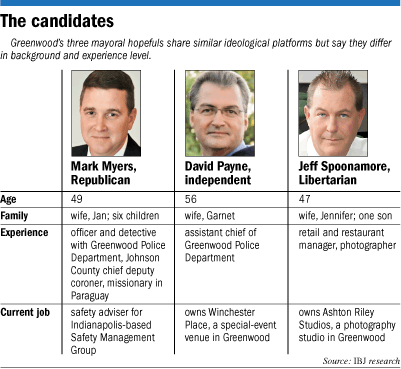 Greenwood resident Harold Laut, 78, said he's not against city spending on infrastructure, but he opposed the mayor's proposal because he wanted more detail about exactly how the money would be spent. He also questioned whether the city needs such an expensive aquatic center.
"The pool here in the city is quite antiquated, but how big a plan did you have to have?" said Laut, a retired chief financial officer.
The candidates agree that—at least for now—spending of that magnitude is uncalled for.
Payne said he sees the need to revitalize downtown and build a bigger swimming facility. But he said now is not the time to invest in the aquatic center.
He said his top priority is "getting our city on firm financial footing."
"We have a lot of debt to take care of," Payne said. "You want to do an addition on your home, but you want to be able to afford it and not let it cut into your livelihood."
Alternative visions
The candidates—particularly front-runners Myers and Payne—aren't shying away from promoting economic growth, including renovating Old Town. They say it can be done without major spending.
Spoonamore, the Libertarian, wants to focus on developing a section of Old Town that requires less infrastructure investment in hopes it would kick-start business interest in the broader area.
Myers thinks Old Town could be spruced up without knocking down existing buildings, a move Henderson said was necessary because of infrastructure limitations. If elected, Myers intends to hire a full-time grant writer who would pursue federal grants for revitalization efforts.
He also said the mayor should patronize businesses in the area and encourage others to do so to create interest in the downtown.
But Myers and Payne say there are more basic ways for the city to advance the ball on economic development. Both talk about the need to make the city more "business friendly" by streamlining processes such as permitting and zoning.
Myers said the city needs to get more aggressive when it comes to tax abatement. And Payne said Greenwood should be more active in marketing itself, competing for jobs and helping existing businesses grow.
"We sort of sit and wait to see if someone comes to us," Payne said. "We're not out actively helping our businesses survive. We have to change that attitude. That's what's going to change our economic development."
But Henderson said that alone is not enough to move the dial.
"Neither of the two main candidates are interested in stepping out there and pushing for those quality-of-life issues the city has to invest in," he said.
Residents "don't realize an investment in yourself pays off down the road. Until that mind-set is overcome or someone can do a better job of marketing or selling it, we're going to fall behind in economic development growth."
Some who share that view remain hopeful the candidates will recognize the need for at least some investment. But it remains to be seen, they say, whether they will be willing to act.
"I think all of the candidates get it. It's just going to be, how much political capital are they going to be willing to spend for real capital for economic development?" Maslowski said. "That's to be determined."•
Please enable JavaScript to view this content.